Preserved Lemons
Tuesday, March 17, 2015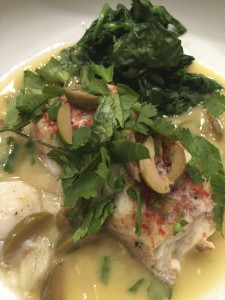 In today's video on preserved lemons, I show how to make a condiment that can brighten so many of your dishes: preserved lemons. Best of all, they have real lasting power, remaining fresh in the refrigerator for an impressive six months or so. After I put up the lemons, I go on to demonstrate one way to use them in a delicious and easy dish of steamed black cod. Sure, you can purchase a jar of ready-made preserved lemons, but nothing beats the fresh taste of ones that you cure yourself. You'll see from the video that they take only about five minutes of prep.
Use organic lemons for the best results; after all, you'll be eating the softened rinds. The only other ingredient you need is salt (I recommend a good sea salt). You also need a very clean jar. You can sterilize your jar by immersing it in boiling water for a couple of minutes. Make sure to scrub and dry the lemons as well. How many you use depends on the size of your jar. In the demo, I use a pint-sized jar, but you can certainly use a larger one.
To prep the lemons, cut a sliver (a dime-sized piece) off of each end. Set the lemon on one end and, starting from the top, make a vertical cut three quarters of the way into the fruit, so that the two halves remain attached at the base: do not cut it in half. Turn the lemon upside down and make a second vertical cut at a 90-degree angle to the first, again three quarters of the way into the fruit. Fill each cut with as much salt as it will hold. Place a little salt at the bottom of the jar, then squish and push the lemons in. You'll notice that lemon juice will rise to the top. Since the preserved lemons need to be covered in lemon juice, you may need to squeeze a couple of extra lemons to fill the jar. Screw on the lid, and turn the jar upside down a few times over the first few days to make sure that lemon juice is always covering the lemons.
After four to six weeks, your lemons will be pliable and ready to use. It's the softened rind that is the most exciting part to add to your dishes. Its flavor is tangy, slightly fermented, with that unmistakable brightness that is associated with Moroccan and Middle Eastern cooking.
I also demo two servings of steamed black cod. To make the steaming liquid, add 1/2 cup chicken stock, 1/4 cup white wine, 2 cloves sliced garlic, a splash olive oil, and a couple tablespoons thinly sliced preserved lemon to a 4-quart pot. The steaming liquid will become the sauce, to which the preserved lemon in the steaming liquid will lend a bright citrus finish. Sprinkle each piece of cod with a dusting of salt, paprika, cayenne, and ground cumin. When the steaming liquid is bubbling and steam starts wafting through the steam holes, lay the fish on top of the basket and cover. It will be steamed to perfection in a mere 7 minutes. Plate the fish, pouring the steaming liquid (which now reduced, has become the sauce) over the fish.  A sprinkling of chopped green olives, parsley, and cilantro complements the other flavors.  Marvel at how this zesty and convenient condiment can add such lively flavor to a dish that is simple enough for weeknight dining, yet celebratory enough for entertaining company.
Dinner: Braised Tile Fish Steaks
Wednesday, April 9, 2014
I went to the greenmarket the other day in search of a thick piece of fish  which I wished  fervently to braise in chicken or beef stock. I couldn't get the braising bug out of my head  since  recently reading the  Mark Bittman NY times article on  that very subject.  I was even prepared to purchase a whole fish, fillet it, and keep the carcass  frozen until I had two or three, and I could make a broth. What I came home with was a whole tile fish because  it just looked too fresh and delectable to pass up. The fishmonger insisted that I cut the flesh into steaks, which sideswiped my plans for a tidy carcass, but I still had the head, tail, and some flesh leftover.
I ended up cutting four thick steaks. I first salted and peppered the pieces and seared them for five minutes per side in a large skillet using aroma-free coconut oil as the  fat. I then set  aside the steaks while sweating in the same skillet –for 10 minutes or so–a bunch of vegetables: onions, fennel, purple potatoes, carrots, and cauliflower. I stirred in some saffron, smoked paprika, and a tad tomato  paste before adding  a few cups of rich chicken bone broth. The liquid reduced for 10 minutes; then I returned the fish to the pan and covered it. The fish braised until cooked through, about 15 minutes–the vegetables were perfectly tender by that time as well.  I served the dish in a shallow bowl so that each bite could be draped in the silky sauce. The side was garlicky sautéed spinach. It turned out to be a quick, delicious meal.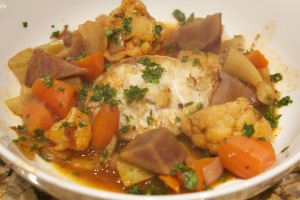 My Favorite Winter Salad
Monday, January 21, 2013
After a season of holiday indulgence and too many meals out, it's time to begin the new year with a little lighter fare. I'm busy with obligations, but I don't want to skimp on good food. So I turn to my favorite nourishing winter salads that I can make in minutes. This hearty winter salad that I show on the video consists of arugula, oranges, fennel, and sardines, with a complement of olives, walnuts and feta cheese. It's composed in such a way that I don't even need a separate dressing.
I start with a nest of baby arugula, or watercress, or mesclun greens. In the video, I use arugula with some farmer's market pea shoots mixed in. I next add an orange that is cut into segments known as supremes. I cut the orange over a bowl to make sure to catch the juices that will become part of the dressing. I sprinkle the greens and orange with salt and then add a layer of paper-thin sliced fennel, which is arguably the most appealing way to eat raw fennel. Using the mandolin is the easiest way to get such slices. Next, I sprinkle in some black olives—a flavorful variety such as kalamata or nicoise—followed by a handful of walnuts. I then crumble my favorite feta cheese, a sheep's milk feta, over the salad.  Finally, I crown the salad with sardines. I use sardines packed in extra virgin olive oil, so that the oil from the tin of the sardines becomes part of the dressing, mixing with the juice of the oranges. Every bite is exciting—a medley of sweet, salty, juicy, and crunchy. Moreover, this salad is a nutritional winner, packed with a range of nutrients, from omega 3's to vitamins C and E, and loaded with phytochemicals and minerals as well.
You can pack this salad to take on the go.  Layer the greens with the fennel, olives, walnuts, and feta. Put the juicy orange slices in a separate container. Salt the salad, add the oranges, and top with the sardines right before eating.
Cornmeal-Crusted Cod with Fresh Tomato Sauce
Saturday, September 22, 2012
Miniature tomatoes dazzle in a variety of different sizes, shapes and colors; they are flavorful long after the larger varieties are truly out of season.  I love using these miniature packets of flavor to make versatile stove-top sauces. The one that I demo in the video is just as delicious over polenta and simple greens as it is over fish. In the video, I'm demonstrating a single serving of cornmeal-crusted cod, although the tomato sauce is enough for up to four filets. You can swap out the cod for halibut or pollack or any thick white-fleshed fish.
Cornmeal-Crusted Cod with Fresh Tomato Sauce
I begin with a pint of small tomatoes. I've used grape and cherry, or sweet sun-golds—my favorites—when I can find them at my local greenmarket. I often mix a beautiful combination of colors, varieties and sizes. I add to the skillet—besides the halved tomatoes—a teaspoon or so of minced garlic, a couple tablespoons minced shallots, a teaspoon of fennel seeds, a few tablespoons extra virgin olive oil and a splash of balsamic vinegar. I sprinkle a dusting of sea salt and freshly ground black pepper over everything, give it a quick mix, then cover and set the pan aside while I start the fish.
I salt and pepper the filet before I dredge it on both sides in cornmeal. When the cast iron skillet (or any other heavy-bottomed skillet will do) is heated, I add a film of coconut oil—unflavored is best—and cook the fish a couple of minutes on each side over medium-high heat until golden. I transfer the pan to a preheated 400˚F oven for 5 minutes to cook the inside of the fish thoroughly.
While the fish is in the oven, I turn the heat on the tomatoes and let them stew for 2 to 3 minutes, just until warmed through and juicy. I then stir in a tablespoon or so of minced chives and parsley, which brightens the colors and heightens the flavors. When the fish is ready, I plate it and spoon the sauce over the top. The fish is moist on the inside, crispy on the outside and complemented by the warm tomato sauce.
It's a guest-worthy dish that is easy, seasonal, and delicious.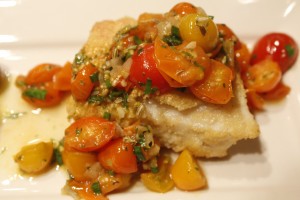 Photo: Tess Steinkolk