Musings on the traditional Swiss
Friday, March 29, 2013
I remember vividly the 1940 edition of Heidi that my mother had given me when I was ten years old. Heidi was a girl whose grandfather would send her out onto the grassy knolls for the day, where she would spend her time romping barefoot among the goats. Her lunch was a chunk of hearty bread with a big wedge of cheese. When she returned home at night, her grandfather would offer her, along with a bowl of fresh milk, another chunk of cheese that he had just toasted in the fire at the end of a long stick. This meal and lifestyle sounded like my idea of heaven. As I ate my breakfast of cheese-topped bread that I had placed in the broiler to blister, I would fantasize that I was Heidi. In hindsight, this version of bread and cheese was rather sad. The bread was store bought, and the cheese was that kind that came packed in individual plastic wrappers.
When I read about the Swiss in the Loetschental Valley that Dr. Price visited, scenes of Heidi came flooding back in my mind. Here were a people that mostly lived on bread and cheese and milk. Their cheese was extraordinary, made from cows grazing on verdant pastures near the glaciers. According to Price, the people "recognize the presence of divinity in the life-giving qualities of the butter made in June when cows have arrived for pasturage near the glaciers.….. The natives of the valley are able to recognize the superior quality of their June butter, and, without knowing exactly way, pay it due homage." Their bread was rye bread that had been thrashed by hand and ground in stone grinders. Each family would take turns using the community oven, and would bake the amount of rye bread that they would need for a whole month.
The isolated Swiss also ate small amounts of butter, vegetables and barley, frequent bone broths, and meat about once a week. Ramiel Nigel does a breakdown of their caloric intake in his book Cure Tooth Decay that I found fascinating. Their calories in a given day averaged 800 calories of rye bread, 400 calories of milk, 400 calories of cheese, 100 calories of butter, 100 calories of barley, 100 calories of vegetables, and 100 calories of meat.
What impressed me most about these people is how hardy they were. Just like in Heidi, children would scamper around barefoot in temperatures low enough to have Weston Price and his wife don heavy clothing. The isolated villagers made their own clothes and were self-sufficient. They had cheerful temperaments, great facial bone structures and bodily physiques, and almost no dental caries. Upon analysis of the nutrient density of their food, Dr. Price found that they, like the other primitive cultures he studied, had 4 times the calcium and phosphorous of the modern day Swiss and 10 times the fat soluble vitamins. It is interesting to note that this was accomplished on such a seemingly limited diet. They didn't have the food of the world at their fingertips, but the foods that they had were sufficient to build beautiful and sturdy bodies. Of course, as in all of the other cultures, when the refined foods (or displaced foods of modern civilization as Dr. Price called them) made their way into the Swiss villages, all of the immunity from dental caries and other diseases (like tuberculosis, for example), along with the fine physiques, disappeared within one generation.
It is also interesting to me that these people lived on food that happens to currently be the most demonized food in the world. I have just returned from the Wise Traditions conference, and a lecture on "the diet cure" identified gluten and dairy as two of the most addictive foods in the world. Yet these primitive peoples in remote Alpine towns were getting over 75 percent of their food intake from gluten (rye) and dairy. It seems that in a healthy individual, high quality dairy is a life-giving elixir, and a grain (glutinous or not) that is fresh and prepared properly is also mineral-rich and salubrious. It seems that now so many people have compromised systems that they cannot even tolerate the highest quality dairy or properly prepared grains.
We are in a strange time. While the majority of the food in a supermarket is devoid of real nutrition, it is possible to enjoy a diet of excellent food, provided one has the interest and motivation. I am fortunate enough to live one block from the Union Square green market in New York City (a four times weekly farmer's market that sells all kinds of animal foods as well as vegetables and breads) as well as belong to a club where I can get an impressive variety of raw dairy products and pastured animal food. I recently started to buy traditional dense sourdough rye breads from my local green market, and I sampled an excellent specimen at this year's conference as well.  Now when I have a slab of bread with a hunk of raw milk cheese on it, I'm more in keeping with the spirit of the traditional Swiss villagers. I make bone broths and lacto-fermented foods regularly. I eat a lot of pastured eggs, I eat homemade liver paté rich with butter, I take fermented cod liver oil and high vitamin butter oil daily, and I soak my beans, grains, nuts, and seeds.
It sometimes seems as if life would be simpler if I were one of the primitives in the Swiss valley. I would eat my hunk of nutrient dense cheese a couple of times a day, eat my soup, and drink my milk. Since I have the whole world at my fingertips now, at every meal I have such a huge choice. I have to make an effort not to gorge at the "buffet", even the nutrient-dense "buffet".
I am truly grateful for my good health, which I attribute chiefly to good nutrition. I summon my inner "Heidi," a fearless, robust, and happy little child romping about in nature, enjoying being alive.
Ayran, National Beverage of Turkey
Monday, July 16, 2012
I've been immersed in Turkish culture and food lately.  Tonight I'm giving my first class of three Turkish classes at the New York Open Center. We will start off the meal with Aryan, which is one of the national beverages of Turkey. Rumi, the great 13th century mystic and poet, who cloaked spiritual truths in food terminology, referenced this beloved drink when he said that "just as the fat is hidden in ayran, the essence of truth is buried in lies."
Just like any other food, in Turkey there are delicious versions of this drink that are made fresh, and then there are insipid packaged varieties. You make it yourself by straining yogurt until really thick, which takes about 6 hours. Make sure to use full-fat organic (preferably with the cream on top) for best results. Whisk a cup of the thick yogurt with water (about three cups) until frothy. Add about ¼ teaspoon salt and whisk that in as well.
I like serving it in small tea cups like an aperitif.
This is what ayran looks like in Turkey, when it's made fresh. It's frothed with a machine and resembles cappuccino foam on steroids.
It's often served in beautiful mugs.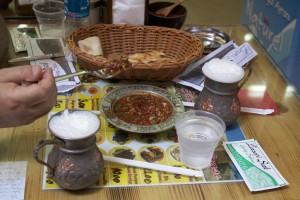 This next example was the most spectacular and  the foamiest ayran that I tasted.
How does this man, with the most dashing mustache in Turkey, drink his Ayran? Amazing hair this man has, but a little awkward when drinking Ayran.
You can drink Ayran with a ladle, especially when it's that frothy.
What a way to enjoy yogurt!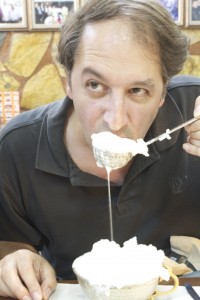 Catering Gig
Wednesday, May 30, 2012
This past Friday and Sunday, I catered a couple of on-site parties. I had Wednesday and Sunday morning to prepare for the Sunday brunch, and Thursday and Friday to prepare for the Friday evening party.
Since I had to prepare a good amount  in advance of Sunday, I had to plan on a certain number of dishes that would freeze or hold well for up to five days.
These individual cheesecakes fit the criteria.
As they rest in the refrigerate, they just keep on getting tastier, so making them five days ahead was not a stumbling block. I bought the molds at J.B. Prince, an amazing store on 31st street in NYC. I froze a batch of crepes (which were to be filled with strawberry-rhubarb compote), zucchini pancakes, lasagna, and this caramelized onion tart.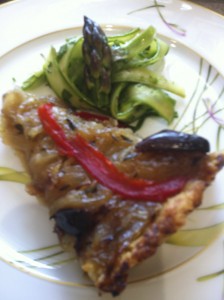 The asparagus salad that accompanied the tart I made right before serving. The asparagus was shaved raw and tossed with dressing, which softened the asparagus after about 20 minutes. I baked the tart without defrosting it first. It simply took an additional 15 minutes. Sunday I was able to focus on last minute items, like the fish.
I made the Friday desserts Friday afternoon. This is the blueberry buckle from the Healthy Hedonist Holidays.
This is a chocolate cake made in individual aluminum ramekins.
Powdered sugar covers a multitude of craters.
The Friday night meal had as a starter the Turkish chopped romaine salad and the miso-marinated black cod from The Healthy Hedonist.
I marinated the cod early in the day (marinade made the day before) and just tossed it in the broiler to brown. Before serving I blasted the fish in a hot oven to reheat; the oily fish is so forgiving it was not in the least bit dried out .
The stock for the broccoli soup was made Wednesday and the soup and pistou topping were finished Thursday.
The main course included braised short ribs and stuffed chicken (a great way to keep the chicken moist) as well as braised-roasted purple potatoes, sweet potatoes and carrots, and lemony sautéed artichokes.
I planned the main course to have items on it that would reheat well without drying out.
For the Sunday buffet I did cook a couple of items that required precise timing, but not too many.  One of the most important things about cooking for a crowd–beside being organized–is to have a menu that is a bit forgiving.
Cake-in-a-Jar
Tuesday, February 28, 2012
Next week I am going to be making about 40 cakes-in-a-jar for a catering job, so I spent some time in the kitchen working out the technical challenges. I've been having a blast experimenting. These packed jars are not only adorable, they are delicious as well. My version here has chocolate cake, layers of raspberry or strawberry jam, and a thick layer of ganache.
I've been using pint ball jars, which serve two, and are a good size for gifts.  The smaller 1-cup ball jars are perfect for individual servings.
First I coat the jars with spray. I rarely use spray fat, but since I'm about to make over 40 cakes, I'm looking to streamline the process. Plus, I just found a coconut oil spray from Spectrum.
Next, I spoon a layer of jam on the bottom. I've used strawberry and raspberry jam, for the color as well as the flavor. It's a treat to dig up with a long spoon the cooked jam under the baked cake.
Use any favorite chocolate cake recipe and fill the containers half full. A cake recipe that makes two layer cakes is perfect for 6 pint-sized jars. I baked the cakes at 350˚ for about 25 minutes. Don't worry, the jars won't explode or anything — this is like baking in pyrex. The cakes do take a little less time than when they're in cake pans, so check on them a little earlier than you might otherwise.
The cakes emerge from the oven looking like they've risen too high, but they settle a lot after a few minutes.
I then added a bit more jam around the top dome to fill in the gap (for 6 cakes you will need a 16-ounce jar) as well as a thick layer of ganache on top. (I flavored my ganache with Chambord.) Keep in mind that the weight of the ganache will eventually sink the cake about an inch. That makes the whole cake compress and taste extra fudgey. The whole concoction tastes like a trifle.
Screw on the lid and refrigerate. These are tastiest if you refrigerate them for a couple of hours before eating to let the ganache settle.
The cakes stay fresh for at least five days.  Dig a long spoon in and get all of the layers in each bite. (I feel positively naughty eating these, kind of like I've been caught eating out of the jar.)
The larger ones are fun to share. Pass the jar around, and dig in. At least it's not illegal.
Chicken Soup
Monday, December 5, 2011
I've been under the weather for the past few days with a full blown cold. This is unusual for me since I rarely get sick. When I feel the slightest bit of an impending sniffle,  I have a coterie of preventative measures that I take, which usually work like a charm.  I jump on my cellercizer (urban rebounder) to clean out my lymphatic system, I down Immune Response to strengthen my immune system, and I make an effort to get extra rest.
This particular cold came on without much warning – it hit the throat first and then traveled to the lungs. I had a couple of energetic events to run, so there was no getting rest for a couple of days. Thus the full-blown cold landed Friday and ordered me to stop. It doesn't make me feel better to know that colds are rampant this time of year, or that there is a particularly virulent strain going around. I am forced to finally and humbly surrender.
I'm actually enjoying the enforced solitude and relaxation. Since my taste buds are depressed with the congestion, all I really feel like ingesting is hot soup. A good bone broth is just the elixir to drive away a fierce bug. So while I have been convalescing, I took out the stock pot, opened the freezer, and took out a big pile of poultry bones. I put up the simplest of stocks – bones, water, a splash of vinegar to draw out the calcium, and a bay leaf. That's about as much effort as I could muster, and it took all of five minutes. The pot held backbones and wings from two chickens I had recently butchered, a turkey carcass, and a bag of chicken feet. I let this stock simmer about 6 hours, then I strained it, cooled it, and refrigerated it overnight.
What made the stock especially gelatin rich was the bag of chicken feet I had purchased at the green market the other day.  Chicken feet are hard for a lot of us to get used to, as yes, they are kind of creepy and freaky-looking bobbing around in your stock. Get over being squeamish, and you have a flavorful calcium-rich stock that's great for your bones. Look at how gelatinous (translate: wobbly) this stock is after cooling. All I did was scrape away the top layer of fat. This is nutrient-dense goodness.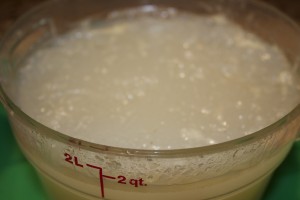 For my soup today, I simmered a quart of the stock with some sliced shallots, some chopped ginger, and chopped lemongrass for about 15 minutes. I strained the stock, then added some coconut milk, boneless chicken breast cubes, and a small handful kaffir lime leaves that I had frozen. When the chicken was cooked after five minutes, I added a handful of Swiss chard, a splash of Thai fish sauce, couple of tablespoons lime juice, and a pinch salt. In my soup bowl I sprinkled chopped jalapeños and cilantro.
The soup was delicious, and I'm feeling a lot better already.
Camera in the Food
Tuesday, October 11, 2011
For nine hours last Tuesday I had a camera crew in my kitchen with a large video camera pointed at food that I was preparing. This was PR for the Natural Gourmet Cooking School.  The Sundance Channel is doing a series called Love/Lust and the food that they shot in the kitchen was from the chocolate and the breakfast episodes. They will have people on camera speaking about various aspects of chocolate – history, cultural impact, etc. while they show shots of chocolate melting or baking or being spooned into champagne glasses. On camera I made four chocolate desserts as well as seven breakfasts. Chocolate desserts included chocolate mousse, chocolate lava cakes, brownies, and cloud cookies.
Breakfasts included hot cereal with sautéed apples, muesli, granola, frittata, classic eggs benedict, a variation of eggs benedict, and huevos rancheros. Some of these were their choices, some mine. Preparation for the shoot was time-consuming. Mousse, for instance, needs a couple of hours to set, so I had to have a back-up made as well as berry sauce and whip cream so they could film the parfait being layered. I had to have two batches of brownies made in advance, as well as one batch of cloud cookies ready to go, because the cloud cookie batter needs to sit for an hour. The only dessert that was made and completed on camera was the souffle cakes. I did have the raspberry sauce and the whipped cream made beforehand, however.
As for the breakfasts, I made in advance a batch of granola, I had muesli all ready to soak, I had salsa and beans prepared for the huevos rancheros, and I had spinach, mushrooms, and cheese ready to mix into the fritatas. I made three hollandaise sauces that day, so I had to have plenty of clarified butter as well.
The actual cooking for the camera was not difficult once everything was in order. It was really interesting to look into the monitor and see what the high definition screen saw. Look at this egg compared to what was in the pan! So close; the human eye just doesn't see food that way.  They took many close-ups of chocolate melting, of chocolate oozing out of the cake, of bacon frying, and of eggs cooking.
After each dish was completed they brought the dish over to a table and took "beauty shots." The day was one of slow and painstaking work. It was interesting, however, and we churned out some tasty food. I'm certain that on the shows the food will be presented in quick fragments.
I'm now wild for muesli and this variation of eggs benedict that includes smoked salmon and artichokes in lieu of the English muffin and bacon. The variation on the classic eggs benedict was a delicious dinner that night.
The Meal Continues
Saturday, August 27, 2011
Although the lamb riblet meal blog entry was almost two weeks ago, I've done a lot of cooking since then. I'm going to use this "hunker down" period in New York to catch up with some of the more noteworthy meals. It's eerily quiet outside. Subways and businesses are shut down – pretty much everything is closed in preparation for the hurricane. In the city, though, it has not even started to rain.
After my last post, I had about 7 leftover riblets. I would not have cooked so many at once, but I had bought a 3 1/2 pound pack from 3 Corner Field Farm (www.dairysheepfarm.com) at the Greenmarket one Saturday. Since I had to defrost all of the riblets at once,  I knew we would have enough for two meals.  I wanted the meals to be different from each other.
The day after making the riblets I taught a pasta-making class to the professional students at the Natural Gourmet. The class was small that day, and there was a lot of food left over. I made use of the cooked beets and white bean sauce.  I tossed the beets with balsamic vinegar and cocoa nibs, and blended the white bean sauce with some Swiss Chard, which I wilted quickly first. The reheated riblets were delicious over the creamy sauce. I picked up some patty pan squash at the greenmarket on the way home, which I sliced, sprinkled with salt, and then left to "sweat" for 20 minutes. I sautéed them until golden on each side, a couple of minutes per side.
The flat beans I cooked in a small amount of water (sort of steaming it in the pan) with a sprinkle of salt. When they were cooked, after about 5 minutes, I tossed them with the basil puree I had made the day before. It was a delicious, quick, vegetable-packed meal.
Here's the recipe for the White Bean Sauce, from my first book The Voluptuous Vegan. You can freeze it and have the sauce ready to whip out at a moment's notice.
Serves 6
2 tablespoons extra virgin olive oil
2 cups onions
8 cloves garlic, thinly sliced
3 ½ cups cooked cannellini beans (or navy or great northern) or 2 15-ounce cans
Salt
5 sprigs fresh sage
Handful fresh thyme sprigs
1 bay leaf
2 teaspoons fresh lemon juice
Freshly Milled Black Pepper
Warm the olive oil in a medium pot. Add the onions and cook over medium-low heat until the onions are softened and starting to brown, about 7 minutes. Add the garlic and cook a few more minutes. Add the beans and 2 ½ cups water (or better yet, bean cooking liquid if you have it) along with 1 ½ teaspoons salt.
Tie the herbs together with a cotton string and add them to the pot along with the bay leaf. Cover, and bring to a boil. Lower the heat and simmer, partially covered, for 15 minutes to allow the flavors to marry. Add the lemon juice and a sprinkling black pepper. Taste and add more salt if necessary.
Remove the bay leaf and tied herbs.
Feeding the Kids: Part 2
Wednesday, June 8, 2011
Get your kids in the kitchen cooking with you.
You'll be teaching your children a valuable skill that they'll need when they leave home. Moreover, kids are more likely to eat what they have had a hand in the preparation. When they feel they "own" the dish, they feel safer exploring new flavors. I've watched children try and like foods and dishes they would never have dreamed of eating because they have been involved in making the dish. Even when kids are tiny, they can press the buttons on a food processor, or take a spoon and stir something. Any effort on your part can foster more adventuresome eaters down the road.
Don't force your kids to eat.
Forcing children to eat is a good way to make them rebel. It also sets up distorted thinking about food. I have a vivid childhood memory of when my mother tried to force my older brother to eat a soft-boiled egg. He retaliated by vomiting, sending my other bother and myself bolting from the table. I don't recall my mother ever forcing us to eat again.
Set the schedule and decide on the food; then let the kids decide what and how much they'll eat.
Do enforce a one-bite rule.
One-bite nudging seems to work well, especially if the kids have cooked with you. When I cook with kids, I tell them that they have to take one bite of anything we have cooked. Since they feel safe in our cooking environment, they are always compliant. My thirteen-year-old niece told me that she would not eat the glaze that we were making for our roasted Brussels sprouts because she didn't like mustard. I put a dab on the back of her hand and said she had to taste it. She did, and was surprised that she liked it so much.
Sometimes kids need to be introduced to something new multiple  – even as many as ten – times until they finally take to it. Don't give up just because they don't like something at first.
Make cooking and eating together fun.
When I first started cooking with my five-year-old nephew – knowing that he was mad about dinosaurs – I announced that we were going to make stegosaurus fries (my name for roasted sweet potato fries). He ran through the house announcing this in glee before we started. I showed him how to use a t-shaped peeler, which is easy for little hands to use. He grabbed onto that peeler for dear life as he peeled every last sweet potato. We then moved on to allosaurus fingers (roasted green beans). He snapped off the ends, tossed them in oil and salt, and was delighted with the results. He rolled chicken legs in coconut, made guacamole and pesto, broccoli and black bean burgers. I got him involved in some aspect of every dish we made, and he ate everything.  When his mom made those dishes again, he continued to eat them because he had a joyful association with them.
To get kids used to eating real food, keep the food on the simpler side.
Kids get overwhelmed if the flavors are too complex. Avoid textures and tastes that take a sophisticated palette to appreciate, such as highly spiced food (unless you come from a culture of highly spiced foods, such as Indian).  Bitter tastes are tough for most kids. Slimy textures, such as okra, are difficult as well.
Most kids love roasted vegetables, because ­– lets face it – kids are attracted to sweetness. I cook weekly for a girl with multiple allergies who is 11.  I make her a wide variety of roasted vegetables, including Brussels sprouts, broccoli, cauliflower (roasted to deep golden) sweet potatoes, carrots, green beans, beets, parsnips and kale. Roasting caramelizes the sugars inherent in vegetables and makes the vegetables taste sweet, making it possible to have a sweet flavor without adding sugar.
Relatively simple food served along with sauces and dips usually go over well. Kids like the fresh flavors of garlic, ginger, and fresh herbs. They like the textures to be crunchy and creamy.  I've found that kids generally like sautéed greens, including spinach, bok choy, Swiss chard, collards and kale ­– as long as they are fresh. Kids love to interact with their food, so a vegetable such as an artichoke, which is mild tasting and a real experience to eat, goes over well.
Make homemade desserts.
Most young people love to bake. If you bake with your kids, you can give them an occasional sweet treat while you control the quality of the ingredients – and they won't feel deprived.
Get your children the highest quality food that you can.
Don't underestimate the ineffable life force in food. When food is fresh and vibrant, it just tastes better. Kids viscerally respond to that. Let them know that by eating good food they become healthy and strong. You'll be on the way to setting your kids up with good habits for life.
Feeding the Kids: Part 1
Sunday, May 29, 2011
Now more than ever, it seems parents are at a loss as to what to feed the kids and how to get them to eat.  Kids are no longer eating what their parents eat, restaurants serve the same limited children's menus, and kids are asked on a daily basis to decide what they prefer to eat. Food allergies are rampant.
Here are a few pointers to stop the madness and to steer your kids to a lifetime of good habits:
If possible, start your kids off eating the foods you eat.
If you have fed kids what you have eaten all along and you have a balanced diet, congratulations! Kids have eaten what their parent's ate until relatively recently. If you have gone down the slippery pathway of feeding your kid a diet of convenience foods such as pasta, dried cereal, boxed mac 'cheese, and frozen chicken tenders, you will need to make some changes. The good news is that change is possible.
Take back the reins.  Dispense with the idea of kid food.
A two- year who has been raised on junk food – when asked what he or she wants to eat – will inevitably choose refined carbohydrate-rich foods, such as pasta, dry cereal, and sugar. Kids are ill equipped to decide what they should be eating. Even if your child has multiple food allergies, or is merely a picky eater, it's possible to make real changes and get him or her on track with good habits. The responsibility for setting them up for a lifetime of good or bad habits is yours.  You decide what to put in front of them. Do you really want to be serving multiple meals?
Set an example.
First, clear your pantry of junk, and replace it with food that has some real nutritive value. Start with yourself; get back into the kitchen and make home-cooked meals. Get your kids used to watching you eat healthy foods. Nothing is more powerful than the example that you set. Get rid of all distractions at mealtime, including books, TV, video games, smart phones and toys. Make mealtime a relaxed family time.
Have designated meal and snack times, so that your children are not grazing all day long.
Time and again I have watched kids not want to eat anything at dinner, since they have been snacking on cereal and crackers throughout the day. They do best when there are regular meal times.
If you establish times for three designated meals and two snacks, your kids will be more likely to eat meals. Avoid letting them eat snacks too close to dinner.
Beautiful Compost
Sunday, May 15, 2011
Since I live so close to Union Square, I feel an obligation to collect my kitchen scraps and bring them over to the compost bins that are there every day the greenmarket is open: Monday, Wednesday, Friday, and Saturday.  I keep my vegetable peelings in a separate garbage pail; as you can well imagine, with the amount of cooking that I do, the bag fills up rapidly. "Send it to the worms!" is what we say in this household when we pitch something to the compost pile. The heap can sometimes appear quite beautiful, arranged like a composed salad, or a collage.
Usually it's more pedestrian looking, like this:
The big pain is remembering to haul that bag over to the market at least once a week to prevent rotting; twice a week is even better. One would think this would not be difficult, considering I go to the greenmarket almost every day it's there. Nonetheless, I have done my share of grumbling over this simple task; at times it feels like another dreary chore.
All that changed two months ago – the morning that I locked myself out of my home. I had just wheeled my cart with a full-to-capacity bag of scraps into the elevator. Just as the doors were closing, I realized that I had left my handbag inside. There I was — no phone, no keys, not even one penny. Luckily, my husband was home, but I needed to call him; I combed my mind to figure out what phone in the neighborhood I could borrow.
It seemed like a good idea to get rid of the bag of vegetable leavings first, so my first stop was at the greenmarket. On the way there, I remembered the compost lady. Of course she would certainly lend me her phone. I'm a regular, and she knows me well enough.
Aurelia (I didn't know the compost lady's name before then) was more than gracious, even though I did hijack her phone for a full twenty minutes before getting through to my husband. (Blame it on the shower.)
Interestingly, my attitude changed after that experience. I stopped grumbling, and now I almost even enjoy unloading my bag there. I invariably exchange a few amicable words with Aurelia; I am eternally grateful to her for helping me out of a pickle.
The folks from the Lower East Side Ecology Center used to pick up the juice bar pulp back in the 1990's, when I was cooking at Angelika Kitchen. They no longer collect restaurant scraps, because they get so much good raw material from all of us individuals.
By the way, their potting soil is excellent. The Lower East Side Ecology Center is truly one of New York City's gems.
Their mission statement:
Outstanding Renewal Enterprise, Inc. (The Lower East Side Ecology Center) was founded in 1987 as one of the first organizations to offer community-based recycling and composting programs in New York City. We started our programs by providing innovative recycling drop-off centers. Today, the Ecology Center offers free public compost collection and education, electronic waste recycling, stewardship of public open space, and environmental education. Our programs focus on offering opportunities for all New Yorkers to learn about environmental issues facing NYC and to take responsibility for solving those problems.
http://www.lesecologycenter.org/