Cornmeal-Crusted Cod with Fresh Tomato Sauce
Saturday, September 22, 2012
Miniature tomatoes dazzle in a variety of different sizes, shapes and colors; they are flavorful long after the larger varieties are truly out of season.  I love using these miniature packets of flavor to make versatile stove-top sauces. The one that I demo in the video is just as delicious over polenta and simple greens as it is over fish. In the video, I'm demonstrating a single serving of cornmeal-crusted cod, although the tomato sauce is enough for up to four filets. You can swap out the cod for halibut or pollack or any thick white-fleshed fish.
Cornmeal-Crusted Cod with Fresh Tomato Sauce
I begin with a pint of small tomatoes. I've used grape and cherry, or sweet sun-golds—my favorites—when I can find them at my local greenmarket. I often mix a beautiful combination of colors, varieties and sizes. I add to the skillet—besides the halved tomatoes—a teaspoon or so of minced garlic, a couple tablespoons minced shallots, a teaspoon of fennel seeds, a few tablespoons extra virgin olive oil and a splash of balsamic vinegar. I sprinkle a dusting of sea salt and freshly ground black pepper over everything, give it a quick mix, then cover and set the pan aside while I start the fish.
I salt and pepper the filet before I dredge it on both sides in cornmeal. When the cast iron skillet (or any other heavy-bottomed skillet will do) is heated, I add a film of coconut oil—unflavored is best—and cook the fish a couple of minutes on each side over medium-high heat until golden. I transfer the pan to a preheated 400˚F oven for 5 minutes to cook the inside of the fish thoroughly.
While the fish is in the oven, I turn the heat on the tomatoes and let them stew for 2 to 3 minutes, just until warmed through and juicy. I then stir in a tablespoon or so of minced chives and parsley, which brightens the colors and heightens the flavors. When the fish is ready, I plate it and spoon the sauce over the top. The fish is moist on the inside, crispy on the outside and complemented by the warm tomato sauce.
It's a guest-worthy dish that is easy, seasonal, and delicious.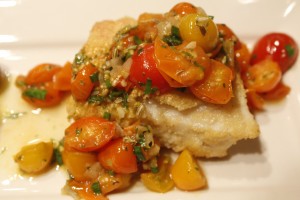 Hurricane Sunday Comfort Food
Thursday, September 1, 2011
Hurricane Sunday was nursery night all day. We stayed in cozy clothes and ate breakfast for every meal.
A couple of noteworthy highlights:
Mochi with avocado, smoked salmon, and fresh dill.
Mochi recently came back on my radar. The sticky pounded rice squares are available in the refrigerator section of natural food stores. Cut off a square no bigger than 2×2 and bake it at 450˚F for 10 minutes, until it puffs. A toaster oven works just fine. Slice open a pocket and fill it with whatever you like, then  make sure to eat it while it's hot and gooey. Another favorite combination is mochi (raisin-cinnamon) with almond butter and sliced bananas with a drizzle honey.
Supper continued in the breakfast mode: Baked eggs with Fresh Corn Polenta
I pureed the kernels from a couple of ears corn, sautéed them in a little butter, then added about ¼ cup of corn grits, ¼ teaspoon salt, and a cup water. I cooked it in a medium skillet, stirring frequently, for about 5 minutes, then stirred in a sliced roasted red pepper. I transferred the whole corn mass to a pie plate, made a few craters, and cracked an egg into each indent.
I sprinkled a lttle salt over the eggs along with a few drops water, and baked them in a 350 degree oven for about 25 minutes.  Seriously delicious.
Sautéed Corn with Shallots and Balsamic Vinegar
Monday, August 29, 2011
Last Friday evening I taught an antipasto class at the Natural Gourmet. The recipes were designed specifically with August entertaining in mind. Everything is at room temperature and can be made in advance, including these blackberry parfaits.
The students did a great job on the whole menu.
A lot of the recipes were really simple.
Monday I was thinking about the sautéed corn with balsamic vinegar and shallots, one of the dishes from the class. Fresh local corn is stunning right now, so I picked some up at Union Square. Since Hudsen Valley Farms are at the Union Square Greenmarket on Mondays, I decided that a good duck confit with the corn would be a special meal, but would require only minutes of active time.
Here's the recipe for my Sautéed Corn with Balsamic Vinegar and Shallots which is a quick version of Swiss Chard with Corn and Balsamic Vinegar from The Healthy Hedonist.
Serves 4
1/4 tablespoon extra virgin olive oil
1/2 cup minced shallots
4 ears corn, husked and silk removed, kernels removed (about 2 cups)
1/2 teaspoon salt
1 tablespoon + 1 teaspoon balsamic vinegar
freshly ground black pepper
Warm the olive oil in a large skillet over medium heat. Add the shallots and corn kernels and salt. Sauté over medium heat until the corn has released its liquid and the shallots have started to brown, about 4 minutes.
Stir in the balsamic vinegar, scrape up the brown bits and turn off the heat. Sprinkle with freshly ground black pepper. Remove the corn to a serving dish. Serve warm or at room temperature.