Building a Satisfying Salad
Monday, July 14, 2014
In today's video, I demonstrate one of my favorite summer lunches, a beautiful light yet substantial main course salad. The focus of the video is on the components that make up a satisfying salad. My ideal summer salad has a homemade dressing, a gorgeous mix of greens, a protein, a raw vegetable or two, a fermented vegetable, a sprinkling of something fatty, and some kind of crunchy, dehydrated vegetable or sprouted chip. This composed salad lends itself to infinite variations, and I explore three. Happily, all of these colorful, multi-textured salads take only minutes to assemble, and they are hearty enough to keep you going strong until dinner.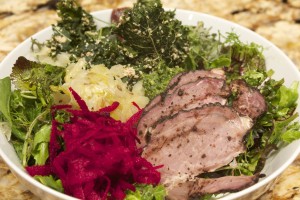 The most important factor in a salutary salad is the dressing. Bottled salad dressings are not healthy; they all contain inflammatory polyunsaturated oils, such as soybean oil, as their primary ingredient. Making your own dressing, however, is quick and cost-effective as well as healthy and delicious. Here's how to make a basic vinaigrette: First, place a damp dishtowel in a ring shape on your counter to hold your bowl steady. Doing this will free both hands. Place a dab of mustard in the bowl, then add a tablespoon of minced shallots. Next, pour in a couple tablespoons of your favorite vinegar (the dressing used in the video is golden balsamic), then whisk in about 6 tablespoons of extra virgin olive oil. You can also add a splash of flax seed oil to boost the omega-3 content. Stir in a few tablespoons of fresh herbs, and make sure to include a generous sprinkling of salt and black pepper. Transfer the dressing to a jar, and refrigerate it for up to two weeks. You now have a delicious dressing available whenever you want to enjoy a salad.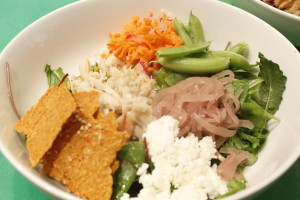 Next, pick a selection of delectable greens. Bins at your local greenmarket contain the most exciting varieties; but mesclun, arugula, and watercress are readily available in most grocery stores. Toss the greens with just enough dressing to coat, and place in your salad bowl.
Now for the composed part: Top the greens with a serving of protein. The three examples in the video feature tinned crab, smoked mackerel, and lamb pastrami. Other delicious pantry staples or ready-to-use proteins include tinned sardines, salmon, tuna, smoked oysters, and shrimp. Cold proteins, such as poached fish, chicken, turkey, or beef from a previous meal can be used as well.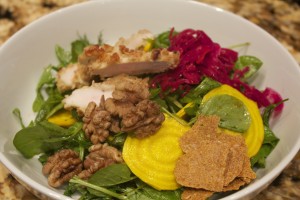 Since so many fine fresh vegetables are available in the summer, be sure to add a fresh raw vegetable or two. In the video, I show grated radishes and carrots, thinly sliced beets, sliced snow peas, shelled English peas, and whole sugar snap peas, which, when fresh, are delicious eaten raw. I recommend also including a fermented vegetable; not only are fermented vegetables refrigerator staples, but they lend a wonderful tangy flavor to the salad, and they make the proteins in the salad easy to digest.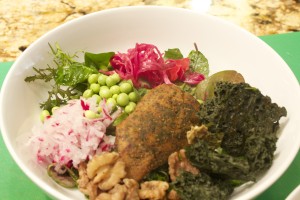 Next, sprinkle over your salad a "fatty" component such as nuts, olives, or crumbled cheese. A little of these go a long way.
The last essential ingredient—again, something that keeps well in the pantry—is some kind of a crunchy vegetable chip. There are so many tasty dehydrated vegetable chips on the market now: kale chips, onion chips, arugula chips, and dehydrated vegetable crackers, to name a few. A little mound adds a fun element to the salad.
Mix and match and come up with all kinds of salad variations. I hope that you develop your own hot weather favorite combinations and that you turn out to be as excited about these salads as I am!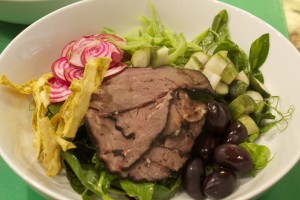 Turkey Hash
Monday, November 25, 2013
I've already cooked a couple of turkeys this season while testing recipes, so I've had a good deal of practice using up the inevitable leftovers. While I enjoy consuming my fill of turkey sandwiches and turkey soup, this year one of my favorite ways to make a new dish out of the cooked turkey has been to make it into a hash—a quick delicious one-skillet meal that is equally tasty for breakfast, lunch, or supper. I incorporate wild rice into my version—a departure from the more usual turkey-potato variety—so I make sure to have a little extra on hand as a "deliberate" leftover. Wild rice has an impressive nutrient profile and adds a nutty earthy quality to the other ingredients. Preparing hash is also a good way to use up other odds and ends of vegetables and herbs.
To make the mélange, I start with a half cup of diced onions. I sweat these in clarified butter or ghee, butter, or olive oil for about 10 minutes in a large skillet until quite soft. In the video I use ghee, one of my favorite cooking fats. While the onions are slowly cooking, I prep the rest of the ingredients: I dice my turkey and vegetables so that I'm ready to add these as soon as the onions are tender.  I then add  2 cups finely chopped turkey, 1 cup of cooked wild rice, ½ cup diced green bell pepper, and another cup of vegetables as well, which varies depending on what I have on hand.  In the video, I add ½ cup each of chopped celery and carrots, but shaved Brussels sprouts, broccoli, or cauliflower—all chopped small— are delicious too. If I have ½ cup of chestnuts, I add those as well.  To moisten the ingredients, I stir in ½  cup  of chicken or turkey broth, about ½ teaspoon dried thyme (or 2 teaspoons fresh), ¼ teaspoon dried sage (or 1 teaspoon fresh), and ½ to ¾ teaspoon salt, depending on how salty my broth is. I cook the mix uncovered over medium heat, stirring from time to time, until the broth is absorbed and the flavors have married. I sprinkle a generous grind of fresh pepper and a tablespoon of fresh-chopped parsley over the dish. This is  truly a versatile one-pot meal.
Sun-gold Tomatoes with Purple Peruvian Potatoes
Monday, August 12, 2013
Recently, the greenmarket has had beautiful thick slabs of fresh tuna caught off the coast of Long Island. Bins of  purple Peruvian potatoes have beckoned me as well. I love their appealing purple flesh and the fact that they are something like 40 times more nutritious than white potatoes. The summer sun gold tomatoes taste like candy, so I haven't been able to resist buying scores of those. I started the dish in a large pan with a few leeks, then added the potatoes, and cooked the whole lot for about five minutes in a dollop of extra virgin olive oil.  I then added the halved tomatoes, shallots, garlic, capers, balsamic vinegar, a bit more olive oil and the tuna. It took only four minutes to cook the dish. I then sprinkled the dish with chives and parsley before serving.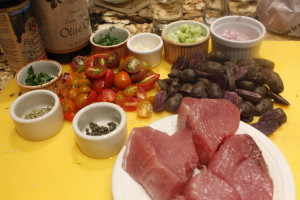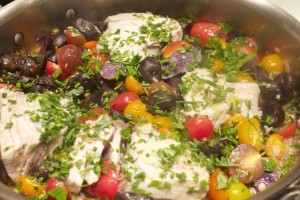 I  served the tuna with a thinly shaved zucchini and apple salad with dill and black cumin. It was a delicious lunch!
Scallops with Lemon-Tarragon Browned-Butter Sauce and Garlicky Arugula
Friday, May 10, 2013
After the heavier foods of winter, spicy and bitter spring greens are cleansing to the body and taste delicious. Peppery lettuces such as arugula and watercress are typically served raw in salads, but they are very tasty when cooked as well. In this video, I show how to make a quick spring meal that you can put together in just 10 minutes. It features seared scallops in a lemony tarragon browned-butter sauce as well as garlicky sautéed arugula.
Scallops in Lemon-Tarragon Browned-Butter Sauce
Start with the scallops, since they take longer to cook than the greens. Make sure to purchase dry scallops that have not been soaked in any solution. Dry them well with a paper towel, and pull the tough little muscle off. (It is often attached at the side.) Toss the scallops with a little salt and freshly ground black pepper. Heat a thin film of fat in a non-stick or cast iron skillet over medium flame. Fats that are good for this dish include ghee, aroma-free coconut oil, or extra virgin olive oil.  Heat the oil over a medium-high flame until your hand, when it's held one inch above the pan, feels hot.  Add the scallops—they should sizzle—and cook for about three minutes, until seared on the first side. Using a tongs, flip the scallops and cook them on the second side for another three minutes or so until they feel firm, with just a little give.
Meanwhile, melt 4 tablespoons butter in a small pot on another burner over medium-high heat. You'll notice that the butter starts gurgling right away, which means that the water content of the butter is evaporating. After about three minutes, the butter will foam and smell nutty. Use a spoon to push the foam aside and see the color of the butter, which should have turned a burnished chestnut color. Immediately remove the pan from the heat and pour in a couple of teaspoons or so of lemon juice to stop the cooking process. Add a tablespoon chopped tarragon to infuse the lemony buttery sauce with a fresh herby flair. Now you have a delicious sauce that is versatile as well.
In a medium skillet, add a splash of olive oil with a couple cloves minced garlic. Start heating the oil and the garlic at the same time, which will keep the garlic from burning. When the oil starts to sizzle, and the garlic just starts to take on some light color, add a pile of greens and toss to cook. In the video, I use arugula, but watercress is delicious as well. The greens wilt and are ready in under a minute. Sprinkle with a dash salt and a splash lemon. Greens cook down a lot, so make sure you plan for two cups of loosely packed greens per person.
Serve the scallops drizzled with the browned butter sauce accompanied by a mound of the garlicky greens. You'll marvel at how something so tasty was so easy to make.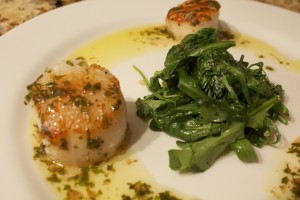 My Favorite Winter Salad
Monday, January 21, 2013
After a season of holiday indulgence and too many meals out, it's time to begin the new year with a little lighter fare. I'm busy with obligations, but I don't want to skimp on good food. So I turn to my favorite nourishing winter salads that I can make in minutes. This hearty winter salad that I show on the video consists of arugula, oranges, fennel, and sardines, with a complement of olives, walnuts and feta cheese. It's composed in such a way that I don't even need a separate dressing.
I start with a nest of baby arugula, or watercress, or mesclun greens. In the video, I use arugula with some farmer's market pea shoots mixed in. I next add an orange that is cut into segments known as supremes. I cut the orange over a bowl to make sure to catch the juices that will become part of the dressing. I sprinkle the greens and orange with salt and then add a layer of paper-thin sliced fennel, which is arguably the most appealing way to eat raw fennel. Using the mandolin is the easiest way to get such slices. Next, I sprinkle in some black olives—a flavorful variety such as kalamata or nicoise—followed by a handful of walnuts. I then crumble my favorite feta cheese, a sheep's milk feta, over the salad.  Finally, I crown the salad with sardines. I use sardines packed in extra virgin olive oil, so that the oil from the tin of the sardines becomes part of the dressing, mixing with the juice of the oranges. Every bite is exciting—a medley of sweet, salty, juicy, and crunchy. Moreover, this salad is a nutritional winner, packed with a range of nutrients, from omega 3's to vitamins C and E, and loaded with phytochemicals and minerals as well.
You can pack this salad to take on the go.  Layer the greens with the fennel, olives, walnuts, and feta. Put the juicy orange slices in a separate container. Salt the salad, add the oranges, and top with the sardines right before eating.
Cornmeal-Crusted Cod with Fresh Tomato Sauce
Saturday, September 22, 2012
Miniature tomatoes dazzle in a variety of different sizes, shapes and colors; they are flavorful long after the larger varieties are truly out of season.  I love using these miniature packets of flavor to make versatile stove-top sauces. The one that I demo in the video is just as delicious over polenta and simple greens as it is over fish. In the video, I'm demonstrating a single serving of cornmeal-crusted cod, although the tomato sauce is enough for up to four filets. You can swap out the cod for halibut or pollack or any thick white-fleshed fish.
Cornmeal-Crusted Cod with Fresh Tomato Sauce
I begin with a pint of small tomatoes. I've used grape and cherry, or sweet sun-golds—my favorites—when I can find them at my local greenmarket. I often mix a beautiful combination of colors, varieties and sizes. I add to the skillet—besides the halved tomatoes—a teaspoon or so of minced garlic, a couple tablespoons minced shallots, a teaspoon of fennel seeds, a few tablespoons extra virgin olive oil and a splash of balsamic vinegar. I sprinkle a dusting of sea salt and freshly ground black pepper over everything, give it a quick mix, then cover and set the pan aside while I start the fish.
I salt and pepper the filet before I dredge it on both sides in cornmeal. When the cast iron skillet (or any other heavy-bottomed skillet will do) is heated, I add a film of coconut oil—unflavored is best—and cook the fish a couple of minutes on each side over medium-high heat until golden. I transfer the pan to a preheated 400˚F oven for 5 minutes to cook the inside of the fish thoroughly.
While the fish is in the oven, I turn the heat on the tomatoes and let them stew for 2 to 3 minutes, just until warmed through and juicy. I then stir in a tablespoon or so of minced chives and parsley, which brightens the colors and heightens the flavors. When the fish is ready, I plate it and spoon the sauce over the top. The fish is moist on the inside, crispy on the outside and complemented by the warm tomato sauce.
It's a guest-worthy dish that is easy, seasonal, and delicious.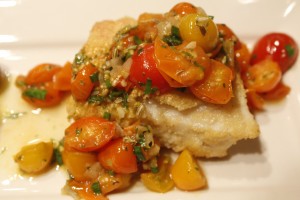 Zucchini Salads
Friday, September 7, 2012
Until recently, too many bad memories of thick chunks of raw zucchini in crudité platters made me shy away from ever eating the vegetable raw. I had assumed that the best way to coax and concentrate the flavor of the watery squash was to cook it. Before cooking, I'd often salt the zucchini to draw out the water. If I had grated it, I would squeeze out the excess; if I had sliced it, I would blot it dry before sautéing.
I gave raw zucchini a second chance recently. The difference was that I sliced the vegetable paper thin. I then added a fat sprinkling salt to draw out the water. The slices wilted into an appealing texture that changed my assessment of raw zucchini.
I've been making many delicious salad all summer with this technique.
I repeat: the key is to slice the zucchini thin. This is where a mandolin comes in handy. I don't use anything fancy—a plastic one or the slicer that is on some flat metal graters works fine. I then sprinkle some salt on the zucchini, along with something acidic like lemon and lime juice as well as all of the other ingredients. Sometimes I hold back on adding the oil until after the salad is completely softened. I let the zucchini wilt for about an hour, turning every so often.
These salads retain their good looks and flavor up to three days in the refrigerator.
The salad pictured here includes lime juice, a few chopped anchovies, scallions, jalapeños, cilantro, dill, Thai fish sauce, and baby shrimp. I let it sit about an hour, mixing  a couple of times, until the zucchini is wilted and tender. I then add some oil. Nowadays I'm using a blend of extra virgin olive oil, sesame oil, and filtered coconut oil. I serve this over a bed of mesclun for a delicious lunch.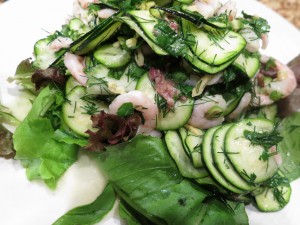 Although the prep is quick, you do have to plan to make this an hour ahead of eating.
The version I made the other day was with zucchini, salt, lemon juice, olives, mint, basil, and oil. If I had some cherry tomatoes I would have thrown those in as well.  This humble vegetable (and use the yellow variety as well) lends itself to lots of possibilities for extraordinary dishes.
Eating for Radiant Skin: part 3
Wednesday, April 4, 2012
A Word about Fat:
Fat is important for skin health. It's a mistake to be on a low-fat or no-fat diet. You need fat in order to digest, transport, and absorb Vitamin A,D,E, and K. It's soothing to the nervous system.  Every cell in the body has a surrounding membrane – which is where communication between cells take place – that is made up of fat.
You need an array of fats. You need saturated fats to maintain structure; mono and polyunsaturated fats to maintain elasticity. All fats and oils that we consume are made up of a combination of monounsaturated, polyunsaturated, and saturated fats.
Polyunsaturated fats, also know as omega 3's and 6's, are the ones your body does not make. These are called essential fatty acids because you have to get them from food sources. Omega 3's are good for countering inflammation in the body. Good sources for omega 3's are fatty fish such as sardines, anchovies, tuna, and salmon; nuts, seeds, and organic eggs.
Because of the standard American highly refined diet, most people have far too many Omega 6's and not enough Omega 3's. The ideal ratio is somewhere between 1 to 4 times as much omega 6's as 3's. Most Americans get 20 times more omega 6's than 3's. Poor quality oils and feed lot meat contribute to an excess of Omega 6 fatty acids in the body.
It is easy to get good quality Omega 6's from whole nuts and seeds, where they are less likely to be rancid. Refined polyunsaturated oils are unstable; they are exposed to high temperatures, chemical solvents, light and oxygen. The essential oils in them are destroyed, and they are rancid and oxidized. They suppress the immune system and cause inflamation. Eating a lot of polyunsaturated oil increases cholesterol in the tissues and cell membranes.
The best fats for cooking, which can take the heat without becoming rancid or oxidized, are butter, ghee (clarified butter), olive oil, coconut oil, and sesame oil.
To get a good supply of omega 3's, I turn to the tinned fishes that I keep in my pantry. From these pantry staples I have developed nutritious, delicious meals that I can get on the table in minutes.
A couple of years ago I met the folks at Vital Choice when I was at the wise traditions conference. They had a lot of samples of their fish, including everything from the tinned mackerel, sardines, and salmon to the wild king salmon. They were by far the most delicious tinned fish I had ever tasted, and I was impressed with the flash frozen salmon as well. We were served smoked cod from them as a first course as well, another delicious fish they sell. I returned home from the conference with multiple tins of each pantry staple and I ordered a lot more stuff when I returned home. Now I make sure to keep a supply of the flash-frozen salmon as well in my freezer.
(By the way, the Vital Choice catalogue is extensive, and among other products includes macadamia nut oil, dark chocolate, and a variety of different kinds of fish oil.)
One of my super quick go-to lunches is either the mackerel (or sardines) mashed with avocado, lemon, and salt on a bed of greens. I eat it on a bed of greens.
Here's a quick video on how to make it:
Here's a composed salad made with the sardines:
Here's a quick video on how to make it:
Another quick dish that I make a lot is with the flash-frozen wild salmon.
Here's the video on how to make this:
This last dish is made with the canned salmon and fresh salmon roe.
Salmon roe is a nutritional powerhouse, loaded with anti inflammatory omega 3's as well as Vitamin A and D.
Here's how to make it:
Delicious, nutritious, fast, and easy!
Lamb Merguez Stew
Wednesday, February 22, 2012
I have been making lots of soups and stews this week to give to a friend who is recovering from surgery. The upside is that I've had a lot of delicious warming food around as well. This lamb merguez stew was a snap, since I had lamb bone broth in my freezer. Chicken stock, however, would work as well. I purchased the sausage from my favorite lamb farmer, 3-corner-Field farm at the Union Square greenmarket.
I first browned the sausage (about a pound) in a large pot, then removed it and cooked down the liquid. I added ½ cup shallots and sweated those in the small amount of lamb fat left in the pot for about 5 minutes. I then added a 2 ½ pound butternut squash that I had cut into 1-inch cubes, a jar of roasted red peppers, the cooked sausage and about 4 cups stock. I added some salt, covered the pot, and let the stew simmer for about 20 minutes, until the squash was soft. I added a whole head of chopped kale, then cooked the stew another 10 minutes until the kale was tender.
Meanwhile, on another burner, in a small skillet, I sautéed some garlic, ginger, and harissa powder for a couple of minutes, then added that to the stew. At the end, I smashed some of the cooked squash against the sides of the pot to thicken the stew. Simple, quick, delicious meal-in-a-pot.