Scallops with Lemon-Tarragon Browned-Butter Sauce and Garlicky Arugula
Friday, May 10, 2013
After the heavier foods of winter, spicy and bitter spring greens are cleansing to the body and taste delicious. Peppery lettuces such as arugula and watercress are typically served raw in salads, but they are very tasty when cooked as well. In this video, I show how to make a quick spring meal that you can put together in just 10 minutes. It features seared scallops in a lemony tarragon browned-butter sauce as well as garlicky sautéed arugula.
Scallops in Lemon-Tarragon Browned-Butter Sauce
Start with the scallops, since they take longer to cook than the greens. Make sure to purchase dry scallops that have not been soaked in any solution. Dry them well with a paper towel, and pull the tough little muscle off. (It is often attached at the side.) Toss the scallops with a little salt and freshly ground black pepper. Heat a thin film of fat in a non-stick or cast iron skillet over medium flame. Fats that are good for this dish include ghee, aroma-free coconut oil, or extra virgin olive oil.  Heat the oil over a medium-high flame until your hand, when it's held one inch above the pan, feels hot.  Add the scallops—they should sizzle—and cook for about three minutes, until seared on the first side. Using a tongs, flip the scallops and cook them on the second side for another three minutes or so until they feel firm, with just a little give.
Meanwhile, melt 4 tablespoons butter in a small pot on another burner over medium-high heat. You'll notice that the butter starts gurgling right away, which means that the water content of the butter is evaporating. After about three minutes, the butter will foam and smell nutty. Use a spoon to push the foam aside and see the color of the butter, which should have turned a burnished chestnut color. Immediately remove the pan from the heat and pour in a couple of teaspoons or so of lemon juice to stop the cooking process. Add a tablespoon chopped tarragon to infuse the lemony buttery sauce with a fresh herby flair. Now you have a delicious sauce that is versatile as well.
In a medium skillet, add a splash of olive oil with a couple cloves minced garlic. Start heating the oil and the garlic at the same time, which will keep the garlic from burning. When the oil starts to sizzle, and the garlic just starts to take on some light color, add a pile of greens and toss to cook. In the video, I use arugula, but watercress is delicious as well. The greens wilt and are ready in under a minute. Sprinkle with a dash salt and a splash lemon. Greens cook down a lot, so make sure you plan for two cups of loosely packed greens per person.
Serve the scallops drizzled with the browned butter sauce accompanied by a mound of the garlicky greens. You'll marvel at how something so tasty was so easy to make.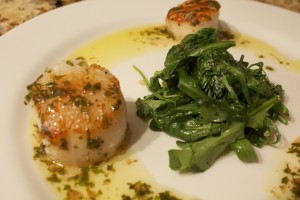 Quick Vietnamese Pho with Fresh Herbs
Wednesday, March 20, 2013
This quick Vietnamese pho, pronounced fuh, as in fun, is a soothing one-pot meal that's flavorful and light, especially after the heavier foods of winter.
Watch the Video Quick Vietnamese Pho with Fresh Herbs
The first step is to toast some spices—a couple of tablespoons of coriander, a few cloves, a pieces of star anise, a spoonful of black peppercorns— in a dry heavy-bottomed skillet over medium heat until the spices smell fragrant, which takes only a couple of minutes. I then wrap the spices in a cheesecloth along with some chunks of ginger and onions. l add this bouquet to two quarts of chicken broth (this is where a homemade one really shines) along with a pound of boneless chicken (breasts or legs are fine),  a tablespoon of natural brown sugar, a couple of tablespoons of Vietnamese fish sauce, and a few pinches of salt. The fish sauce consists simply of fermented anchovies, which gives the broth authentic Southeast Asian pizazz. After bringing the liquid to a boil, I lower the heat and simmer the broth very gently (so as not to toughen the chicken) for 20 minutes or so, until the chicken is cooked through.   I love that I can flavor the broth and cook the chicken all at the same time.
While the chicken is cooking, I pour hot water over fettuccine rice noodles, and I assemble the garnishes. I chop some fresh mint, cilantro and basil, cut some limes, slice some red onions, and finely chop a couple of hot chile peppers.
When the chicken is cooked, I remove it from the broth and discard the spice bag.  As soon as the chicken is cool enough to touch, I tear it into chunky pieces.
To assemble the final dish, I ladle the broth over the noodles and chicken, then add the garnishes. I start with the onions and bean sprouts and then add a big handful of the fresh herbs. A sprinkle of the hot chiles and a squeeze of fresh lime at the last minute makes the dish sing! Assembling the dish to order allows me to adjust the spice level for all who are eating.
The flavorful herbed broth is nourishing and cleansing, not to mention delicious!
Day Before Thanksgiving Feast
Saturday, November 24, 2012
This time of year I get a hankering to cook a Thanksgiving meal, even if I'm not the one having the guests over. My local traditional foods club has farmers that bring in stunning pasture-raised Turkeys, so I couldn't resist buying a couple. I invited a friend over to cook a no-stress pre-Thanksgiving meal with me and split the bounty. (We cooked the 13-pound Turkey. I still have a wee 7-pound turkey in the freezer.)
This is what we made, based on what looked good at the greenmarket when I went shopping that morning:
Cranberry glazed turkey: I planned this one. I made a glaze by simmering cranberries, maple syrup, thyme, orange zest, garlic, and brown rice vinegar in a small pot. When the cranberries had burst, I pushed everything through a strainer. I served this same glaze for a recent lunch party on duck breasts.
I received the turkey Tuesday night and did a little prep. I dry-brined it with salt (basically just rubbed it all over) and slipped some thyme-rosemary-sage butter under the skin to keep the breast moist. I laid the turkey on a rack in the roasting pan and refrigerated it overnight. Wednesday I baked it breast-side down at 325˚F. for an hour, then flipped it, and cooked the turkey about another 2 hours. I glazed the bird the last 40 minutes.  Next time I won't be lazy, and I'll tie the turkey legs together.
Gravy was the pan drippings with a roux made from chickpea flour and butter (the whole meal was gluten free), with some gelatinous chicken stock. (I had simmered a whole chicken with a bunch of extra feet overnight to make a gelatinous chicken stock.)
Stuffing: I made a gluten-free cornmeal with cornmeal and sorghum flour (soaked the flours in buttermilk overnight, then proceeded with the recipe), then sautéed onions with cranberries, dates, and prunes. I added some wine, apple cider, and a smidge of maple sugar to deglaze, and cooked this until the cranberries burst. I added the mix to a bowl with some sage, chopped pecans, toasted cornbread cubes, a pound of turkey sausage (I cooked it first), and a splash of sherry vinegar (and salt and pepper of course) and a couple eggs. I baked this separately in an 8×11 roasting pan at 350 for about 20 minutes. Next time I'll have the stuffing ready in advance and I'll fill the bird with it.
Celery root-apple-sage pancakes: recipe from The Healthy Hedonist Holidays. I used chickpea flour instead of unbleached white flour to make these gluten-free.
Chard with cipolline onions: We cooked cipolline onions in olive oil and balsamic vinegar and added a couple bunches of wilted chard.
Buttered Green Beans with anchovies, garlic, and sage: We crushed the anchovies with salt so that they disappeared, and finished the green beans off with a splash of lemon juice.
Brussels Sprouts with leeks and shiitake mushrooms: We sweated the leeks and mushrooms with olive oil and a splash of tamari, until shrunken and tender. We removed them from the pan. We then added the Brussels Sprouts with butter, water, thyme, and salt, and cooked them until tender. We uncovered the lid and added balsamic vinegar and mustard, stirred the mushroom mix back in, and finished with a sprinkle of fresh tarragon.
Squash-Chestnut soup: We cooked hubbard squash soup with chestnuts, and added a splash of scotch. Served it with a swirl of yogurt, although crème fraiche would have been even more luscious.
Russet apples: Roasted in ginger-cinnamon mulled cider.
Then we feasted, and divided the spoils. No room for dessert, but it wasn't necessary. Had leftovers of this one (espresso pudding with pumpkin whipped cream).
I'll admit that on Thanksgiving I had salmon, since I didn't want to exhaust my enthusiasm for Turkey. The next night I was into Turkey again. This is my second night of leftovers, and it's so good.
Mussels in White Wine Sauce
Monday, November 5, 2012
Today I made videos of a few easy seafood dishes.  I started with mussels in white wine sauce. I simmered some shallots and garlic with white wine for a couple of minutes. I added a couple pounds mussels, covered the pan and cooked them until they opened. I transfered the mussels onto two plates, then added some fresh herbs (today it was thyme, parsley and oregano) as well as a chunk of butter and a sprinkling salt to the skillet. When the butter foamed, I poured the sauce over the mussels and mopped up the extra with a hunk of crusty bread. Delicious!
Savory Plum Dishes
Wednesday, October 3, 2012
Now that the summer has transitioned into autumn, I am thrilled to resume my favorite cooking method: braising. I love the way that the prep for a braise is usually short; the oven does all of the hard work. A cut of meat that starts out tough slowly cooks for hours until it is meltingly tender. Best of all, braises taste better the following day, making them ideal dishes for gatherings.
A few weeks ago I was inspired by a New York times article by Melissa Clark on braising a brisket with Italian plums and port wine. Because of the wonky weather in New York this year, peaches and plums were mealy and unappealing to eat raw, but I envisioned cooked plums melting down into a beautiful regal sauce.
I purchased a second cut grass-fed brisket, which is the fattier of the two possible brisket cuts. Since grass-fed meat tends to be extra lean, this is the better of the two cuts to use. I salted and peppered the six-pound piece, seared it on both sides in a little oil for about 7 minutes per side in a large skillet, then transferred it to a plate. I added a few cups sliced onions and a few cloves minced garlic to the pan, and gently sweated the onions until softened. I then added a cup of port and a cup of rich chicken stock, and scraped up the brown bits on the bottom of the pan. To a baking dish that would fit the brisket, I added a couple pounds of halved Italian plums along with a couple cinnamon sticks, a few stars of star anise, some bay leaves and a handful of fresh thyme branches. I poured the onion-wine mix over the plums, lay the brisket on top, and spooned some of the liquid over the brisket. I covered the pan with foil and placed it in a 325 degree oven for about 5 hours. Every half hour or so I flipped the brisket. The last half hour I uncovered the brisket to thicken the liquid. I let the meat cool to room temperature, then chilled it overnight in the refrigerator. I sliced it while cold and shared the dish with friends.  I reheated the sliced pieces in the oven in the sauce.  The brisket was succulent and delicious.
Since I was not yet over plums, I made a quick plum sauce to go over duck breasts. While my duck breasts were searing, I added a bit of the rendered duck fat to an adjacent skillet and sweated some sliced onions. I then added a cup of chicken stock, a cup of port, a cinnamon stick, some star anise pods, a few sprigs thyme, a bay leaf and 2 pounds of halved plums. I  let the whole sauce reduce while the duck breasts cooked. The duck and the sauce were finished around the same time, in about 15 minutes. Earlier in the day I had roasted some whole beets in a pan with thyme, olive oil, and water for a couple of hours. When they were ready, I slipped off the skin, cut them into wedges, and drizzled a bit of pomegranate molasses over them.
I served the meal with a mélange of corn, peppers, and zucchini and a few spoonful's of lacto-fermented carrots. This bright and colorful meal took only 30 minutes of labor.
Shrimp and Fresh Tomato Sauce
Monday, September 24, 2012
Here's another variation of the succulent cherry tomato sauce.
Added to the tomatoes is ½ pound shrimp, which turns this dish into a substantial sauce. The petite wild Oregon Pink Shrimp from Vital Choice are perfect, since they're already cooked, and they reheat in the three minutes it takes to warm the tomatoes. I keep large bags of the frozen shrimp in my freezer, which inevitably make their way into lots of dishes. They take about 15 minutes to defrost, which makes them great for last minute dishes.
I love the way the sweet corn flavor of the polenta complements the juicy herbed shrimp and tomatoes. In order that I don't have to stir continuously, I cook the polenta over a double boiler (the technique in is The Healthy Hedonist), then fold in some fresh corn right before the polenta is finished. Sometimes I eat the polenta soft—before it's set—but most of the time I spread it onto an oiled baking dish. Refrigerated, the polenta lasts for up to a week. I cut the polenta into triangles, brush the top with olive oil, and then bake at 400 degrees until browned, which takes about half an hour. If I'm just using a couple of pieces and not the whole pan, I'll sauté the pieces in a cast iron skillet with some coconut oil until crispy. I add some wilted greens or a salad for a balanced meal.
Cornmeal-Crusted Cod with Fresh Tomato Sauce
Saturday, September 22, 2012
Miniature tomatoes dazzle in a variety of different sizes, shapes and colors; they are flavorful long after the larger varieties are truly out of season.  I love using these miniature packets of flavor to make versatile stove-top sauces. The one that I demo in the video is just as delicious over polenta and simple greens as it is over fish. In the video, I'm demonstrating a single serving of cornmeal-crusted cod, although the tomato sauce is enough for up to four filets. You can swap out the cod for halibut or pollack or any thick white-fleshed fish.
Cornmeal-Crusted Cod with Fresh Tomato Sauce
I begin with a pint of small tomatoes. I've used grape and cherry, or sweet sun-golds—my favorites—when I can find them at my local greenmarket. I often mix a beautiful combination of colors, varieties and sizes. I add to the skillet—besides the halved tomatoes—a teaspoon or so of minced garlic, a couple tablespoons minced shallots, a teaspoon of fennel seeds, a few tablespoons extra virgin olive oil and a splash of balsamic vinegar. I sprinkle a dusting of sea salt and freshly ground black pepper over everything, give it a quick mix, then cover and set the pan aside while I start the fish.
I salt and pepper the filet before I dredge it on both sides in cornmeal. When the cast iron skillet (or any other heavy-bottomed skillet will do) is heated, I add a film of coconut oil—unflavored is best—and cook the fish a couple of minutes on each side over medium-high heat until golden. I transfer the pan to a preheated 400˚F oven for 5 minutes to cook the inside of the fish thoroughly.
While the fish is in the oven, I turn the heat on the tomatoes and let them stew for 2 to 3 minutes, just until warmed through and juicy. I then stir in a tablespoon or so of minced chives and parsley, which brightens the colors and heightens the flavors. When the fish is ready, I plate it and spoon the sauce over the top. The fish is moist on the inside, crispy on the outside and complemented by the warm tomato sauce.
It's a guest-worthy dish that is easy, seasonal, and delicious.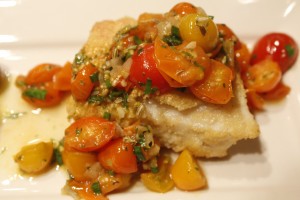 Catering Gig
Wednesday, May 30, 2012
This past Friday and Sunday, I catered a couple of on-site parties. I had Wednesday and Sunday morning to prepare for the Sunday brunch, and Thursday and Friday to prepare for the Friday evening party.
Since I had to prepare a good amount  in advance of Sunday, I had to plan on a certain number of dishes that would freeze or hold well for up to five days.
These individual cheesecakes fit the criteria.
As they rest in the refrigerate, they just keep on getting tastier, so making them five days ahead was not a stumbling block. I bought the molds at J.B. Prince, an amazing store on 31st street in NYC. I froze a batch of crepes (which were to be filled with strawberry-rhubarb compote), zucchini pancakes, lasagna, and this caramelized onion tart.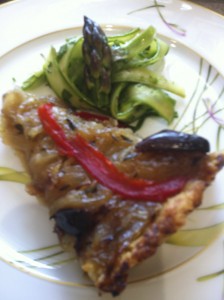 The asparagus salad that accompanied the tart I made right before serving. The asparagus was shaved raw and tossed with dressing, which softened the asparagus after about 20 minutes. I baked the tart without defrosting it first. It simply took an additional 15 minutes. Sunday I was able to focus on last minute items, like the fish.
I made the Friday desserts Friday afternoon. This is the blueberry buckle from the Healthy Hedonist Holidays.
This is a chocolate cake made in individual aluminum ramekins.
Powdered sugar covers a multitude of craters.
The Friday night meal had as a starter the Turkish chopped romaine salad and the miso-marinated black cod from The Healthy Hedonist.
I marinated the cod early in the day (marinade made the day before) and just tossed it in the broiler to brown. Before serving I blasted the fish in a hot oven to reheat; the oily fish is so forgiving it was not in the least bit dried out .
The stock for the broccoli soup was made Wednesday and the soup and pistou topping were finished Thursday.
The main course included braised short ribs and stuffed chicken (a great way to keep the chicken moist) as well as braised-roasted purple potatoes, sweet potatoes and carrots, and lemony sautéed artichokes.
I planned the main course to have items on it that would reheat well without drying out.
For the Sunday buffet I did cook a couple of items that required precise timing, but not too many.  One of the most important things about cooking for a crowd–beside being organized–is to have a menu that is a bit forgiving.
Sumac Chicken
Tuesday, April 17, 2012
When my photography teacher waxed enthusiastic about his favorite sumac chicken,  I started thinking about how much I like the sour, astringent flavor that that the purple spice imparts to dishes. I am especially fond of the combination called za'atar, a mix of sumac, thyme, and sesame seeds, which is typically baked into Middle Eastern flat breads.
I hadn't cooked with sumac for a while, and the thought of making a delicious chicken with the spice was intriguing.
My first version, which had sumac and salt rubbed in, over, and around the chicken was tasty, but not as tasty as I wanted.  The flavor needed a bit more complexity.
The next two versions were delicious.
First I mixed fresh thyme, salt, sumac, minced garlic, and extra virgin olive oil into a paste.
I butterflied open the chicken, then slipped the paste under the skin of the  chicken I had bought at Union Square green market.
I flipped the chicken and then brushed it with olive oil, and sprinkled it with more sumac, some dried thyme, and some garlic powder, salt and freshly ground black pepper.
I then transferred the chicken to the refrigerator to let the flavors seep into the meat. It's great if you can make this dish a day in advance and let it marinate overnight.
So far I've cooked the chicken two ways. The first time I just placed it on a rack and put it in a 400˚F oven for about 50 minutes until a thermometer in the thigh registered about 175˚F.
The next time I set the chicken on a grill pan skin side down and put a weight on it. I used this nifty iron, but a cast iron skillet or anything weighty works just as well.
I grilled it over medium-high heat for about 8 minutes until some serious browning appeared, and I then flipped the chicken and transferred it to a rack in a pan and  placed it in a 350˚F. oven for another 40 minutes.
It was delicious this way, even almost tasting as if it had been grilled outdoors. Of course you could grill it on an outdoor grill, but for me, in Manhattan, this was not a possibility.
The bird was succulent, with bright zesty flavor. I served it with mujadarrah (rice and lentils with caramelized onions) and salad one time, and mujadarrah and roasted asparagus another.
Eating for Radiant Skin: part 3
Wednesday, April 4, 2012
A Word about Fat:
Fat is important for skin health. It's a mistake to be on a low-fat or no-fat diet. You need fat in order to digest, transport, and absorb Vitamin A,D,E, and K. It's soothing to the nervous system.  Every cell in the body has a surrounding membrane – which is where communication between cells take place – that is made up of fat.
You need an array of fats. You need saturated fats to maintain structure; mono and polyunsaturated fats to maintain elasticity. All fats and oils that we consume are made up of a combination of monounsaturated, polyunsaturated, and saturated fats.
Polyunsaturated fats, also know as omega 3's and 6's, are the ones your body does not make. These are called essential fatty acids because you have to get them from food sources. Omega 3's are good for countering inflammation in the body. Good sources for omega 3's are fatty fish such as sardines, anchovies, tuna, and salmon; nuts, seeds, and organic eggs.
Because of the standard American highly refined diet, most people have far too many Omega 6's and not enough Omega 3's. The ideal ratio is somewhere between 1 to 4 times as much omega 6's as 3's. Most Americans get 20 times more omega 6's than 3's. Poor quality oils and feed lot meat contribute to an excess of Omega 6 fatty acids in the body.
It is easy to get good quality Omega 6's from whole nuts and seeds, where they are less likely to be rancid. Refined polyunsaturated oils are unstable; they are exposed to high temperatures, chemical solvents, light and oxygen. The essential oils in them are destroyed, and they are rancid and oxidized. They suppress the immune system and cause inflamation. Eating a lot of polyunsaturated oil increases cholesterol in the tissues and cell membranes.
The best fats for cooking, which can take the heat without becoming rancid or oxidized, are butter, ghee (clarified butter), olive oil, coconut oil, and sesame oil.
To get a good supply of omega 3's, I turn to the tinned fishes that I keep in my pantry. From these pantry staples I have developed nutritious, delicious meals that I can get on the table in minutes.
A couple of years ago I met the folks at Vital Choice when I was at the wise traditions conference. They had a lot of samples of their fish, including everything from the tinned mackerel, sardines, and salmon to the wild king salmon. They were by far the most delicious tinned fish I had ever tasted, and I was impressed with the flash frozen salmon as well. We were served smoked cod from them as a first course as well, another delicious fish they sell. I returned home from the conference with multiple tins of each pantry staple and I ordered a lot more stuff when I returned home. Now I make sure to keep a supply of the flash-frozen salmon as well in my freezer.
(By the way, the Vital Choice catalogue is extensive, and among other products includes macadamia nut oil, dark chocolate, and a variety of different kinds of fish oil.)
One of my super quick go-to lunches is either the mackerel (or sardines) mashed with avocado, lemon, and salt on a bed of greens. I eat it on a bed of greens.
Here's a quick video on how to make it:
Here's a composed salad made with the sardines:
Here's a quick video on how to make it:
Another quick dish that I make a lot is with the flash-frozen wild salmon.
Here's the video on how to make this:
This last dish is made with the canned salmon and fresh salmon roe.
Salmon roe is a nutritional powerhouse, loaded with anti inflammatory omega 3's as well as Vitamin A and D.
Here's how to make it:
Delicious, nutritious, fast, and easy!