Sautéed Apples in Ghee
Tuesday, February 26, 2013
One of my favorite quick morning dishes to make throughout the winter is sautéed apples in ghee. Ghee—clarified butter with the milk solids and water removed—is ideal for high heat cooking since it doesn't burn as easily as regular butter. It still contains all the good qualities of butter, however, such as fat-soluble vitamins, short- and medium-chain fatty acids, and selenium. To get the most nutrition and best flavor, it's best to purchase good quality ghee from cows that have been pasture-raised, or you can make your own from your favorite high quality butter.
Sautéed apples are quick and simple enough to make for breakfast. In the video, I show my favorite way to peel and cut an apple. With a Y-shaped peeler—my favorite—I make a ring around the top and one around the bottom as well. I then peel the sides and quarter the apple. I lay the quarters on their sides, and cut out the core in one easy-angled cut. This is the most efficient way to core an apple, and you don't need any special equipment. Best of all, it's safe because, after coring the apple, you then have a flat side that rests firmly on the board.  I then slice each quarter into 3 or 4 pieces. The next part is simple: I warm some ghee in a medium skillet over medium heat, add the apples and a dash cinnamon powder, and cover the skillet. I check on the apples after about 2 or 3 minutes, give them a toss, and cook them a couple of minutes more. That's all there is to it: the tender apples smell and taste heavenly. They make a great topping for oatmeal, pancakes, waffles, or yogurt. They can also serve as a succulent side dish with scrambled eggs or other protein.
Very Berry Power Smoothie
Thursday, October 25, 2012
Sometimes an antioxidant, nutrient-dense smoothie makes a quick and powerful meal.
The one in this video is rich and filling enough to keep your energy and blood sugar stable for hours. Best of all, it tastes delicious. It's a combo of mixed frozen berries, yogurt, avocado, raw honey, coconut oil, egg yolks from pastured eggs, and coconut water. I also added a splash of macadamia nut oil because I like the nutty flavor. I made this video for Vital Choice, a company whose products I love. Not only do they have the finest wild Alaskan seafood, but they also have some other choice products such as frozen berries and macadamia nut oil, an oil that has similar nutritional properties to extra virgin olive oil.
They presented the video on their newsletter, and I received the question from a viewer of why I don't use the egg whites in the smoothie. Here is my answer:
I don't use the raw egg white because it contains a protein called avidin that interferes with the body's absorption of biotin (Vitamin B7). It also contains a protein called "conalbumin," which binds to iron (making it not biologically available to the body.) Also, trypsin inhibitors make digestion of the protein in the raw egg white more difficult. All of these is deactivated when the white is cooked. That being said, I still may use a raw egg white in a classic Caesar salad dressing or–once in a great white, a mousse–but I don't make a practice of it, especially for something like a breakfast smoothie. The raw yolk, on the other hand, is great to eat raw or barely cooked.
It's great to have a lot of quick breakfast ideas in your repertoire.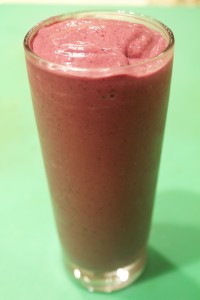 Poached Eggs
Tuesday, May 8, 2012
Poached eggs not only are suitable for brunch, but with the right accompaniments, make a light and nutritious supper as well. If you keep in mind three basic pointers, poached eggs are not difficult to master. With fresh eggs, the right temperature water, and a little care in adding the eggs, you'll have beautifully formed creations every time. Watch this demo to see all three key steps.
Use the freshest eggs that you can find to keep the proper shape of the white intact. Very fresh eggs—like that kind that you get from your local farmer—cook up perfectly without anything added to the water. If your eggs are not farm-fresh, add a teaspoon salt and a couple of teaspoons vinegar to your pot of simmering water to help coagulate the egg whites.
Have the water ready at a simmer. You don't want the eggs to be torn apart by agitation, which is what faster boiling water will do. On the other hand, if the water is not hot enough, the eggs will not cook quickly enough and the whites of the eggs will spread. Gentle bubbles in the water are the cue that the temperature is correct.
Break the eggs one at a time into a dish or small plate. Create a little whirlpool by swirling a spatula or spoon in the water. Then drop the eggs— one at a time— into the whirlpool. (You can also slide the eggs in along the sides of the pot.)
Simmer 3 to 5 minutes, until the whites are coagulated but the yolks are still soft.
Remove the eggs from the pan with a slotted spoon or skimmer. Drain very well and serve. You can trim off any ragged edges if you like.
If you want to make a large number of poached eggs but not serve them right away, immediately plunge the cooked ones into cold water.  Reheat briefly in hot water right before serving.
The classic here is eggs benedict, and yes, it is mighty tasty.
For a variation, try serving the eggs over a steamed artichoke and smoked salmon in lieu of the English muffin and bacon.
One delicious and light way to serve poached eggs is on a bed of wilted spinach and smoked salmon. I make a quick blender sauce of yogurt, avocado, cilantro, a bit of salt and a sprinkle of lime juice and ladle it over the top. It's delicious and satisfying.
Eating for Radiant Skin: part 3
Wednesday, April 4, 2012
A Word about Fat:
Fat is important for skin health. It's a mistake to be on a low-fat or no-fat diet. You need fat in order to digest, transport, and absorb Vitamin A,D,E, and K. It's soothing to the nervous system.  Every cell in the body has a surrounding membrane – which is where communication between cells take place – that is made up of fat.
You need an array of fats. You need saturated fats to maintain structure; mono and polyunsaturated fats to maintain elasticity. All fats and oils that we consume are made up of a combination of monounsaturated, polyunsaturated, and saturated fats.
Polyunsaturated fats, also know as omega 3's and 6's, are the ones your body does not make. These are called essential fatty acids because you have to get them from food sources. Omega 3's are good for countering inflammation in the body. Good sources for omega 3's are fatty fish such as sardines, anchovies, tuna, and salmon; nuts, seeds, and organic eggs.
Because of the standard American highly refined diet, most people have far too many Omega 6's and not enough Omega 3's. The ideal ratio is somewhere between 1 to 4 times as much omega 6's as 3's. Most Americans get 20 times more omega 6's than 3's. Poor quality oils and feed lot meat contribute to an excess of Omega 6 fatty acids in the body.
It is easy to get good quality Omega 6's from whole nuts and seeds, where they are less likely to be rancid. Refined polyunsaturated oils are unstable; they are exposed to high temperatures, chemical solvents, light and oxygen. The essential oils in them are destroyed, and they are rancid and oxidized. They suppress the immune system and cause inflamation. Eating a lot of polyunsaturated oil increases cholesterol in the tissues and cell membranes.
The best fats for cooking, which can take the heat without becoming rancid or oxidized, are butter, ghee (clarified butter), olive oil, coconut oil, and sesame oil.
To get a good supply of omega 3's, I turn to the tinned fishes that I keep in my pantry. From these pantry staples I have developed nutritious, delicious meals that I can get on the table in minutes.
A couple of years ago I met the folks at Vital Choice when I was at the wise traditions conference. They had a lot of samples of their fish, including everything from the tinned mackerel, sardines, and salmon to the wild king salmon. They were by far the most delicious tinned fish I had ever tasted, and I was impressed with the flash frozen salmon as well. We were served smoked cod from them as a first course as well, another delicious fish they sell. I returned home from the conference with multiple tins of each pantry staple and I ordered a lot more stuff when I returned home. Now I make sure to keep a supply of the flash-frozen salmon as well in my freezer.
(By the way, the Vital Choice catalogue is extensive, and among other products includes macadamia nut oil, dark chocolate, and a variety of different kinds of fish oil.)
One of my super quick go-to lunches is either the mackerel (or sardines) mashed with avocado, lemon, and salt on a bed of greens. I eat it on a bed of greens.
Here's a quick video on how to make it:
Here's a composed salad made with the sardines:
Here's a quick video on how to make it:
Another quick dish that I make a lot is with the flash-frozen wild salmon.
Here's the video on how to make this:
This last dish is made with the canned salmon and fresh salmon roe.
Salmon roe is a nutritional powerhouse, loaded with anti inflammatory omega 3's as well as Vitamin A and D.
Here's how to make it:
Delicious, nutritious, fast, and easy!
Camera in the Food
Tuesday, October 11, 2011
For nine hours last Tuesday I had a camera crew in my kitchen with a large video camera pointed at food that I was preparing. This was PR for the Natural Gourmet Cooking School.  The Sundance Channel is doing a series called Love/Lust and the food that they shot in the kitchen was from the chocolate and the breakfast episodes. They will have people on camera speaking about various aspects of chocolate – history, cultural impact, etc. while they show shots of chocolate melting or baking or being spooned into champagne glasses. On camera I made four chocolate desserts as well as seven breakfasts. Chocolate desserts included chocolate mousse, chocolate lava cakes, brownies, and cloud cookies.
Breakfasts included hot cereal with sautéed apples, muesli, granola, frittata, classic eggs benedict, a variation of eggs benedict, and huevos rancheros. Some of these were their choices, some mine. Preparation for the shoot was time-consuming. Mousse, for instance, needs a couple of hours to set, so I had to have a back-up made as well as berry sauce and whip cream so they could film the parfait being layered. I had to have two batches of brownies made in advance, as well as one batch of cloud cookies ready to go, because the cloud cookie batter needs to sit for an hour. The only dessert that was made and completed on camera was the souffle cakes. I did have the raspberry sauce and the whipped cream made beforehand, however.
As for the breakfasts, I made in advance a batch of granola, I had muesli all ready to soak, I had salsa and beans prepared for the huevos rancheros, and I had spinach, mushrooms, and cheese ready to mix into the fritatas. I made three hollandaise sauces that day, so I had to have plenty of clarified butter as well.
The actual cooking for the camera was not difficult once everything was in order. It was really interesting to look into the monitor and see what the high definition screen saw. Look at this egg compared to what was in the pan! So close; the human eye just doesn't see food that way.  They took many close-ups of chocolate melting, of chocolate oozing out of the cake, of bacon frying, and of eggs cooking.
After each dish was completed they brought the dish over to a table and took "beauty shots." The day was one of slow and painstaking work. It was interesting, however, and we churned out some tasty food. I'm certain that on the shows the food will be presented in quick fragments.
I'm now wild for muesli and this variation of eggs benedict that includes smoked salmon and artichokes in lieu of the English muffin and bacon. The variation on the classic eggs benedict was a delicious dinner that night.
Hurricane Sunday Comfort Food
Thursday, September 1, 2011
Hurricane Sunday was nursery night all day. We stayed in cozy clothes and ate breakfast for every meal.
A couple of noteworthy highlights:
Mochi with avocado, smoked salmon, and fresh dill.
Mochi recently came back on my radar. The sticky pounded rice squares are available in the refrigerator section of natural food stores. Cut off a square no bigger than 2×2 and bake it at 450˚F for 10 minutes, until it puffs. A toaster oven works just fine. Slice open a pocket and fill it with whatever you like, then  make sure to eat it while it's hot and gooey. Another favorite combination is mochi (raisin-cinnamon) with almond butter and sliced bananas with a drizzle honey.
Supper continued in the breakfast mode: Baked eggs with Fresh Corn Polenta
I pureed the kernels from a couple of ears corn, sautéed them in a little butter, then added about ¼ cup of corn grits, ¼ teaspoon salt, and a cup water. I cooked it in a medium skillet, stirring frequently, for about 5 minutes, then stirred in a sliced roasted red pepper. I transferred the whole corn mass to a pie plate, made a few craters, and cracked an egg into each indent.
I sprinkled a lttle salt over the eggs along with a few drops water, and baked them in a 350 degree oven for about 25 minutes.  Seriously delicious.
Interview on Martha Stewart August 12th
Thursday, August 11, 2011
Friday, August 12th, I'm to be interviewed on Martha Stewart Whole Living Radio on Sirius XM 110. from 10 to 10:30 a.m. The topic will be "Abundant August" and will focus on cooking healthful dishes with summer's harvest- specifically, corn, summer squash and blueberries. I will be discussing with the host Terri Trespicio  some of the dishes from each of the three classes as well as the nutritional value of each main ingredient, why we should be eating local,  and what the Natural Gourmet is about. The Caller hotline is 866-675-6675 in case anyone wants to call in for questions or comments.
Six of the featured recipes are from my public classes Crazy for Corn and Summer Squash Sensations.
The succotash we'll be referencing features fresh lima beans from the greenmarket. If you've never tasted a fresh lima bean, you're in for a great surprise.
These buttery beans barely resemble the insipid frozen variety. To prepare the beans, all you have to do is take a few minutes to pop them out of their pods
Sauté these nuggets with corn, red peppers, a hot pepper or two, and a swirl of butter for a colorful and delectable dish.
Another recipe featured from Crazy for Corn is a polenta with baked eggs. The dish starts with fresh corn and corn grits that are cooked into a thick purée, then mixed with roasted poblano peppers and cheddar cheese. The mix is poured into a four quart baking dish or individual gratin dishes, and little indentations are made.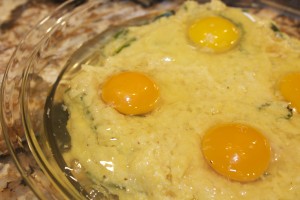 An egg is cracked into each indented spot, then placed in the oven. Twenty minutes or so later you have one delectable comfort food dish.
Fiddlehead Ferns
Sunday, May 22, 2011
Last week I noticed the first fiddlehead ferns at the Union Square greenmarket. I couldn't resist purchasing them.
Fiddleheads epitomize spring at its most fleeting – they are available a mere three to four weeks locally.  If you want to play with these furled fronds, get them soon; consider a visit to a local market at least in the next two weeks, or you'll be too late and will have to wait until next year.  The ferns actually started showing up in Whole Foods a few weeks earlier than they did at the greenmarket; the ones at Whole Foods are are probably imported from Maine, since those have a bit of a longer season, lasting from April through May.
Fiddleheads are from the Ostrich fern, and have a brown papery scaly covering (they remind me of bonito flakes) the uncoiled fern.  The ostrich fern is a wild food found in wet areas: on the banks of river, steams, and brooks. Their flavor is a cross between that of asparagus and artichoke.
For my preparation, I soaked these in water to dislodge the papery coverings. Honestly, I never did see ferns with the coverings before this year, and I've been cooking these delicate scrolls for years. The coverings made these specimens seem fresher and just-foraged. Make sure to pick off any papery bits that don't dislodge in the water (this job is a bit "fiddly"), then steam or boil the ferns before cooking or dressing further.
I paired these babies with smoked mackerel, sautéed red onions and slivered ramps for a delicious breakfast this week. Viva la primavera!