Acai Bowls
Thursday, June 25, 2015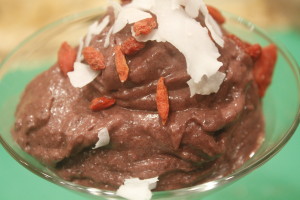 In today's Video on how to make acai bowls, I show how to make a couple of fun frozen concoctions known as acai (pronounce ah-sigh-ee) bowls, which start with a base of acai berries.  These Amazonian berries look like a cross between grapes and blueberries, and their flavor resembles a cross between those of berries and chocolate.
Acai berries contain many beneficial compounds, such as powerful antioxidants, fiber, monounsaturated fats (oleic acid), and anthocyanins, which are all clinically proven to have health benefits.
Because they're so low not only in sugar, but also in the acid that protects most fruits, they must be picked, processed, and flash frozen before being transported out of the Amazon. Otherwise the fruit would oxidize, turn brown, and lose its beneficial nutrients.
The berries are squeezed into juice or—my favorite—pureed into frozen smoothie packs. These are sold in the freezer section of natural food stores. You can take advantage of the packs by making delicious frozen treats without using an ice cream maker.  The only equipment required is a food processor.
In today's video, I demonstrate two delicious bowls that are suitable for dessert, snacks, or even breakfast. Each one has healthy fat added to keep your blood sugar stable and help you feel satisfied for hours. They're quick to make: You whirl a few ingredients together, then immediately eat what you've made. You can store leftovers in the freezer, but you do have to let them thaw before eating.
The first bowl that I demonstrate in the video is flavored with cherries, cocoa, and almonds, all of which complement the acai. Begin by adding 2 unsweetened smoothie packages to the bowl of a food processor. It's best to let the acai pack sit out for 5 minutes or so to thaw slightly, so it's not rock hard when you whirl it. Add a cup of frozen cherries, half a ripe avocado, a couple tablespoons cocoa powder, a tablespoon raw honey, and 1/4 teaspoon almond extract. Now you're ready to whirl, except you need to add about 1/2 cup of liquid to loosen up the mixture. (In the demo video I add coconut milk, but almond and cashew milk are both delicious as well.) A quick whirl in the food processor melds these ingredients into a luscious concoction. To add a bit of texture, top the two servings with a sprinkling of almonds and cocoa nibs, and a dash of cocoa powder.
The second bowl features bananas and almond butter. Again, start with two packages of acai smoothie packs, the contents broken into chunky pieces. Add one chopped frozen banana, 3 pitted medjool dates, a tablespoon almond butter, and a dash cinnamon. Loosen the whole mix with 1/2 cup of coconut milk. Again, a quick whirl transforms the whole mix into frozen ambrosia. Top this banana-almond acai bowl with large flakes of dried coconut and rosy goji berries.
These simple blends are so easy to make with ingredients that you can keep handy in your freezer and pantry. These bowls (which can serve as a snack, a breakfast, or a dessert) underscore that a luscious frozen treat can both satisfy a sweet tooth and be truly health-promoting.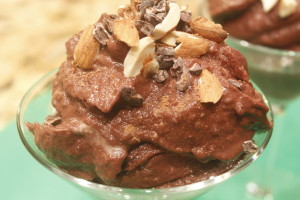 Chia Seed Puddings
Tuesday, May 12, 2015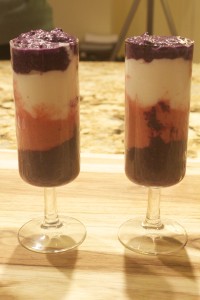 In today's video of chia seed puddings, I show how to make two delicious chia seed puddings. Chia seeds are touted for their powerful salutary benefits: Included among their vital nutrients are protein, fiber, antioxidants, and ALA (alpha-linoleic acid), a type of omega-3 fatty acid. It seems that nowadays people are shaking these micro-seeds into everything from cereals to salads, from baked goods to beverages. I'm not a fan of the dry chia sprinkle: Chia seeds are most digestible when allowed to soak and swell. Therefore, I favor adding them to blended concoctions, then leaving enough time for the tiny powerhouses to plump. The result is thickened puddings with luscious pebbly beads, reminiscent of tapioca.
The procedure for making chia seed pudding is quick, simple, and consistent. Whiz together a flavorful blend, stir in some chia, and refrigerate for at least 30 minutes to allow the seeds to thicken. The array of potential flavor permutations are vast. In the video, I demonstrate two berry-based puddings, each one ideal to savor alone or to layer into a colorful parfait.  You'll need a stand blender to pulverize the ingredients; a high-powered blender is the gold standard, but it's not essential.
The first purée that I show has a base of blueberries. Start with 2 cups of the fruit, either fresh or frozen. If you're using frozen, let the berries rest a few minutes to defrost. Add 1/2 cup cashews, ideally after having soaked them for 2 hours before draining. Soaking the cashews allows for maximum nutrient absorption and digestibility. The sweetener in this pudding is a mere 4 dates. Any variety of date (make sure to remove the pit!) is fine, but the medjool variety is the softest and sweetest. This resulting pudding is sweet enough without being cloying. A couple tablespoons coconut oil—virgin or aroma-free—will also help keep your blood sugar stable as well as ensure that the pudding has a luxurious texture. One tablespoon vanilla and a generous sprinkling of cinnamon complete the flavorings. A cup of liquid is necessary for proper blending. In the video, I use coconut water, but plain water would be fine as well. Give the ingredients a good whiz until well combined. Transfer the purée to a bowl or container, then stir in 6 tablespoons chia. The micro seeds need a bit of time to work their magic and swell. Transfer the pudding to the refrigerator and leave for 30 minutes minimum, preferably longer.
The next strawberry chia delight that I show in the video is simplicity itself. Blend well 3 cups strawberries (if frozen, defrost a bit), 1/4 cup raw honey, and 3/4 cup coconut milk, which lends the needed richness and body to the finished dish. Add a splash vanilla, and give a long enough whiz in the blender until the base is smooth. Transfer to a bowl or container, and stir in 1/4 cup chia. Refrigerate for a minimum of 30 minutes, but longer is even better to allow for the seeds to expand as much as possible.
The puddings last refrigerated for at least a week, and they each yield 4 to 6 luscious servings. Either of them alone—or the two in combination—can make a great snack or low-sugar dessert. You can also leave them refrigerated for a convenient grab-and-go breakfast. One favorite breakfast of mine is the combination of puddings layered in a parfait or martini glass with sheep's milk yogurt. The blend tastes tart and sweet, looks gorgeous, and contains just enough fat, fiber, and fruit to keep you happily sated until lunch.
The Myriad Uses of Cooked Squash
Saturday, January 3, 2015
'Tis the season to be savoring sweet squash. In today's video, I demonstrate the richness and versatility of cooked squash. With a tub of the bright orange flesh on hand, you can quickly whip up any number of autumnal dishes. You can keep cooked squash refrigerated for up to a week, or you can freeze it. Although there are all kinds of wonderful varieties of squash and pumpkin available in farmers' markets, in the video I demonstrate with butternut: the smooth, flavorful workhorse of the squash world.
To prep the squash—use a 21/2 to 3-pound butternut—slice it down the middle, and place it face down on a parchment-covered baking sheet.  Roast it at 325˚F to 375˚F  (the temperature depends on what's already in the oven cooking; anything within this range is good!) until very tender, about 45 minutes.  Rest the squash until cool enough to handle, then scoop out and discard the seeds, which is much easier to do after the squash is cooked. Scoop the flesh into a bowl and reserve.
The first recipe in the video is for a speedy soup.  To begin, in a medium pot sauté 1/2 cup of chopped leeks along with a tablespoon or so of minced ginger in a couple tablespoons fat (coconut oil, ghee, or extra virgin olive oil are all good) over medium heat. When the vegetables are softened, add a quart of stock—this is a great place to use a homemade chicken or vegetable broth—a can unsweetened coconut milk, the reserved squash flesh, and 1 1/2 teaspoons salt. Let the soup cook a few minutes to marry the flavors, then finish with a flick of cayenne and a splash of lime juice.  Voilà: a delicious soup! Serve up a hearty bowl dusted with chopped cilantro.
The second recipe is for a light yet substantial pumpkin pie-spiced breakfast pancake. The recipe makes 2 servings, but you can easily scale it up. Start with a couple tablespoons coconut flour in a bowl.  Add a mix of spices: 1/2 teaspoon cinnamon powder; and a pinch of nutmeg, ginger, and allspice. Add a large pinch baking soda and salt, and whisk together the dry ingredients. Then add 1/2 cup squash flesh, a couple of lightly beaten eggs, a tablespoon maple syrup, 1/2 teaspoon vanilla extract, and 1 tablespoons melted fat (butter or coconut oil). Mix vigorously, and you're ready to make pancakes.
To cook, film a griddle or nonstick skillet with oil until your hand held 1 inch above the pan is uncomfortable. This batter is a little more delicate than a typical flour-based batter; for best results, opt for medium-size pancakes, and above all,  resist crowding the pan. Drop the batter—a tablespoon at a time—into the sizzling skillet until you have four swelling hotcakes. Leave the pancakes alone until browned and toasty on the bottom, then flip and cook a few more minutes on the second side. Transfer to a plate, and repeat with the remaining batter. Serve these airy cakes with butter, fruit, or a drizzle more sweet syrup.
These are just two of the many wonderful dishes that you can make with squash flesh. Yes, it takes 45 minutes or so to cook the squash, but the oven does the work, so it's not your time. With cooked squash on hand, you can whip any number of delectables together in minutes.
Savory Breakfast Muffins
Wednesday, November 12, 2014
In today's Breakfast Muffins Video I demonstrate how to make two different kinds of vegetable muffins. These light, yet substantial morsels make a quick breakfast-on-the-go, or a convenient elegant vegetarian side dish. They last for four or five days in the refrigerator, ready to be reheated and enjoyed at a moment's notice.
The first muffin shown in the video is the curried cauliflower version. Here's how to make it: Start with a large head of cauliflower, which yields 10 to 12 cups when cut into florets. Take 1/3 of those florets, slice them, toss them in a light coating of olive oil with a bit of salt, and spread them on a parchment-lined baking sheet. Roast in a preheated 400˚ oven for about 20 minutes.
Meanwhile, steam the remainder of the cauliflower until very tender, then transfer to a large bowl and mash until crumbly. While the cauliflower is roasting and steaming,  sauté 2 cups red onions in 2 tablespoons ghee until softened.  Stir in 1 teaspoon cumin, 1/2 teaspoon turmeric, and 2 cloves minced garlic. At this point, you'll notice that the kitchen smells so enticing! Transfer this aromatic melange to the bowl of steamed, mashed cauliflower.  Stir in 3/4 teaspoon salt, a dash of cayenne and black pepper, 1/2 teaspoon baking powder, and a couple tablespoons cornmeal. Bind the vegetables  with 3 lightly beaten eggs.
By this time, the roasted cauliflower is ready to remove from the oven. Set aside 12 slices to crown the top of the muffins. Chop the remainder of the roasted cauliflower into small pieces, and stir into the bowl with a few tablespoons chopped cilantro. The verdant-flecked yellow cauliflower mix positively glows! Spoon evenly into muffin tins—the silicon kind is my favorite for ease—and bake about 20 minutes until golden and firm.
The second muffin presented in the video is a take-off on a spanakopita. To begin, sauté a cup of chopped onions in 2 tablespoons olive oil over medium heat until nice and softened, about 7 minutes. Let the onions cook while you wilt the greens. In the video version, I use a combination of Swiss chard and spinach—a pound and a half all together, but use whatever greens looks freshest and most appealing. Wilt the washed greens in a skillet, using tongs to push the wilted leaves to the bottom. There's no need to add extra liquid, and there's no need to use a large skillet; the big pile of greens you started with shrinks down to an astonishingly small amount! You do need to drain the cooking liquid from the wet greens well, however. To do this, let them cool in a strainer and grab handfuls from which to wring out the excess liquid. Alternatively, transfer the greens to a ricer— I show this technique in the video—and squeeze out the liquid while the greens are piping hot. What a great use for a tool designed for potatoes! Next, dump the greens out on a cutting board, chop them into small pieces, and transfer them to a bowl.
Now stir in the rest of the ingredients. Fresh herbs enliven the mixture; the combination of 1/4 cup dill and 1/2 cup parsley lends delightful freshness.  Sprinkle in some nutmeg and mix in a 1 1/2 cups feta cheese. Goat's or sheep's milk are especially delicious and digestible. Add 2 tablespoons of your favorite flour—I use rice in the video—and 1/2 teaspoon baking powder and salt. 4 eggs bind the mixture together; now the batter is ready to be divided into muffin holders and baked to perfection, about 20 minutes at 375˚.
Improvise with other vegetables as well, and enjoy these savory treats!
Savory Salmon-Coconut Muffins
Friday, August 23, 2013
Breakfast can be a challenge, especially during those hectic mornings when there's limited time. I find it helpful to have on hand ready-made items that require no more time to prepare than it takes to pop a piece of toast in the toaster oven. That kind of healthy instant breakfast does requires a bit of planning. Today's video features one of my favorite such breakfasts: savory salmon muffins. Most of the time we associate muffins with a sugary high carbohydrate load, but these muffins are different.  They are nutrient-dense little parcels, full of protein and great fat, but low on carbohydrates. They're filling, but they don't weigh you down.
To start, I whisk together ½ cup of coconut flour, 1 teaspoon baking power, and ¼ teaspoon salt in a medium bowl. Half a cup of coconut flour is not very much; but coconut flour—made from the flesh of the mature coconut after all of the liquid has been squeezed out—really absorbs liquid, so a little goes a long way. In another bowl, I whisk together 6 eggs, along with ½ cup of melted coconut oil. I use the aroma-free variety of coconut oil since I don't want any coconut flavor coming from the oil. Aroma-free coconut oil still has the great nutritional benefits of the virgin variety: the short list is that it's good for the thyroid, good for the digestive tract, and great for the metabolism. It keeps the muffins moist as well. Then I pour the wet ingredients into the dry, and whisk the two together. I stir in a large (7.5 ounce) can of salmon. I favor the kind with bones (these are soft enough to eat), which provide a good dose of calcium along with vitamin D, the omega three fatty acids DHA and EPA, and astaxanthin, the antioxidant that gives wild salmon its red-orange color. I add some walnuts, which, besides adding flavor and texture, have a whole host of great health properties, including the omega three fatty acid ALA. I also add ¼ cup of chopped fresh herbs. In the video, I use a combination of dill, tarragon, and chives; but other herbs, such as parsley, sorrel or cilantro, are delicious as well.
I'm now ready to add my batter to the muffin tins. Instead of "tins," I favor silicon muffin holders. This way, there's no need to grease the tins, and the coconut muffins pop right out. I bake the muffins at 400˚ for 20 minutes, just until springy and lightly browned. It's best not to over bake these or they run the risk of drying out. This recipe makes 7 large muffins, enough for seven full breakfasts. They keep refrigerated for up to a week, and you can freeze them (slice in half first) as well.  I savor them toasted with a few slices of avocado, which lend more good fat, folic acid, vitamin E, and of course, deliciousness. These muffins are truly convenient for those busy mornings when you need to take breakfast on the run. Most importantly, they will keep you humming along all the way until lunch.
What I've been cooking this week: Breakfast
Wednesday, August 7, 2013
I'll be teaching a workshop on traditional foods in March at the Natural Gourmet, which will include bone broths and lots of stuff to do with them, as well as lacto-ferments.
I've been making loads of lacto-ferments lately, with ruby kraut and beet kvass being among my favorite. Here's one of my go-to breakfasts that includes those two ferments as well as my favorite coconut muffins. These coconut muffins have a healthy amount of tumeric added to them, which serves to give them a vibrant yellow color as well as an anti-inflammatory boost.  I split the muffins open, add a dollop of coconut oil and a slab of smoked salmon, and accompany  it with the homemade ruby kraut (cabbage, caraway, carrots) and the beet kvass (beets that have fermented with whey, garlic, and ginger.) This is a light, energizing, vibrantly-colored breakfast. (All that deep pink!)
To make beet kvass, all you have to do is chop up a beet,  grate some ginger, and chop up a clove or two of garlic if desired and add it to a 2-quart jar. Add 1 cup whey (the liquid left when you drain yogurt over a cheesecloth-lined strainer), 1 tablespoon of a very good salt such as celtic, and fill the rest up with water. Leave a one-inch space at the top of the jar, seal the jar tightly, and ferment for 2 to 5 days on the counter. Transfer it to the refrigerator and leave for a couple of weeks. Then strain the liquid if you like and drink a few ounces a day. It will give you a great boost!
Sautéed Apples in Ghee
Tuesday, February 26, 2013
One of my favorite quick morning dishes to make throughout the winter is sautéed apples in ghee. Ghee—clarified butter with the milk solids and water removed—is ideal for high heat cooking since it doesn't burn as easily as regular butter. It still contains all the good qualities of butter, however, such as fat-soluble vitamins, short- and medium-chain fatty acids, and selenium. To get the most nutrition and best flavor, it's best to purchase good quality ghee from cows that have been pasture-raised, or you can make your own from your favorite high quality butter.
Sautéed apples are quick and simple enough to make for breakfast. In the video, I show my favorite way to peel and cut an apple. With a Y-shaped peeler—my favorite—I make a ring around the top and one around the bottom as well. I then peel the sides and quarter the apple. I lay the quarters on their sides, and cut out the core in one easy-angled cut. This is the most efficient way to core an apple, and you don't need any special equipment. Best of all, it's safe because, after coring the apple, you then have a flat side that rests firmly on the board.  I then slice each quarter into 3 or 4 pieces. The next part is simple: I warm some ghee in a medium skillet over medium heat, add the apples and a dash cinnamon powder, and cover the skillet. I check on the apples after about 2 or 3 minutes, give them a toss, and cook them a couple of minutes more. That's all there is to it: the tender apples smell and taste heavenly. They make a great topping for oatmeal, pancakes, waffles, or yogurt. They can also serve as a succulent side dish with scrambled eggs or other protein.
Very Berry Power Smoothie
Thursday, October 25, 2012
Sometimes an antioxidant, nutrient-dense smoothie makes a quick and powerful meal.
The one in this video is rich and filling enough to keep your energy and blood sugar stable for hours. Best of all, it tastes delicious. It's a combo of mixed frozen berries, yogurt, avocado, raw honey, coconut oil, egg yolks from pastured eggs, and coconut water. I also added a splash of macadamia nut oil because I like the nutty flavor. I made this video for Vital Choice, a company whose products I love. Not only do they have the finest wild Alaskan seafood, but they also have some other choice products such as frozen berries and macadamia nut oil, an oil that has similar nutritional properties to extra virgin olive oil.
They presented the video on their newsletter, and I received the question from a viewer of why I don't use the egg whites in the smoothie. Here is my answer:
I don't use the raw egg white because it contains a protein called avidin that interferes with the body's absorption of biotin (Vitamin B7). It also contains a protein called "conalbumin," which binds to iron (making it not biologically available to the body.) Also, trypsin inhibitors make digestion of the protein in the raw egg white more difficult. All of these is deactivated when the white is cooked. That being said, I still may use a raw egg white in a classic Caesar salad dressing or–once in a great white, a mousse–but I don't make a practice of it, especially for something like a breakfast smoothie. The raw yolk, on the other hand, is great to eat raw or barely cooked.
It's great to have a lot of quick breakfast ideas in your repertoire.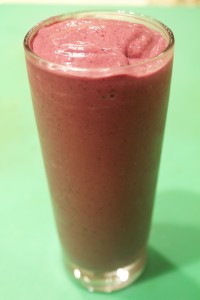 Poached Eggs
Tuesday, May 8, 2012
Poached eggs not only are suitable for brunch, but with the right accompaniments, make a light and nutritious supper as well. If you keep in mind three basic pointers, poached eggs are not difficult to master. With fresh eggs, the right temperature water, and a little care in adding the eggs, you'll have beautifully formed creations every time. Watch this demo to see all three key steps.
Use the freshest eggs that you can find to keep the proper shape of the white intact. Very fresh eggs—like that kind that you get from your local farmer—cook up perfectly without anything added to the water. If your eggs are not farm-fresh, add a teaspoon salt and a couple of teaspoons vinegar to your pot of simmering water to help coagulate the egg whites.
Have the water ready at a simmer. You don't want the eggs to be torn apart by agitation, which is what faster boiling water will do. On the other hand, if the water is not hot enough, the eggs will not cook quickly enough and the whites of the eggs will spread. Gentle bubbles in the water are the cue that the temperature is correct.
Break the eggs one at a time into a dish or small plate. Create a little whirlpool by swirling a spatula or spoon in the water. Then drop the eggs— one at a time— into the whirlpool. (You can also slide the eggs in along the sides of the pot.)
Simmer 3 to 5 minutes, until the whites are coagulated but the yolks are still soft.
Remove the eggs from the pan with a slotted spoon or skimmer. Drain very well and serve. You can trim off any ragged edges if you like.
If you want to make a large number of poached eggs but not serve them right away, immediately plunge the cooked ones into cold water.  Reheat briefly in hot water right before serving.
The classic here is eggs benedict, and yes, it is mighty tasty.
For a variation, try serving the eggs over a steamed artichoke and smoked salmon in lieu of the English muffin and bacon.
One delicious and light way to serve poached eggs is on a bed of wilted spinach and smoked salmon. I make a quick blender sauce of yogurt, avocado, cilantro, a bit of salt and a sprinkle of lime juice and ladle it over the top. It's delicious and satisfying.
Eating for Radiant Skin: part 3
Wednesday, April 4, 2012
A Word about Fat:
Fat is important for skin health. It's a mistake to be on a low-fat or no-fat diet. You need fat in order to digest, transport, and absorb Vitamin A,D,E, and K. It's soothing to the nervous system.  Every cell in the body has a surrounding membrane – which is where communication between cells take place – that is made up of fat.
You need an array of fats. You need saturated fats to maintain structure; mono and polyunsaturated fats to maintain elasticity. All fats and oils that we consume are made up of a combination of monounsaturated, polyunsaturated, and saturated fats.
Polyunsaturated fats, also know as omega 3's and 6's, are the ones your body does not make. These are called essential fatty acids because you have to get them from food sources. Omega 3's are good for countering inflammation in the body. Good sources for omega 3's are fatty fish such as sardines, anchovies, tuna, and salmon; nuts, seeds, and organic eggs.
Because of the standard American highly refined diet, most people have far too many Omega 6's and not enough Omega 3's. The ideal ratio is somewhere between 1 to 4 times as much omega 6's as 3's. Most Americans get 20 times more omega 6's than 3's. Poor quality oils and feed lot meat contribute to an excess of Omega 6 fatty acids in the body.
It is easy to get good quality Omega 6's from whole nuts and seeds, where they are less likely to be rancid. Refined polyunsaturated oils are unstable; they are exposed to high temperatures, chemical solvents, light and oxygen. The essential oils in them are destroyed, and they are rancid and oxidized. They suppress the immune system and cause inflamation. Eating a lot of polyunsaturated oil increases cholesterol in the tissues and cell membranes.
The best fats for cooking, which can take the heat without becoming rancid or oxidized, are butter, ghee (clarified butter), olive oil, coconut oil, and sesame oil.
To get a good supply of omega 3's, I turn to the tinned fishes that I keep in my pantry. From these pantry staples I have developed nutritious, delicious meals that I can get on the table in minutes.
A couple of years ago I met the folks at Vital Choice when I was at the wise traditions conference. They had a lot of samples of their fish, including everything from the tinned mackerel, sardines, and salmon to the wild king salmon. They were by far the most delicious tinned fish I had ever tasted, and I was impressed with the flash frozen salmon as well. We were served smoked cod from them as a first course as well, another delicious fish they sell. I returned home from the conference with multiple tins of each pantry staple and I ordered a lot more stuff when I returned home. Now I make sure to keep a supply of the flash-frozen salmon as well in my freezer.
(By the way, the Vital Choice catalogue is extensive, and among other products includes macadamia nut oil, dark chocolate, and a variety of different kinds of fish oil.)
One of my super quick go-to lunches is either the mackerel (or sardines) mashed with avocado, lemon, and salt on a bed of greens. I eat it on a bed of greens.
Here's a quick video on how to make it:
Here's a composed salad made with the sardines:
Here's a quick video on how to make it:
Another quick dish that I make a lot is with the flash-frozen wild salmon.
Here's the video on how to make this:
This last dish is made with the canned salmon and fresh salmon roe.
Salmon roe is a nutritional powerhouse, loaded with anti inflammatory omega 3's as well as Vitamin A and D.
Here's how to make it:
Delicious, nutritious, fast, and easy!