New Blog Site: Cooking with the Muse
Wednesday, December 20, 2017
I haven't blogged on this site in a while, but to see my most recent blog posts, click here: Cooking with the Muse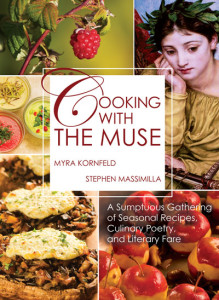 Homemade Washing Powder
Sunday, March 20, 2011
On a recent trip to Kalustyan's, I was pleased to find orange rind powder, which I purchased to mix into my homemade face washing mix.
The recipe that I use for homemade face washing mix is from Pratima Raichar's book Absolute Beauty. The approach to skin care in this book is Ayurvedic, the ancient Indian science of life. I recommend the book if you have an interest in Ayurveda and/or concocting you own natural skin-care  products.
Among other things, the book has wonderful recipes for creams, moisturizers, lip balms, and cleansing powders. You first have to determine your skin type, which is easily done after taking an extensive questionnaire.
For my skin type ­– which is sensitive – a good cleansing powder mix is a combination of orange rind powder, almond meal, and dry milk powder. I make up a couple of cups at a time, a big enough batch to last for months. The combination smells pleasantly orangey, and leaves my skin clean and soft.
I purchased the milk powder at Little India, around the corner from Kalustyan's on 28th street between Park and Lexington. As the name implies, this little gem of a store specializes in Indian groceries. You can purchase unusual produce such as methi (fenugreek) leaves, dudhi (zucchini-like squash) and kerala (knobbly bitter melon) here, as well as a wide variety of Indian legumes, flours, and dry goods.
Welcome to Myra's Kitchen blog
Tuesday, February 22, 2011
Welcome to Myra's Kitchen blog. Check in for frequent posts that will include cooking tips and greenmarket ingredients; notes on favorite products; commentary on books and articles; and health tips and musings.  We'd love to hear from you, so please e-mail us with comments or queries.
Photo: Tess Steinkolk