Two Ways to Shred Brussels Sprouts
Wednesday, November 27, 2013
I love shaved Brussels Sprouts. The thin wispy shreds sauté in minutes; they also make a hearty raw salad that holds up to assertive dressings. In the video I show two ways to shred the little globes: one is by hand, the other is with a plastic mandolin.
To shred the sprouts by hand, position your hand in a tight claw, with your forefinger pushing against the blade. This helps you cut thinly, it gives you stability, and keeps your fingers safe; in essence, it turns you into a human mandolin.
If that method is daunting, try the second one in which you use an actual mandolin. A mandolin is a cutting device that helps you to slice your produce paper thin. There's no need to purchase a fancy metal one–the plastic Japanese keeps a sharp edge better than the pricier varieties. Since Brussels Sprouts are small, here's a tip for making the shaving process safe and effective: stick a fork into the root end (Make sure not to trim the root end first.) Position a sprout against the mandolin and shave away; shred all the way down to the root. Repeat with the next Brussels Sprouts, and so forth, until you have a nice little pile of wispy pieces,  ready to be tossed into your favorite recipe.
Watch the video (it's less than 1 1/2 minutes) to see both ways of shredding.
Glorious Autumn Squash
Monday, October 7, 2013
Glorious autumn squashes and pumpkins in a variety of shapes and sizes abound in greenmarkets and grocery stores at this time of year. In the video today, I go over a few ins and outs of cooking with these vegetables as well as demonstrate a delicious and easy recipe that work with many of the varieties available.
Here are six of my favorite types of squash among those that you're likely to see. Two that have sweet dry rich orange flesh include the forest-green kabocha squash and the flaming red kuri pumpkin. These are wonderful for soups, stews, roasting, or mashing. Of course, cutting into one of these tough guys can seem like a dangerous undertaking. Here's my favorite tip for handling an intimidating squash: turn the oven to between 325˚F and 375˚F (whatever is appropriate for the recipe), and simply toss the whole pumpkin into the oven for 10 to 15 minutes. That little bit of precooking is enough to enable you to be able to cut down the middle of a hard squash with even a thin-bladed knife. You can even peel the skin easily and cube the squash as well. Here's an alternative method: simply bake the entire pumpkin without cutting into it first at all. If this is what you plan to do, make sure to place your squash on a baking tray, however, or you're in for a messy oven-cleaning job when the juices start to drip.
Another one of my favorite varieties includes the oblong delicata squash, characterized by its pale yellow skin with green stripes. The thin skin is eatable, so no need to peel these. To prep the squash, cut it lengthwise down the center, scoop out the seeds, and cut it into wedges. Toss the wedges in a little olive oil and salt, and roast for 20 minutes or so at 400˚F on a parchment-covered baking sheet.
The small sweet dumpling squash is a variety that is perfect for stuffing. Give it a preliminary 10-to 20-minute bake before cutting the top off and scoop out the seeds, then stuff the inside and bake until tender.
The football-shaped spaghetti squash is a fun variety with a stringy spaghetti-like texture. Initially, just toss the whole squash in the oven for about an hour. After it sits out of the oven for a few minutes and is soft and cool enough to handle,  slice it down the middle, scoop out the seeds, and then scrape out the stringy flesh with a fork. Treat the strands like pasta and toss them with your favorite spaghetti sauce.
The workhorse of the squash world is the butternut. This variety is softer than some of the other types, so it doesn't need a head start in the oven before being cut or peeled. Treat it like two separate vegetables when dicing. The oblong part in the middle is dense, and it can be sliced like a potato: the bulbous bottom part contains all of the seeds, so it's best to cut that part into wedges first. Use a t-shaped peeler, the kind that takes thick skins off, to make peeling the squash efficient. For the oblong part, first cut a thin piece off the bottom to anchor the squash on your cutting board, then cut downward slabs. Cut the slabs into long "batons,", then cut the batons into dice. When you roast the butternut squash, do so by slicing it down the center first and placing it face down on a parchment-covered baking sheet. It's so much easier to take out the seeds after the squash is cooked.
The recipe that I demo in the video is sautéed butternut squash with pears and ginger. The pears harmonize beautifully with the squash—they're both in season at the same time—and the ginger and cayenne add warmth to the dish. I start with some extra virgin olive oil. I warm a couple of tablespoons over medium heat in a large skillet. I then add the cubed squash with one diced pear—comice, Anjou and Barlett are all good—and cook uncovered over medium heat until the pieces are just tender and starting to brown, (about 6 to 8 minutes). I then push the squash to one side of the pan and add a tablespoon or so of butter (you can also use extra virgin olive oil). When the butter melts, I add the ginger and cook it a minute or so until fragrant. I then stir the ginger—along with ½ teaspoon of salt and a pinch of cayenne—into the mix. I finish the dish by stirring in a splash of balsamic vinegar. This dish is fragrant, fast, and flavorful.
What a good time to get creative with all of the delicious varieties of squash that are out right now. They're not difficult at all to use, so have a wonderful time!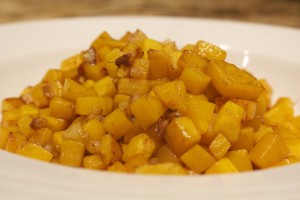 My Favorite Winter Salad
Monday, January 21, 2013
After a season of holiday indulgence and too many meals out, it's time to begin the new year with a little lighter fare. I'm busy with obligations, but I don't want to skimp on good food. So I turn to my favorite nourishing winter salads that I can make in minutes. This hearty winter salad that I show on the video consists of arugula, oranges, fennel, and sardines, with a complement of olives, walnuts and feta cheese. It's composed in such a way that I don't even need a separate dressing.
I start with a nest of baby arugula, or watercress, or mesclun greens. In the video, I use arugula with some farmer's market pea shoots mixed in. I next add an orange that is cut into segments known as supremes. I cut the orange over a bowl to make sure to catch the juices that will become part of the dressing. I sprinkle the greens and orange with salt and then add a layer of paper-thin sliced fennel, which is arguably the most appealing way to eat raw fennel. Using the mandolin is the easiest way to get such slices. Next, I sprinkle in some black olives—a flavorful variety such as kalamata or nicoise—followed by a handful of walnuts. I then crumble my favorite feta cheese, a sheep's milk feta, over the salad.  Finally, I crown the salad with sardines. I use sardines packed in extra virgin olive oil, so that the oil from the tin of the sardines becomes part of the dressing, mixing with the juice of the oranges. Every bite is exciting—a medley of sweet, salty, juicy, and crunchy. Moreover, this salad is a nutritional winner, packed with a range of nutrients, from omega 3's to vitamins C and E, and loaded with phytochemicals and minerals as well.
You can pack this salad to take on the go.  Layer the greens with the fennel, olives, walnuts, and feta. Put the juicy orange slices in a separate container. Salt the salad, add the oranges, and top with the sardines right before eating.
Butternut Squash Soup with Crispy Shallots and Sage
Thursday, November 22, 2012
Nothing screams autumn like butternut squash soup. The version shown in the video, from The Healthy Hedonist, is simple to prepare, yet velvety and delicious-tasting. I start with a 2 ½ to 3-pound butternut squash, slice it open down the middle, place it in a 375˚ oven and bake until it's tender, about 45 minutes.  With a soup as simple as this one, roasting the squash first to heighten its flavor is of the utmost importance. I then remove it from the oven, let it cool for a few minutes, and scoop out and discard the seeds. The seeds come out so much more easily after the squash is cooked. I then scoop out the flesh and set it aside.
I start the soup by adding a splash of extra virgin olive oil to a medium pot. I stir in 1 cup of leeks, 6 cloves of garlic, and 1 ½ teaspoon ground cumin, and cook the mix over gentle heat until softened. I next add a couple cups of sliced sweet potatoes, the reserved squash flesh, a cup of apple cider, and 5 cups of water or stock. This is a good place to boost nutrient content and flavor with a homemade chicken or vegetable stock, but the soup is still delicious with water as the primary liquid. Add a teaspoon salt, and cook the soup partially covered at a gentle bubble  for about fifteen minutes, until the sweet potatoes are tender.
While the soup is simmering, I make the garnish. I slice shallots into thin rings and add them to ¼ cup extra virgin olive oil.  At first, nothing seems like it is happening. Then the oil starts to sizzle, and slowly but surely the shallots start to fry around the edges of the pan. At that point, it's important to stir continuously for the next three or four minutes, until the shallots are more or less evenly caramelized. At the final stage, some will be darker than others, but they should all have a golden hue. Have a strainer set over a bowl ready and close. When the shallots are colored as evenly as possible, you have to separate them  from the hot oil quickly, to keep them from continuing to cook. About 15 seconds before the shallots are finished I add the sage, just to sizzle them in the oil.  After I strain the oil, I remove the sage from the shallots and chop the leaves into small pieces. The sage, shallots, and oil are now ready lend flair to the soup.
For simplicity's sake, I blend the soup with a hand-held blender, also known as an immersion blender. I'm careful when using the immersion blender, to immerse it in the liquid before turning it on, as well as to turn it off before lifting the blender from the soup. At this last stage I always taste the soup, to see if it needs an extra dash of salt to pull up the flavors. I sprinkle in a dusting of black pepper as well.
The soup has a delightful aroma and a rich taste. The silky texture is offset with the flourish of caramelized shallots and sage, and a drizzle of shallot oil.
Zucchini Salads
Friday, September 7, 2012
Until recently, too many bad memories of thick chunks of raw zucchini in crudité platters made me shy away from ever eating the vegetable raw. I had assumed that the best way to coax and concentrate the flavor of the watery squash was to cook it. Before cooking, I'd often salt the zucchini to draw out the water. If I had grated it, I would squeeze out the excess; if I had sliced it, I would blot it dry before sautéing.
I gave raw zucchini a second chance recently. The difference was that I sliced the vegetable paper thin. I then added a fat sprinkling salt to draw out the water. The slices wilted into an appealing texture that changed my assessment of raw zucchini.
I've been making many delicious salad all summer with this technique.
I repeat: the key is to slice the zucchini thin. This is where a mandolin comes in handy. I don't use anything fancy—a plastic one or the slicer that is on some flat metal graters works fine. I then sprinkle some salt on the zucchini, along with something acidic like lemon and lime juice as well as all of the other ingredients. Sometimes I hold back on adding the oil until after the salad is completely softened. I let the zucchini wilt for about an hour, turning every so often.
These salads retain their good looks and flavor up to three days in the refrigerator.
The salad pictured here includes lime juice, a few chopped anchovies, scallions, jalapeños, cilantro, dill, Thai fish sauce, and baby shrimp. I let it sit about an hour, mixing  a couple of times, until the zucchini is wilted and tender. I then add some oil. Nowadays I'm using a blend of extra virgin olive oil, sesame oil, and filtered coconut oil. I serve this over a bed of mesclun for a delicious lunch.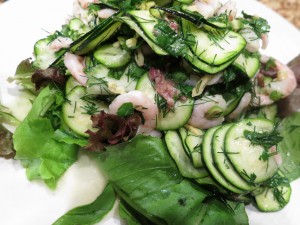 Although the prep is quick, you do have to plan to make this an hour ahead of eating.
The version I made the other day was with zucchini, salt, lemon juice, olives, mint, basil, and oil. If I had some cherry tomatoes I would have thrown those in as well.  This humble vegetable (and use the yellow variety as well) lends itself to lots of possibilities for extraordinary dishes.
Herbed Pesto
Saturday, August 11, 2012
So many gorgeous herbs are available this time of year that I often get carried away and find myself with a refrigerator drawer full of beautiful choices. One of the ways that I like to have fun with these herbs as well as use up the extra is to make an out-of-the-ordinary pesto. In the demonstration video, I'm starting with a base of toasted pumpkin seeds, about ¾ of a cup. I toast them in a dry heavy-bottomed skillet just until they are plumped, about a minute or so. While I use pumpkin seeds in the video, you can use any nut or seed that you have in your pantry. Some favorites include walnuts, almonds, sunflower seeds, pine nuts, pecans and pistachios. I transfer the lightly toasted seeds to a food processor. I then add 2 cups packed mixed herbs. In this demo I work with a combination of cilantro, basil, chives, and mint. Some other herbs that are delicious for this technique include parsley, dill, watercress, arugula, and sorrel. I add extra virgin olive oil—about 1/3 cup—as well as a couple of tablespoons of fresh lemon juice, a garlic clove, and 1/2 teaspoon of a good mineral-rich salt. I also mix in a teaspoon of light miso—such as mellow white— which gives depth and complexity to the overall flavor. This dairy-free version allows for the greatest flexibility, and is delicious with fish, chicken, pasta, grains, and vegetables. You can always add cheese later if you like. I whirl all of the ingredients in the food processor for a couple of minutes, and that's it. The pesto is ready to use immediately and it freezes well too. One delicious all-time favorite option, which I show on the video is to dollop some pesto between slices of fresh tomato, top with shaved parmesan, and drizzle with some good extra virgin olive oil and a sprinkling of black pepper and chives. Every mouthful is exciting.
Red Cabbage Lacto-Fermented Sauerkraut
Sunday, July 1, 2012
Lately, I've been on a lacto-fermenting frenzy, fermenting everything from red cabbage to dill pickles to beet and fruit kvass.
The lactobacilli, which are good bacteria, proliferate in fermented vegetables and fruit. The vegetables and fruit are easier to digest and the vitamin levels are increased as well. The main by-product of lacto-fermentation is lactic acid, which promote the growth of healthy flora throughout the intestine.
What I like about these fruits and vegetables is that once they're fermented, they last for a long time in the refrigerator. They're an instant quick hit of super nutrition. Moreover, they are easy to produce.
Here's one of my favorites, a red cabbage ferment, that needs only salt to get the whole process of fermentation going. The salt inhibits any bacteria that could putrify the ferment until the lactic acid forms.
I start with a head of finely shredded red cabbage. I add some shredded carrots, a piece of minced ginger, a tablespoon caraway seeds, and two tablespoons Celtic sea salt.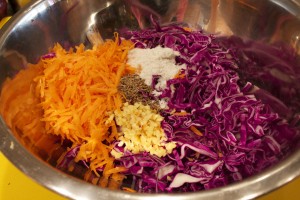 After stirring everything together, I massage the mix with my hands to help the cabbage release its juices.  There's no need to add water to the brine when you make a cabbage ferment.. You can pound that cabbage with a mallet or just put a weight on the cabbage ( a bowl with a weight in it works well). and it will start sweating away in no time.
I then stuff the mix into a jar (a one quart bell jar is perfect) pressing down to make sure that there's liquid floating on top. I make sure to have an inch of space at the top. (This is quite important to avoid leaks.) I leave this on my kitchen counter for 3 to 5 days.  With a bell jar, the piece in the middle is hard to press down when the ferment is complete.
The red cabbage doesn't look so bright in the beginning, but as it ferments it turns a beautiful magenta color. It's best to transfer this to the refrigerator, where it can last a long time (up to a year) without opening. Once opened, it's good for about three months.
Cake-in-a-Jar
Tuesday, February 28, 2012
Next week I am going to be making about 40 cakes-in-a-jar for a catering job, so I spent some time in the kitchen working out the technical challenges. I've been having a blast experimenting. These packed jars are not only adorable, they are delicious as well. My version here has chocolate cake, layers of raspberry or strawberry jam, and a thick layer of ganache.
I've been using pint ball jars, which serve two, and are a good size for gifts.  The smaller 1-cup ball jars are perfect for individual servings.
First I coat the jars with spray. I rarely use spray fat, but since I'm about to make over 40 cakes, I'm looking to streamline the process. Plus, I just found a coconut oil spray from Spectrum.
Next, I spoon a layer of jam on the bottom. I've used strawberry and raspberry jam, for the color as well as the flavor. It's a treat to dig up with a long spoon the cooked jam under the baked cake.
Use any favorite chocolate cake recipe and fill the containers half full. A cake recipe that makes two layer cakes is perfect for 6 pint-sized jars. I baked the cakes at 350˚ for about 25 minutes. Don't worry, the jars won't explode or anything — this is like baking in pyrex. The cakes do take a little less time than when they're in cake pans, so check on them a little earlier than you might otherwise.
The cakes emerge from the oven looking like they've risen too high, but they settle a lot after a few minutes.
I then added a bit more jam around the top dome to fill in the gap (for 6 cakes you will need a 16-ounce jar) as well as a thick layer of ganache on top. (I flavored my ganache with Chambord.) Keep in mind that the weight of the ganache will eventually sink the cake about an inch. That makes the whole cake compress and taste extra fudgey. The whole concoction tastes like a trifle.
Screw on the lid and refrigerate. These are tastiest if you refrigerate them for a couple of hours before eating to let the ganache settle.
The cakes stay fresh for at least five days.  Dig a long spoon in and get all of the layers in each bite. (I feel positively naughty eating these, kind of like I've been caught eating out of the jar.)
The larger ones are fun to share. Pass the jar around, and dig in. At least it's not illegal.
Young Coconuts and How to Crack Them
Thursday, February 9, 2012
Coconut water is the liquid found inside a young coconut. Don't mistake it for coconut milk, which comes from the meat of a mature coconut. In addition to natural sugars, which make it taste deliciously sweet, the water contains a complex array of vitamins and minerals. The nutritious beverage is high in potassium, chlorides, calcium, and magnesium.
As a tree sap, coconut water is essentially the "blood" of the coconut palm. The electrolyte profile of coconut water is somewhat similar to human plasma and has been used by doctors as an intravenous solution and injected directly into the bloodstream to prevent dehydration. When freshly extracted from the coconut, the liquid is free from germs and parasites.
Sure, you can buy the water in packs from the grocery store, but it's great fun to whack open the fruit yourself. Not to mention that there's no comparison in the flavor between the fresh and the bottled.
Young coconuts are large and green off the tree, but come already shaved in this country, so thankfully, you don't need a machete to open them.  It is not difficult to open these neatly, so that you can drink the water and scoop out the soft gel-like meat.
I use a serrated knife to shave around the top part of the coconut.
Then I take the heel of a heavy knife. I use a cleaver and whack it a few times. I hold the coconut on an angle, which makes it really safe. The key is to whack the coconut with confidence. After three or four whacks, the lid just lifts off. I can put a straw in this and drink the liquid and use a spoon to scoop out the gel. This is the best sports drink, thirst quencher, and cooler around.
The best brand of purchased young coconut products is from exoticsuperfoods.com. You can buy packs of the young meat and bottles of fresh coconut water, which is second only to the ones you crack open yourself.
Nuts and Seeds
Thursday, January 26, 2012
It is undeniable that when nuts and seeds are soaked – and dehydrated if you want them crunchy – they are more readily digestible, and the nutrients within are easier to absorb.
Besides, they taste simply delicious.
Nuts and seeds contain enzyme inhibitors, which are there as protection until they have what they need to grow, such as sunlight, water, or soil. The soaking water will have the enzyme inhibitors in it, so after you drain the nuts or seeds, make sure to give them a rinse. You can use the plumped nuts as is (perfect for smoothies and nut milks), since soaking makes them softer.
You can store the soaked nuts for a few days in the refrigerator to use as needed. Alternatively, dehydrate them in a low oven (or dehydrator) to make crispy nuts. Either way, you can really feel the difference in your body between those nuts that have been properly treated and those that have not. For best results, start with organic and raw.
The worst nuts to purchase are packaged varieties that have already been roasted and salted. Poor quality fat and salt are added and the roasting has damaged the fat inherent in the nuts and seeds.
Here are appropriate soaking times for each variety:
0 to 2 hours:
Brazil, macadamia, and pine nuts
2 to 4 hours:
Cashews, pecans, and walnuts (pecans and walnuts can go up to 6 hours)
4 to 6 hours:
Sunflower seeds
6 to 8 hours:
Pumpkin seeds, sesame seeds, hazelnuts
8 to 12 hours:
Almonds
If the idea of soaking and dehydrated nuts is going to send you over the edge, consider purchasing from Wilderness family naturals.  Wildernessfamilynaturals.com
These folk already do all the soaking and dehydrating work for you. I first tasted their exceptional products at the Wise Traditions conference a couple of years ago. The folks from Wilderness Family Naturals had a large booth, and I was able to sample before buying.
I was hooked, and returned home from the conference with quite a few bags. I've been ordering ever since; the box arrives on my doorstep fast, within just a few days. If you just want to get your feet wet before committing to a big order, try the mixed nuts. I guarantee you'll be pleased.
It's good to know that there's high quality choices available.