A Comparison of Soaked and Dehydrated and Toasted Nuts
Sunday, April 14, 2013
Soaking nuts serves to inactivate the phytates and enzyme inhibitors that make the minerals in them (zinc, magnesium, iron, and calcium) difficult to absorb.
You can drain the nuts and leave them in the refrigerator for a couple of days, which is good if you wish to make nut milks or don't have time to dry them out immediately. However, if you want to have delicious nuts to munch on or add to your recipes, you need to dry them out. There are a number of ways to do this, and it's a matter of preference as to which ones suit your taste best.
Yesterday I compared the times and tastes of nuts that had been soaked, then dried at 3 different temperatures. I did this for almonds, cashews, pecans, walnuts, and pumpkin seeds. I soaked them all over night, with the exception of the cashews, which got a four hour soak. It's not good to soak cashews over seven hours, as the texture changes. I drained the cashews, refrigerated them, and dried them with the other nuts. I included 1 tablespoon celtic salt in the the soaking water for each pound of nuts.
The three comparisons were with a dehydrator at 115˚, an oven at 200˚, and an oven at 300˚.
The nuts at 200 degrees took 3 hours for a beautiful light toast with delicious flavor.
The nuts at 300 degrees should have come out at about 45 minutes. I left them in an hour, and while tasty, they were slightly over-toasted.
The dehydrated nuts took about six hours.
While in a previous post I listed the minimum times for soaking nuts, I find it's easiest to simply soak most of the nuts for about the same amount of time, about six hours.  To repeat, cashews should not go longer than seven. Almonds need a minimum of six hours, but they are even better longer.
Here are the different nuts at different degrees of toasted. They range from light (dehydrator) to darkest (300 degree oven).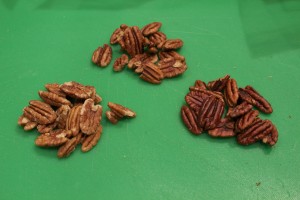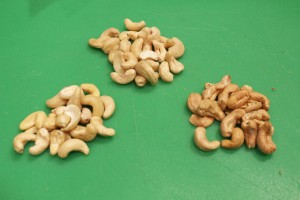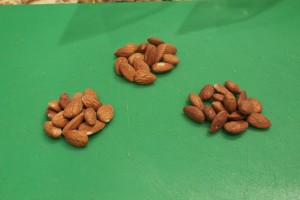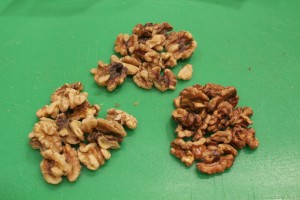 My conclusion is that for eating out of hand I prefer the nuts toasted at the higher temperature. For a neutral nut that will later be used in cooking or baking I would go with the 115 dehydrator or 200 degree oven.
These delicious nuts stay fresh at room temperature for minimum of a month. Once exception is walnuts, which should be refrigerated. For super oily nuts like pine nuts, store them in the refrigerator or freezer. No need to toast them first.
If this is too much for you, there is always Wilderness Family Naturals, which sends you nuts that have already been soaked and dehydrated.
My Favorite Farm-to-Table Restaurants in Lower Manhattan
Wednesday, January 16, 2013
First two are for a quick lunch:
City Bakery, on 18th St. between 5th and 6th. They have a beautiful fresh pay-by-the-pound "salad" bar with green market choices, as well as soups, hot foods, and lots of baked goods. I stick to the savory food and avoid most of the baked with one exception.  I relish the pretzel croissants, which are strikingly fresh and buttery and sprinkled with sesame seeds.
Hu Kitchen, a new addition to Union Square (they are on 5th Avenue ½ block below 14th street), has pasture-raised rotisserie chicken, cauliflower-coconut milk mash, chia seed puddings, and lots of fresh pressed juices.
Greensquare Tavern on 21st between 5th and 6th, right off of 5th Avenue. All of their animal food is pasture-raised, they use good-quality fats (French fries cooked in tallow, kale in coconut oil), and they have substantial down-to-earth food. It gets a little loud at night, so I tend to go on the early side.
For upscale meals, I favor Veritas, located is on 43 E. 20th street. It has an especially relaxing ambiance and it is a bit of a sleeper still, so I'm usually able to get in without reservations. I go there when I want a lovely meal  out of the New York city fray.
A wonderful place for brunch is Locanda Verde, located on 337 Greenwich St on the corner of N. Moore and Greenwich, in Tribeca, in the Greenwich hotel. It has beautiful ambience. Eggs  are from an upstate farm. They have breakfast every day  8 to 11 and Brunch on Saturday and Sunday from 10 to 3 p.m.
Northern Spy Food Company on 511 E. 12th St. is a hole-in-the-wall farm-to-table with really delicious food, good for lunch and dinner.
Il Buco Alimetari on 53 Great Jones St. is a rustic Italian with gorgeous bread made on the premises. One of my favorite dishes is a harissa-roasted pastured chicken, and they have a scrumptious short rib sandwich as well. This is one of my favorite brunch spots in the city.
One lucky Duck (all food is raw) is a great place to get  dessert (2 locations, one at 125 E. 17th St. and one in Chelsea market at 425 W. 15th St.) or a juice, smoothie, or even a big salad. The best dessert is the malamar.
For two more upscale restaurants there's also Blue Hill, 75 Washington Place. They grow a lot of their own food on their farm up at Stone Barns and ABC Kitchen, on 35 East 18th street, is in the beautiful ABC building.
If you visit Chelsea Market, The Green Table on 75 ninth avenue (between 15th and 16th) has local market comfort food.
Day Before Thanksgiving Feast
Saturday, November 24, 2012
This time of year I get a hankering to cook a Thanksgiving meal, even if I'm not the one having the guests over. My local traditional foods club has farmers that bring in stunning pasture-raised Turkeys, so I couldn't resist buying a couple. I invited a friend over to cook a no-stress pre-Thanksgiving meal with me and split the bounty. (We cooked the 13-pound Turkey. I still have a wee 7-pound turkey in the freezer.)
This is what we made, based on what looked good at the greenmarket when I went shopping that morning:
Cranberry glazed turkey: I planned this one. I made a glaze by simmering cranberries, maple syrup, thyme, orange zest, garlic, and brown rice vinegar in a small pot. When the cranberries had burst, I pushed everything through a strainer. I served this same glaze for a recent lunch party on duck breasts.
I received the turkey Tuesday night and did a little prep. I dry-brined it with salt (basically just rubbed it all over) and slipped some thyme-rosemary-sage butter under the skin to keep the breast moist. I laid the turkey on a rack in the roasting pan and refrigerated it overnight. Wednesday I baked it breast-side down at 325˚F. for an hour, then flipped it, and cooked the turkey about another 2 hours. I glazed the bird the last 40 minutes.  Next time I won't be lazy, and I'll tie the turkey legs together.
Gravy was the pan drippings with a roux made from chickpea flour and butter (the whole meal was gluten free), with some gelatinous chicken stock. (I had simmered a whole chicken with a bunch of extra feet overnight to make a gelatinous chicken stock.)
Stuffing: I made a gluten-free cornmeal with cornmeal and sorghum flour (soaked the flours in buttermilk overnight, then proceeded with the recipe), then sautéed onions with cranberries, dates, and prunes. I added some wine, apple cider, and a smidge of maple sugar to deglaze, and cooked this until the cranberries burst. I added the mix to a bowl with some sage, chopped pecans, toasted cornbread cubes, a pound of turkey sausage (I cooked it first), and a splash of sherry vinegar (and salt and pepper of course) and a couple eggs. I baked this separately in an 8×11 roasting pan at 350 for about 20 minutes. Next time I'll have the stuffing ready in advance and I'll fill the bird with it.
Celery root-apple-sage pancakes: recipe from The Healthy Hedonist Holidays. I used chickpea flour instead of unbleached white flour to make these gluten-free.
Chard with cipolline onions: We cooked cipolline onions in olive oil and balsamic vinegar and added a couple bunches of wilted chard.
Buttered Green Beans with anchovies, garlic, and sage: We crushed the anchovies with salt so that they disappeared, and finished the green beans off with a splash of lemon juice.
Brussels Sprouts with leeks and shiitake mushrooms: We sweated the leeks and mushrooms with olive oil and a splash of tamari, until shrunken and tender. We removed them from the pan. We then added the Brussels Sprouts with butter, water, thyme, and salt, and cooked them until tender. We uncovered the lid and added balsamic vinegar and mustard, stirred the mushroom mix back in, and finished with a sprinkle of fresh tarragon.
Squash-Chestnut soup: We cooked hubbard squash soup with chestnuts, and added a splash of scotch. Served it with a swirl of yogurt, although crème fraiche would have been even more luscious.
Russet apples: Roasted in ginger-cinnamon mulled cider.
Then we feasted, and divided the spoils. No room for dessert, but it wasn't necessary. Had leftovers of this one (espresso pudding with pumpkin whipped cream).
I'll admit that on Thanksgiving I had salmon, since I didn't want to exhaust my enthusiasm for Turkey. The next night I was into Turkey again. This is my second night of leftovers, and it's so good.
Caçik: Savory Turkish Yogurt Dip
Tuesday, October 9, 2012
All over Turkey, some form or another of savory—not sweet—yogurt is served at practically every meal. Caçik, the classic yogurt-based dish, is made from thick yogurt mixed with garlic and salt to which diced cucumber and mint is added. Rumi, the great Sufi mystic and poet of the thirteenth century, mentions this dish in his writings, so we know that savory yogurt dishes are rooted in a long tradition.  The dish can be part of a mezze platter or can be served alongside a meal.
Caçik: Savory Yogurt Dip Three Ways
Caçik starts with thick yogurt. You can use Greek style, which is already thick, or you can take a thinner yogurt and thicken it yourself. To thicken the yogurt, place it in a cheesecloth-lined strainer for a few hours.  You'll get a lot of whey dripping into your bowl, which you can use for other dishes. The longer you strain the yogurt, the thicker it gets. If you strain your yogurt overnight, and it is as thick as cheese, simply whisk a few tablespoons of water into it to thin the yogurt to the desired consistency. Sheep's or cow's milk yogurt both are traditional; in the video I make the classic caçik with strained cow milk yogurt, and the variations with a Greek-style sheep's yogurt.
Besides the classic caçik, lots of variations are relished as well.  One striking variation is made with diced fresh beets. The dish starts the same way, with yogurt, salt, and garlic. A couple of cups of beets stirred in turns the yogurt a luminescent pink.  It's also common to stir into the garlicky yogurt a pile of wilted chopped greens.  I've used spinach in the video, but other greens such as chard are tasty as well. Make sure to squeeze out the excess water from cooking and chill the greens to room temperature before mixing them in.
Purslane, a leafy green that in the states is rather unusual—it's found in green markets June through October—is more of an everyday vegetable in Turkey. It has round slick leaves with a singular nutritional profile; besides being high in vitamins and minerals, purslane is high in omega three fatty acids. In Turkey, handfuls of raw purslane are stirred into the garlicky yogurt base and enjoyed as part of a mezze platter.
Use your imagination and vary the vegetables. It's amazing how tasty something so simple can be.
Summer Herb Salad
Tuesday, June 5, 2012
Herbs are fresh and abundant in warm weather, and I love using all different kinds regularly in my dishes. I often turn the bits and pieces that are inevitably left over—especially from the leafy ones—into an herb salad.  I start with a base of a zesty green like watercress or arugula and then add whatever I have. In this video, I've put together a mix of watercress, parsley, dill, cilantro, and sorrel. Sorrel gives the salad a delicious lemony punch and is in season all summer. Other herbs I've used include chives, tarragon, mint, chervil and lovage. Every mouthful is exciting! I make a simple dressing to complement the herbs. It consists of 1 part lemon juice to 2 parts extra virgin olive oil, along with some lemon zest and a sprinkling salt and pepper. I place everything in a jar, shake it for 10 seconds to mix, and I've got a tasty dressing that will keep refrigerated for up to two weeks. This salad is topped with matchstick radishes and a sprinkling of pistachios, but this base lends itself to a large array of possibilities. A piece of sautéed fish or chicken turns the salad into a light main course as well.
Herbed Salad with Lemon-Olive Oil Vinaigrette