Building a Satisfying Salad
Monday, July 14, 2014
In today's video, I demonstrate one of my favorite summer lunches, a beautiful light yet substantial main course salad. The focus of the video is on the components that make up a satisfying salad. My ideal summer salad has a homemade dressing, a gorgeous mix of greens, a protein, a raw vegetable or two, a fermented vegetable, a sprinkling of something fatty, and some kind of crunchy, dehydrated vegetable or sprouted chip. This composed salad lends itself to infinite variations, and I explore three. Happily, all of these colorful, multi-textured salads take only minutes to assemble, and they are hearty enough to keep you going strong until dinner.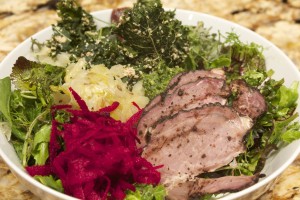 The most important factor in a salutary salad is the dressing. Bottled salad dressings are not healthy; they all contain inflammatory polyunsaturated oils, such as soybean oil, as their primary ingredient. Making your own dressing, however, is quick and cost-effective as well as healthy and delicious. Here's how to make a basic vinaigrette: First, place a damp dishtowel in a ring shape on your counter to hold your bowl steady. Doing this will free both hands. Place a dab of mustard in the bowl, then add a tablespoon of minced shallots. Next, pour in a couple tablespoons of your favorite vinegar (the dressing used in the video is golden balsamic), then whisk in about 6 tablespoons of extra virgin olive oil. You can also add a splash of flax seed oil to boost the omega-3 content. Stir in a few tablespoons of fresh herbs, and make sure to include a generous sprinkling of salt and black pepper. Transfer the dressing to a jar, and refrigerate it for up to two weeks. You now have a delicious dressing available whenever you want to enjoy a salad.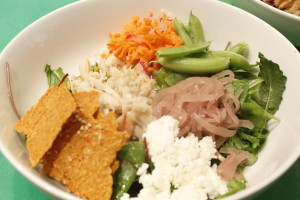 Next, pick a selection of delectable greens. Bins at your local greenmarket contain the most exciting varieties; but mesclun, arugula, and watercress are readily available in most grocery stores. Toss the greens with just enough dressing to coat, and place in your salad bowl.
Now for the composed part: Top the greens with a serving of protein. The three examples in the video feature tinned crab, smoked mackerel, and lamb pastrami. Other delicious pantry staples or ready-to-use proteins include tinned sardines, salmon, tuna, smoked oysters, and shrimp. Cold proteins, such as poached fish, chicken, turkey, or beef from a previous meal can be used as well.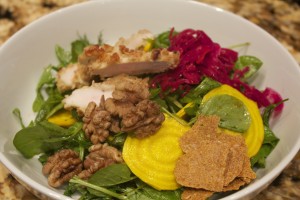 Since so many fine fresh vegetables are available in the summer, be sure to add a fresh raw vegetable or two. In the video, I show grated radishes and carrots, thinly sliced beets, sliced snow peas, shelled English peas, and whole sugar snap peas, which, when fresh, are delicious eaten raw. I recommend also including a fermented vegetable; not only are fermented vegetables refrigerator staples, but they lend a wonderful tangy flavor to the salad, and they make the proteins in the salad easy to digest.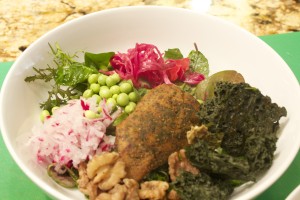 Next, sprinkle over your salad a "fatty" component such as nuts, olives, or crumbled cheese. A little of these go a long way.
The last essential ingredient—again, something that keeps well in the pantry—is some kind of a crunchy vegetable chip. There are so many tasty dehydrated vegetable chips on the market now: kale chips, onion chips, arugula chips, and dehydrated vegetable crackers, to name a few. A little mound adds a fun element to the salad.
Mix and match and come up with all kinds of salad variations. I hope that you develop your own hot weather favorite combinations and that you turn out to be as excited about these salads as I am!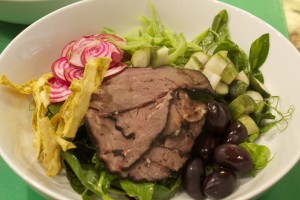 Leave a Reply
Photo: Tess Steinkolk