Turkey Hash
Monday, November 25, 2013
I've already cooked a couple of turkeys this season while testing recipes, so I've had a good deal of practice using up the inevitable leftovers. While I enjoy consuming my fill of turkey sandwiches and turkey soup, this year one of my favorite ways to make a new dish out of the cooked turkey has been to make it into a hash—a quick delicious one-skillet meal that is equally tasty for breakfast, lunch, or supper. I incorporate wild rice into my version—a departure from the more usual turkey-potato variety—so I make sure to have a little extra on hand as a "deliberate" leftover. Wild rice has an impressive nutrient profile and adds a nutty earthy quality to the other ingredients. Preparing hash is also a good way to use up other odds and ends of vegetables and herbs.
To make the mélange, I start with a half cup of diced onions. I sweat these in clarified butter or ghee, butter, or olive oil for about 10 minutes in a large skillet until quite soft. In the video I use ghee, one of my favorite cooking fats. While the onions are slowly cooking, I prep the rest of the ingredients: I dice my turkey and vegetables so that I'm ready to add these as soon as the onions are tender.  I then add  2 cups finely chopped turkey, 1 cup of cooked wild rice, ½ cup diced green bell pepper, and another cup of vegetables as well, which varies depending on what I have on hand.  In the video, I add ½ cup each of chopped celery and carrots, but shaved Brussels sprouts, broccoli, or cauliflower—all chopped small— are delicious too. If I have ½ cup of chestnuts, I add those as well.  To moisten the ingredients, I stir in ½  cup  of chicken or turkey broth, about ½ teaspoon dried thyme (or 2 teaspoons fresh), ¼ teaspoon dried sage (or 1 teaspoon fresh), and ½ to ¾ teaspoon salt, depending on how salty my broth is. I cook the mix uncovered over medium heat, stirring from time to time, until the broth is absorbed and the flavors have married. I sprinkle a generous grind of fresh pepper and a tablespoon of fresh-chopped parsley over the dish. This is  truly a versatile one-pot meal.
Glorious Autumn Squash
Monday, October 7, 2013
Glorious autumn squashes and pumpkins in a variety of shapes and sizes abound in greenmarkets and grocery stores at this time of year. In the video today, I go over a few ins and outs of cooking with these vegetables as well as demonstrate a delicious and easy recipe that work with many of the varieties available.
Here are six of my favorite types of squash among those that you're likely to see. Two that have sweet dry rich orange flesh include the forest-green kabocha squash and the flaming red kuri pumpkin. These are wonderful for soups, stews, roasting, or mashing. Of course, cutting into one of these tough guys can seem like a dangerous undertaking. Here's my favorite tip for handling an intimidating squash: turn the oven to between 325˚F and 375˚F (whatever is appropriate for the recipe), and simply toss the whole pumpkin into the oven for 10 to 15 minutes. That little bit of precooking is enough to enable you to be able to cut down the middle of a hard squash with even a thin-bladed knife. You can even peel the skin easily and cube the squash as well. Here's an alternative method: simply bake the entire pumpkin without cutting into it first at all. If this is what you plan to do, make sure to place your squash on a baking tray, however, or you're in for a messy oven-cleaning job when the juices start to drip.
Another one of my favorite varieties includes the oblong delicata squash, characterized by its pale yellow skin with green stripes. The thin skin is eatable, so no need to peel these. To prep the squash, cut it lengthwise down the center, scoop out the seeds, and cut it into wedges. Toss the wedges in a little olive oil and salt, and roast for 20 minutes or so at 400˚F on a parchment-covered baking sheet.
The small sweet dumpling squash is a variety that is perfect for stuffing. Give it a preliminary 10-to 20-minute bake before cutting the top off and scoop out the seeds, then stuff the inside and bake until tender.
The football-shaped spaghetti squash is a fun variety with a stringy spaghetti-like texture. Initially, just toss the whole squash in the oven for about an hour. After it sits out of the oven for a few minutes and is soft and cool enough to handle,  slice it down the middle, scoop out the seeds, and then scrape out the stringy flesh with a fork. Treat the strands like pasta and toss them with your favorite spaghetti sauce.
The workhorse of the squash world is the butternut. This variety is softer than some of the other types, so it doesn't need a head start in the oven before being cut or peeled. Treat it like two separate vegetables when dicing. The oblong part in the middle is dense, and it can be sliced like a potato: the bulbous bottom part contains all of the seeds, so it's best to cut that part into wedges first. Use a t-shaped peeler, the kind that takes thick skins off, to make peeling the squash efficient. For the oblong part, first cut a thin piece off the bottom to anchor the squash on your cutting board, then cut downward slabs. Cut the slabs into long "batons,", then cut the batons into dice. When you roast the butternut squash, do so by slicing it down the center first and placing it face down on a parchment-covered baking sheet. It's so much easier to take out the seeds after the squash is cooked.
The recipe that I demo in the video is sautéed butternut squash with pears and ginger. The pears harmonize beautifully with the squash—they're both in season at the same time—and the ginger and cayenne add warmth to the dish. I start with some extra virgin olive oil. I warm a couple of tablespoons over medium heat in a large skillet. I then add the cubed squash with one diced pear—comice, Anjou and Barlett are all good—and cook uncovered over medium heat until the pieces are just tender and starting to brown, (about 6 to 8 minutes). I then push the squash to one side of the pan and add a tablespoon or so of butter (you can also use extra virgin olive oil). When the butter melts, I add the ginger and cook it a minute or so until fragrant. I then stir the ginger—along with ½ teaspoon of salt and a pinch of cayenne—into the mix. I finish the dish by stirring in a splash of balsamic vinegar. This dish is fragrant, fast, and flavorful.
What a good time to get creative with all of the delicious varieties of squash that are out right now. They're not difficult at all to use, so have a wonderful time!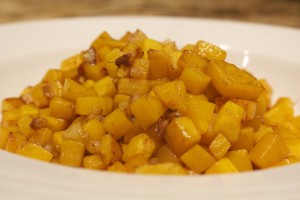 Savory Salmon-Coconut Muffins
Friday, August 23, 2013
Breakfast can be a challenge, especially during those hectic mornings when there's limited time. I find it helpful to have on hand ready-made items that require no more time to prepare than it takes to pop a piece of toast in the toaster oven. That kind of healthy instant breakfast does requires a bit of planning. Today's video features one of my favorite such breakfasts: savory salmon muffins. Most of the time we associate muffins with a sugary high carbohydrate load, but these muffins are different.  They are nutrient-dense little parcels, full of protein and great fat, but low on carbohydrates. They're filling, but they don't weigh you down.
To start, I whisk together ½ cup of coconut flour, 1 teaspoon baking power, and ¼ teaspoon salt in a medium bowl. Half a cup of coconut flour is not very much; but coconut flour—made from the flesh of the mature coconut after all of the liquid has been squeezed out—really absorbs liquid, so a little goes a long way. In another bowl, I whisk together 6 eggs, along with ½ cup of melted coconut oil. I use the aroma-free variety of coconut oil since I don't want any coconut flavor coming from the oil. Aroma-free coconut oil still has the great nutritional benefits of the virgin variety: the short list is that it's good for the thyroid, good for the digestive tract, and great for the metabolism. It keeps the muffins moist as well. Then I pour the wet ingredients into the dry, and whisk the two together. I stir in a large (7.5 ounce) can of salmon. I favor the kind with bones (these are soft enough to eat), which provide a good dose of calcium along with vitamin D, the omega three fatty acids DHA and EPA, and astaxanthin, the antioxidant that gives wild salmon its red-orange color. I add some walnuts, which, besides adding flavor and texture, have a whole host of great health properties, including the omega three fatty acid ALA. I also add ¼ cup of chopped fresh herbs. In the video, I use a combination of dill, tarragon, and chives; but other herbs, such as parsley, sorrel or cilantro, are delicious as well.
I'm now ready to add my batter to the muffin tins. Instead of "tins," I favor silicon muffin holders. This way, there's no need to grease the tins, and the coconut muffins pop right out. I bake the muffins at 400˚ for 20 minutes, just until springy and lightly browned. It's best not to over bake these or they run the risk of drying out. This recipe makes 7 large muffins, enough for seven full breakfasts. They keep refrigerated for up to a week, and you can freeze them (slice in half first) as well.  I savor them toasted with a few slices of avocado, which lend more good fat, folic acid, vitamin E, and of course, deliciousness. These muffins are truly convenient for those busy mornings when you need to take breakfast on the run. Most importantly, they will keep you humming along all the way until lunch.
Sun-gold Tomatoes with Purple Peruvian Potatoes
Monday, August 12, 2013
Recently, the greenmarket has had beautiful thick slabs of fresh tuna caught off the coast of Long Island. Bins of  purple Peruvian potatoes have beckoned me as well. I love their appealing purple flesh and the fact that they are something like 40 times more nutritious than white potatoes. The summer sun gold tomatoes taste like candy, so I haven't been able to resist buying scores of those. I started the dish in a large pan with a few leeks, then added the potatoes, and cooked the whole lot for about five minutes in a dollop of extra virgin olive oil.  I then added the halved tomatoes, shallots, garlic, capers, balsamic vinegar, a bit more olive oil and the tuna. It took only four minutes to cook the dish. I then sprinkled the dish with chives and parsley before serving.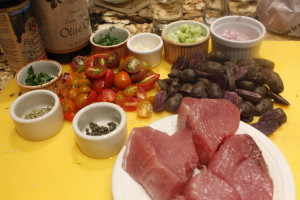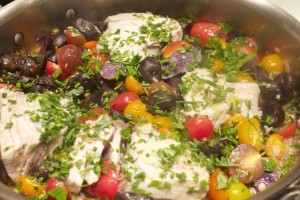 I  served the tuna with a thinly shaved zucchini and apple salad with dill and black cumin. It was a delicious lunch!
What I've been cooking this week: Breakfast
Wednesday, August 7, 2013
I'll be teaching a workshop on traditional foods in March at the Natural Gourmet, which will include bone broths and lots of stuff to do with them, as well as lacto-ferments.
I've been making loads of lacto-ferments lately, with ruby kraut and beet kvass being among my favorite. Here's one of my go-to breakfasts that includes those two ferments as well as my favorite coconut muffins. These coconut muffins have a healthy amount of tumeric added to them, which serves to give them a vibrant yellow color as well as an anti-inflammatory boost.  I split the muffins open, add a dollop of coconut oil and a slab of smoked salmon, and accompany  it with the homemade ruby kraut (cabbage, caraway, carrots) and the beet kvass (beets that have fermented with whey, garlic, and ginger.) This is a light, energizing, vibrantly-colored breakfast. (All that deep pink!)
To make beet kvass, all you have to do is chop up a beet,  grate some ginger, and chop up a clove or two of garlic if desired and add it to a 2-quart jar. Add 1 cup whey (the liquid left when you drain yogurt over a cheesecloth-lined strainer), 1 tablespoon of a very good salt such as celtic, and fill the rest up with water. Leave a one-inch space at the top of the jar, seal the jar tightly, and ferment for 2 to 5 days on the counter. Transfer it to the refrigerator and leave for a couple of weeks. Then strain the liquid if you like and drink a few ounces a day. It will give you a great boost!
Culinary Roulette Peppers
Friday, July 19, 2013
The first time I tried a shishito pepper, I thought that they were unbearably hot. I didn't know at the time that only about one in ten is hot, while the rest are mild and flavorful. This experience kept me away from these delicious peppers for a good couple of years, until I was seduced by the gorgeous overflowing bins at the Union Square greenmarket. Fortunately, I finally gave them another try, and have been happily eating them ever since. Not only do  shishito peppers abound right now, there are another two varieties similar enough that they can be treated the same way. Here's the rundown on the different types:
There's the shishito pepper, which are very aromatic. They have little ridges.
A pepper that competes with the shishitos is the Fushimi pepper. They have an even crispier skin and texture. You can eat these raw as well as cooked.
Another squatter horn-shaped pepper with similar characteristics is the Pimento de Padrón, the heirloom variety from Spain.
All of the peppers have a lot of health benefits: high levels of vitamin A and C and carotenoids like lutein, which is helpful for maintaing healthy hair and skin, as well as providing resistance to colds. These retain their vitamins when they are pickled as well.
My favorite way to cook all of these peppers is to toss them into a hot skillet that is filmed with oil and simply blister them. I then toss them with a course salt. Lately, I've been tossing them with lapsong souchong salt, so they have a delicious smokey tea flavor.
For more ideas on exciting salts, visit The Filling Station in Chelsea Market, where you can choose from a variety of flavored coarse salts.
All of these peppers make for an exciting game of culinary roulette. I like to serve these to guests sitting around the table and watch their faces as they eat them. Since most of the peppers are sweet and mild,  it's a bit of a surprise when you get that one zinger in ten that is picante.   Proceed with caution, and take a small first bite!
Stress-Free Entertaining
Tuesday, July 16, 2013
Last week I taught a class in stress-free entertaining. The night before I made food for a party of six with this  concept in mind. While hassle-free entertaining might seem difficult to achieve, it is more than possible during the summer. The key is designing a room temperature menu. Nothing has to be juggled on the burners or in the oven at the last minute. Each dish is laid out on a serving dish, making the meal look like an extravagant antipasto bar. You can go over the top and make a huge variety of dishes, like I did for the party the night before my class. This kind of menu lends itself to easy transport as well. Happily, all the dishes packed up well. When they were all laid out on serving dishes, the guests were astounded and delighted at the variety (and of course the flavors!).
Here's some of what was included in the two nights:
Poached salmon: Salmon is in season from May through October and well-priced wild Alaskan salmon is readily available. On Wednesday night I poached steaks in a cort bouillion of onions, leeks, carrots, celery, white wine, sliced lemon, thyme, parsley, peppercorns, and bay leaf. I cooked the stock for 25 minutes, then poached the steaks for 10. I served them with the mustard-dill-cucumber sauce from The Healthy Hedonist. We made this in class as well, only we sliced thick fillets into 1-inch pieces, and rolled them into even rounds that we tied with strings.
Roasted Cauliflower with Fennel and Garlic Cloves. I used a variety of white and bright yellow cauliflower.
One basic crowd-pleaser was heirloom tomatoes with sliced fresh mozzarella with basil chiffonade, balsamic and olive oil.
Beets with fig-balsamic vinegar, walnuts, and purslane.
Sautéed shallots and corn, pan deglazed with balsamic vinegar.
Marinated roasted red peppers with anchovy breadcrumbs.
Crab salad featuring Tanner crab from Vital Choice with buttered brioche. It's kind of like a lobster roll, only with crab. The salad had homemade mayonnaise, tarragon, celery and a touch hot sauce.
From class: Shaved zucchini salad with arugula and parmesan.
Yellow tomato and golden beet Gazpacho.
The one dish I did serve hot was an onion tart made with caramelized spring onions, spring garlic, egg yolks, and a tad parmesan, cream, and milk.
Also included on this plate were marinated olives, Tuscan white beans, marinated grilled portobellos, and parmesan biscotti.
I also included romano beans with a tahini and pomegranate dressing as well as parfaits with blackberries and cream!
A good time was had by all!
Strawberry Guacamole
Monday, May 20, 2013
Fruit and avocado (which is technically a fruit itself) go well together, and it is traditional in Mexico to enjoy fruit-studded guacamole. Strawberries and guacamole are an especially refreshing and nutritious combination, containing lots of vitamin C from the strawberries and vitamin E from the avocados, as well as numerous phytochemicals and minerals from both. In the video, I show how to put this dish together in minutes.
To make this attractive, summery version of a classic, start with a couple of ripe avocados. Cut them down the middle, and pop out the flesh into a bowl. Fork- mash them to break them up a bit, and then add a couple of tablespoons fresh lime juice as well as a teaspoon of salt. Mix in some essential guacamole ingredients: a couple of thinly sliced scallions, a quarter cup chopped fresh cilantro, and a couple of minced Serrano chiles. Mix all the green ingredients well before gently folding in a cup of chopped strawberries. Keep a few extra sliced strawberries as a garnish around the side of the bowl.
I like to serve this colorful dip with jicama, the root vegetable that looks like a tuber but has a refreshing taste resembling that of a water chestnut.  Make sure to choose a firm one free of too many blemishes.  Peel the skin with a Y-shaped peeler, and cut it in half to safely position the vegetable cut-side down on the board. Then you can slice it into "chips." Jicama makes a great alternative to the more typical corn chips. It is low-calorie and contains lots of fiber, as well as Vitamin C, making this a nutritious, light-but-filling snack or appetizer, as well a refreshing way to celebrate late spring and summer.
Scallops with Lemon-Tarragon Browned-Butter Sauce and Garlicky Arugula
Friday, May 10, 2013
After the heavier foods of winter, spicy and bitter spring greens are cleansing to the body and taste delicious. Peppery lettuces such as arugula and watercress are typically served raw in salads, but they are very tasty when cooked as well. In this video, I show how to make a quick spring meal that you can put together in just 10 minutes. It features seared scallops in a lemony tarragon browned-butter sauce as well as garlicky sautéed arugula.
Scallops in Lemon-Tarragon Browned-Butter Sauce
Start with the scallops, since they take longer to cook than the greens. Make sure to purchase dry scallops that have not been soaked in any solution. Dry them well with a paper towel, and pull the tough little muscle off. (It is often attached at the side.) Toss the scallops with a little salt and freshly ground black pepper. Heat a thin film of fat in a non-stick or cast iron skillet over medium flame. Fats that are good for this dish include ghee, aroma-free coconut oil, or extra virgin olive oil.  Heat the oil over a medium-high flame until your hand, when it's held one inch above the pan, feels hot.  Add the scallops—they should sizzle—and cook for about three minutes, until seared on the first side. Using a tongs, flip the scallops and cook them on the second side for another three minutes or so until they feel firm, with just a little give.
Meanwhile, melt 4 tablespoons butter in a small pot on another burner over medium-high heat. You'll notice that the butter starts gurgling right away, which means that the water content of the butter is evaporating. After about three minutes, the butter will foam and smell nutty. Use a spoon to push the foam aside and see the color of the butter, which should have turned a burnished chestnut color. Immediately remove the pan from the heat and pour in a couple of teaspoons or so of lemon juice to stop the cooking process. Add a tablespoon chopped tarragon to infuse the lemony buttery sauce with a fresh herby flair. Now you have a delicious sauce that is versatile as well.
In a medium skillet, add a splash of olive oil with a couple cloves minced garlic. Start heating the oil and the garlic at the same time, which will keep the garlic from burning. When the oil starts to sizzle, and the garlic just starts to take on some light color, add a pile of greens and toss to cook. In the video, I use arugula, but watercress is delicious as well. The greens wilt and are ready in under a minute. Sprinkle with a dash salt and a splash lemon. Greens cook down a lot, so make sure you plan for two cups of loosely packed greens per person.
Serve the scallops drizzled with the browned butter sauce accompanied by a mound of the garlicky greens. You'll marvel at how something so tasty was so easy to make.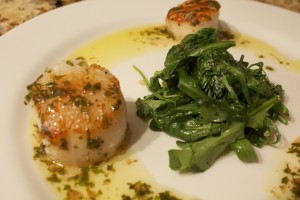 Quick Vietnamese Pho with Fresh Herbs
Wednesday, March 20, 2013
This quick Vietnamese pho, pronounced fuh, as in fun, is a soothing one-pot meal that's flavorful and light, especially after the heavier foods of winter.
Watch the Video Quick Vietnamese Pho with Fresh Herbs
The first step is to toast some spices—a couple of tablespoons of coriander, a few cloves, a pieces of star anise, a spoonful of black peppercorns— in a dry heavy-bottomed skillet over medium heat until the spices smell fragrant, which takes only a couple of minutes. I then wrap the spices in a cheesecloth along with some chunks of ginger and onions. l add this bouquet to two quarts of chicken broth (this is where a homemade one really shines) along with a pound of boneless chicken (breasts or legs are fine),  a tablespoon of natural brown sugar, a couple of tablespoons of Vietnamese fish sauce, and a few pinches of salt. The fish sauce consists simply of fermented anchovies, which gives the broth authentic Southeast Asian pizazz. After bringing the liquid to a boil, I lower the heat and simmer the broth very gently (so as not to toughen the chicken) for 20 minutes or so, until the chicken is cooked through.   I love that I can flavor the broth and cook the chicken all at the same time.
While the chicken is cooking, I pour hot water over fettuccine rice noodles, and I assemble the garnishes. I chop some fresh mint, cilantro and basil, cut some limes, slice some red onions, and finely chop a couple of hot chile peppers.
When the chicken is cooked, I remove it from the broth and discard the spice bag.  As soon as the chicken is cool enough to touch, I tear it into chunky pieces.
To assemble the final dish, I ladle the broth over the noodles and chicken, then add the garnishes. I start with the onions and bean sprouts and then add a big handful of the fresh herbs. A sprinkle of the hot chiles and a squeeze of fresh lime at the last minute makes the dish sing! Assembling the dish to order allows me to adjust the spice level for all who are eating.
The flavorful herbed broth is nourishing and cleansing, not to mention delicious!