Spring Greens Pie (kuku)
Saturday, May 2, 2015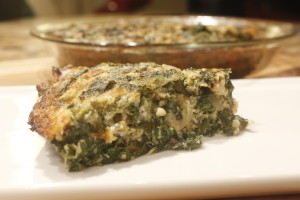 One of the first signs of spring is the abundance of greens that show up in farmers' markets and grocery stores. In today's video on how to make a greens kukuI take advantage of the copious selections and demonstrate a kuku, a Persian frittata which resembles a crustless quiche. While it's baking, the pie forms a bottom crust as well as a top crust. The result is a luscious spring greens pie.
The selection of greens that I show in the video includes chicory, which adds a delightful bitterness, as well as arugula and watercress, which lend a bright peppery bite.  The more exotic additions include two that are just starting to show up at the farmer's market: Claytonia, a delicate mild-flavored green; and sorrel, a delightfully lemony herb with a bright tart liveliness. Since this kuku lends itself to countless variations, you can also make it with the other spring greens you find or fancy, and mix in some fresh leafy herbs:  Basil, chives, cilantro, dill, and chervil are all excellent choices.
Begin by wilting the greens. A drop of water in the skillet gets the leaves off to a good start. Start with the amount that will fit in the pan, and add more as the greens start to cook. Add handfuls to the skillet, and use a tongs to turn the uncooked leaves to the bottom of the skillet. The heat of the pan and the cooked greens help cook the raw ones quickly. You'll want about 4 cups of cooked greens and mixed herbs total; to end up with this amount, begin with 2 to 3 large bunches—about 3 to 4 pounds before cooking. No need to wilt the fresh herbs; simply chop them. When the greens are sufficiently wilted, transfer to a strainer set over a bowl, and allow to cool and drain. Press the greens against the strainer to remove any excess liquid. Transfer to a cutting board, chop into bite-sized pieces, and set aside.
While the greens are cooling, warm enough olive oil to coat the bottom of a medium skillet over medium heat, and add a heaping cup or so sliced onions. Sauté for a few minutes, toss in a few cloves minced garlic, and cook until the onions are caramelized.
Dollop a tablespoon butter (or coconut or olive oil) onto a 9-inch pie plate, and set the plate in a 350 degree oven to warm in the pan for a few minutes as you mix the ingredients for your pie together.
In a medium bowl, whisk together 4 eggs. Stir in 1/2 teaspoon salt, a tablespoon flour and 1/2 teaspoon baking powder. Since you're using such a small amount of flour, even unbleached white flour is okay—so long as you don't have gluten intolerance.  The flour in combination with the baking powder lends an extra lift to the pie, making it especially airy.
Stir in the chopped greens, the fresh herbs, the onions and the garlic. In the kuku in the video, I add also a cup of crumbled sheep's milk feta as well as a cup of sheep's milk gruyere. That touch of flavorful cheese imparts rich flavor, but the kuku is already certainly scrumptious when made without the dairy. Stir in a generous dusting of black pepper, and mix everything well. You'll notice that the eggs bind the greens together inconspicuously and disappear into the batter.
By this time, the butter will have melted and the pan will be hot. Remove it from the oven and swirl the butter around so that it coats the pan evenly. Pat the filling into the pie plate, and return to the oven to bake for about 20 minutes, until you see some browning around the sides. Dollop another tablespoon of fat on top—the heat of the oven will spread it—and return the kuku to the oven for another 20 minutes or so, until it develops a gorgeous deep golden top crust.
This pie stays fresh for days in the refrigerator. You can just cut yourself a piece and heat up what you want to eat, or reheat the whole pan. The one-dish meal can be served any time of the day for a light meal or snack. In Judeo/Christian traditions, eggs are a symbol of rebirth and are featured on spring religious holidays. It feels appropriate to celebrate this long-awaited season with this delicious greens and eggs medley.
My Favorite Winter Salad
Monday, January 21, 2013
After a season of holiday indulgence and too many meals out, it's time to begin the new year with a little lighter fare. I'm busy with obligations, but I don't want to skimp on good food. So I turn to my favorite nourishing winter salads that I can make in minutes. This hearty winter salad that I show on the video consists of arugula, oranges, fennel, and sardines, with a complement of olives, walnuts and feta cheese. It's composed in such a way that I don't even need a separate dressing.
I start with a nest of baby arugula, or watercress, or mesclun greens. In the video, I use arugula with some farmer's market pea shoots mixed in. I next add an orange that is cut into segments known as supremes. I cut the orange over a bowl to make sure to catch the juices that will become part of the dressing. I sprinkle the greens and orange with salt and then add a layer of paper-thin sliced fennel, which is arguably the most appealing way to eat raw fennel. Using the mandolin is the easiest way to get such slices. Next, I sprinkle in some black olives—a flavorful variety such as kalamata or nicoise—followed by a handful of walnuts. I then crumble my favorite feta cheese, a sheep's milk feta, over the salad.  Finally, I crown the salad with sardines. I use sardines packed in extra virgin olive oil, so that the oil from the tin of the sardines becomes part of the dressing, mixing with the juice of the oranges. Every bite is exciting—a medley of sweet, salty, juicy, and crunchy. Moreover, this salad is a nutritional winner, packed with a range of nutrients, from omega 3's to vitamins C and E, and loaded with phytochemicals and minerals as well.
You can pack this salad to take on the go.  Layer the greens with the fennel, olives, walnuts, and feta. Put the juicy orange slices in a separate container. Salt the salad, add the oranges, and top with the sardines right before eating.
Sunday Night Dinner
Thursday, February 16, 2012
Sunday night was a night for using up those bits and pieces in the refrigerator and freezer. I had some wild salmon from Alaska ready to use that I had defrosted, as well as some toasted fennel seed vinaigrette. I keep a stash of homemade stocks in my freezer: roasted vegetable stock; chicken, fish, lamb, and beef bone broths, so I had instant flavor available to enliven my meal.
I defrosted a small bit of vegetable stock. I added the Swiss chard in a small pot with ½ cup or so of vegetable stock, puréed the whole mix, and finished it with a pat of butter.
I tossed the salmon in the fennel seed vinaigrette and then baked it at 375˚F. for about 15 minutes, until just pink in the middle.
I mixed the sliced carrots and parsnips with a couple tablespoons stock, a couple tablespoons extra virgin olive oil, a pinch cinnamon, nutmeg, cayenne, salt and pepper. I nestled some garlic slices among the vegetables as well. I baked them covered until tender, about 20 minutes, then uncovered them for another 10  minutes until the carrots and parsnips browned.
I steamed the cauliflower then sprinkled it with a mix of lemon zest, parsley, and chopped kalamata olives. I served the salmon, cauliflower, and carrot mix on top of the chard puree and tossed some pea shoots in the middle.
Seasonal Vegetable Dishes from Union Square Greenmarket
Tuesday, November 1, 2011
Last week was beautiful at the Union Square greenmarket. The whole stalks of Brussel Sprouts were too enticing to resist, so I bought a whole stalk.
I'm not the only ones enamored with snapping off the the nuggets from the stalk. Over the weekend, the little nephews had a wonderful time snapping off the sprouts as well.
I halved the stalks, tossed them with extra virgin olive oil and salt, and roasted them at 375˚ for 20 minutes. Meanwhile, I made a quick glaze of maple syrup, mustard, and butter that I heated on the stove. I tossed the Brussels sprouts with this mix and sprinkled the whole lot with chopped pecans.
It's nearing the end of eggplant season as well, so I purchased these miniature varieties and
roasted them on the my chile grate (these grates are wonderful for roasting multiple vegetables at once.)
I like the chile grate especially for small chiles and eggplants, since they don't fall into the open flame. The smokey flavor of eggplants cooked directly over the fire is irresistible.  After I covered them and let them cool a bit, I scraped off the skin,
chopped the flesh,  and mixed them with tahini, lemon juice, garlic, parsley, and pomegranate molasses.
I served the chunky dip on rye bread from Rui's,  a fairly new Friday and Saturday Union Square Greenmarket addition. These guys make traditional hearty, delicious Scandinavian (100 per cent) rye bread.
I also picked up an interesting vegetable called spigariella.
It actually is a kind of broccoli without florettes, and tastes like a sweeter version of broccoli raab. It cooks in just minutes. I cut off the stems and cooked them first with garlic, olive oil, and red pepper flakes.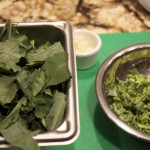 Then I tossed in the leaves, cooked them a few minutes, then added some turkey sausage. It was a delicious, quick energizing brunch meal.
Greens and Quinoa Pie
Monday, April 25, 2011
Greens and Quinoa Pie
Spring greens combine with quinoa and sheep or goat cheeses for a light yet hearty savory pie that bakes into an appealing deep golden brown.
One 9-inch pie (serves 6)
1/2 cup quinoa
Salt
1 large bunch chicory (1 to 1 1/4 pound), cut into bite-sized pieces (bottom 11/2 inches of hard stems removed )
1 head romaine, shredded
3 tablespoons extra viegin olive oil, divided
2 cups thinly sliced onions, (2 medium)
1/4 cup thinly sliced scallions, whites and greens
1/4 cup chopped dill
1/2 cup crumbled feta cheese, preferably goat (about 2 ounces) or sheep's milk
1/2 cup grated gruyere or aged goat cheese (about 2 ounces)
3 eggs
Freshly milled black pepper
Preheat the oven to 350˚F.  Have ready a 9-inch ovenproof pie pan (pyrex is ideal).
Rinse the quinoa in a strainer and dry toast in a small pot until almost dry. Add 1 cup water and a pinch salt. Cover and bring to boil, then lower the  heat and simmer covered until the grains have swelled and the water is absorbed, about 15 minutes. Do not disturb the steam vents that will form while the  quinoa is cooking. Remove from the heat and pour into a large bowl.
Wash the chicory and romaine; no need to dry them. Add the chicory to a  large pot and wilt  over medium heat, stirring frequently or tossing with tongs to push uncooked leaves to the bottom of the pot. (You don't have to add additional water since droplets clinging to leaves from washing is enough to start the cooking.) Don't be daunted by the quantity of greens, as it reduces significantly when wilted. Cook until the leaves have wilted and shrunk, about 5 minutes. Add the romaine, and toss frequently, another minute or 2 until wilted. Remove and place in a strainer, squeezing against the strainer to remove excess water. Transfer to a cutting board and chop into small pieces. You should have 2 1/2 to 3 cups packed greens. Transfer to the bowl with quinoa.
Warm 1 tablespoon of the oil in a medium skillet. Add onions and sauté over medium high heat until the onions are browned, about 10 minutes. Transfer to a bowl. Stir in the scallions, dill, feta cheese, and gruyere.
Whisk together in a small bowl the eggs, 3/4 teaspoon salt, and a generous sprinkling black pepper. Stir the eggs thoroughly into the quinoa mixture.
Pour 1 tablespoon of the oil in a pie pan and place in the oven. Heat the oil for five minutes until hot. Remove the pan and swirl the oil to coat the bottom of the pan, then pour in quinoa mixture, evening it with a spatula. Return to the oven and bake uncovered for 20 minutes. Remove pie and evenly drizzle remaining the 1 tablespoon oil over the pie. Return the dish to the oven and bake 20 to 30 minutes longer, until golden brown on the top and bottom.
Serve hot or at room temperature.
"Wintered-Over" Greens from the Union Square Greenmarket
Saturday, April 9, 2011
Today, as I walked by the Bodhitree farm stall, on the Northwest side of Union Square market, I was immediately attracted by a big beautiful pile of broccoli rabe sitting on a table in front of the booth.
Up until now, in late March and early April, I have refrained from buying at the market the greenhouse greens. I don't get that excited about greenhouse greens, which to me is like trying to force in Spring a little too early.  I like to wait until greens come out of the ground, which is a sure sign that spring has truly arrived.
This particular pile of broccoli rabe did come out of the ground.
They are what is known as "wintered over" greens. Nevia No, formally the owner of Yuno's, who now has rented 70 acres in Burlinton County, New Jersey, enthusiastically explained what "wintered over" greens are. "We cover the greens with a kind of tarp for the winter until there's no more sign of frost. We then uncover them. The roots are still in the ground, so that the first greens that come up are really sweet."
Thus, the first broccoli rabe of the season is barely bitter, unlike the broccoli rabe that grows in the warmer months. I was inspired to purchase a head, which I plan on cooking tomorrow.
Next, it was an exotic pile of Russian Kale that drew my attention. I'm not talking about the decorative Red Russian kale that is used for  winter garden borders. This is a spindly-leaf variety that I had never seen before, and I think of myself as a kale veteran. I've used curly kale and dinosaur kale (a.k.a. Lacinato, Italian, or black kale ) in a multitude of different preparations. This new variety was a thrilling discovery.  Since the Russian kale was wintered over as well, and reportedly quite sweet, I was even more interested.
When No waxed enthusiastically on how  good it even was used raw in salads, I was sold.
The first thing I did to the kale when I returned home was pull the leaves off the thick stems. I then tore them into bite-sized pieces and washed them. I transferred the leaves to a bowl where I massaged a simple olive oil-lemon-garlic vinaigrette into the leaves along with some salt. It sounds strange to massage a salad, but you really don't have to go too crazy. You simply rub the leaves for a few minutes until you can feel them soften. I then tossed the salad with a little sheep's milk feta cheese.  It was quick and simple as can be, but the results were delicious. One head served a decent portion for three. Since these "wintered over" treasures are only going to be available at the market for another 10 days or so, I suggest making a stop at the market and trying some. Bodhitree Farm is at the Union Square Greenmarket Wednesdays and Fridays.