Stress-Free Entertaining
Tuesday, July 16, 2013
Last week I taught a class in stress-free entertaining. The night before I made food for a party of six with this  concept in mind. While hassle-free entertaining might seem difficult to achieve, it is more than possible during the summer. The key is designing a room temperature menu. Nothing has to be juggled on the burners or in the oven at the last minute. Each dish is laid out on a serving dish, making the meal look like an extravagant antipasto bar. You can go over the top and make a huge variety of dishes, like I did for the party the night before my class. This kind of menu lends itself to easy transport as well. Happily, all the dishes packed up well. When they were all laid out on serving dishes, the guests were astounded and delighted at the variety (and of course the flavors!).
Here's some of what was included in the two nights:
Poached salmon: Salmon is in season from May through October and well-priced wild Alaskan salmon is readily available. On Wednesday night I poached steaks in a cort bouillion of onions, leeks, carrots, celery, white wine, sliced lemon, thyme, parsley, peppercorns, and bay leaf. I cooked the stock for 25 minutes, then poached the steaks for 10. I served them with the mustard-dill-cucumber sauce from The Healthy Hedonist. We made this in class as well, only we sliced thick fillets into 1-inch pieces, and rolled them into even rounds that we tied with strings.
Roasted Cauliflower with Fennel and Garlic Cloves. I used a variety of white and bright yellow cauliflower.
One basic crowd-pleaser was heirloom tomatoes with sliced fresh mozzarella with basil chiffonade, balsamic and olive oil.
Beets with fig-balsamic vinegar, walnuts, and purslane.
Sautéed shallots and corn, pan deglazed with balsamic vinegar.
Marinated roasted red peppers with anchovy breadcrumbs.
Crab salad featuring Tanner crab from Vital Choice with buttered brioche. It's kind of like a lobster roll, only with crab. The salad had homemade mayonnaise, tarragon, celery and a touch hot sauce.
From class: Shaved zucchini salad with arugula and parmesan.
Yellow tomato and golden beet Gazpacho.
The one dish I did serve hot was an onion tart made with caramelized spring onions, spring garlic, egg yolks, and a tad parmesan, cream, and milk.
Also included on this plate were marinated olives, Tuscan white beans, marinated grilled portobellos, and parmesan biscotti.
I also included romano beans with a tahini and pomegranate dressing as well as parfaits with blackberries and cream!
A good time was had by all!
Camera in the Food
Tuesday, October 11, 2011
For nine hours last Tuesday I had a camera crew in my kitchen with a large video camera pointed at food that I was preparing. This was PR for the Natural Gourmet Cooking School.  The Sundance Channel is doing a series called Love/Lust and the food that they shot in the kitchen was from the chocolate and the breakfast episodes. They will have people on camera speaking about various aspects of chocolate – history, cultural impact, etc. while they show shots of chocolate melting or baking or being spooned into champagne glasses. On camera I made four chocolate desserts as well as seven breakfasts. Chocolate desserts included chocolate mousse, chocolate lava cakes, brownies, and cloud cookies.
Breakfasts included hot cereal with sautéed apples, muesli, granola, frittata, classic eggs benedict, a variation of eggs benedict, and huevos rancheros. Some of these were their choices, some mine. Preparation for the shoot was time-consuming. Mousse, for instance, needs a couple of hours to set, so I had to have a back-up made as well as berry sauce and whip cream so they could film the parfait being layered. I had to have two batches of brownies made in advance, as well as one batch of cloud cookies ready to go, because the cloud cookie batter needs to sit for an hour. The only dessert that was made and completed on camera was the souffle cakes. I did have the raspberry sauce and the whipped cream made beforehand, however.
As for the breakfasts, I made in advance a batch of granola, I had muesli all ready to soak, I had salsa and beans prepared for the huevos rancheros, and I had spinach, mushrooms, and cheese ready to mix into the fritatas. I made three hollandaise sauces that day, so I had to have plenty of clarified butter as well.
The actual cooking for the camera was not difficult once everything was in order. It was really interesting to look into the monitor and see what the high definition screen saw. Look at this egg compared to what was in the pan! So close; the human eye just doesn't see food that way.  They took many close-ups of chocolate melting, of chocolate oozing out of the cake, of bacon frying, and of eggs cooking.
After each dish was completed they brought the dish over to a table and took "beauty shots." The day was one of slow and painstaking work. It was interesting, however, and we churned out some tasty food. I'm certain that on the shows the food will be presented in quick fragments.
I'm now wild for muesli and this variation of eggs benedict that includes smoked salmon and artichokes in lieu of the English muffin and bacon. The variation on the classic eggs benedict was a delicious dinner that night.
Foraging in Central Park – Part 1
Tuesday, September 20, 2011
Sunday I spent a couple hours foraging in central park with 'wildman' Steve Brill and a group of women and guests from the women's culinary alliance. Steve has been leading foraging tours for the last thirty years. I have known about these tours for the last fifteen, so when the opportunity presented itself, I eagerly signed on.
The day was bright and sunny and perfect for foraging. I thought – mistakenly it turns out – that we would come across at least a few varieties of wild mushrooms. We did not encounter a single mushroom, since they tend to pop out of the earth after a good rain. One woman had brought along a hen-of-the woods mushroom (also known as a maitake) that she had foraged in a park in Mamaroneck. These delicious mushrooms are among the most pricey in Union Square Greenmarket.
Steve certainly knows the right spots to find the wild edibles. Although he leads a lot of tours and digs up plants and encourages others to do so, he is careful not to wreck the environment. The same plants have regenerated for years and years.
Steve arrived at the tour looking like he was going backpacking for a week. He was equipped with a shovel and case, an ipad to show his drawings and photos, and an enormous backpack of his books and paraphernalia.
Every so often, as a break from pointing out and descripting the various edible plants, Steve would stop along the way and start doing his routine of clapping and blowing to make himself into a human
instrument. Moreover, he frequently told the kinds of jokes that had everyone groaning.
Here's a few highlights of what we did view:
This is the evergreen called a Japanese yew.
The trees needles are toxic and the wood is particularly flexible. Longbows were made from the Yew tree in the Middle Ages by the British and  used during the Hundred Years War, which had a devastating effect on the French. These longbows were the "machine gun" of the medieval age, since an experienced archer could fire an arrow every five seconds. The arrows could even penetrate plate armor from 100 meters away.
The bright orange-red berries are edible, but the seeds are poisonous. We ate one berry each (cautiously, we had all signed consent forms), making sure not to chomp into the seed. The berry has the mouth feel of a persimmon (kind of mucilaginous) and is slightly sweet. We all survived the experience.
Sassafras was the next root we examined.
It took muscle to dig up the stubborn roots.
The plants make so many seedlings (about 4,000 per tree), that you can pull up a couple without causing harm. The plants need sun to survive, but the large number of seedlings ensure survival of a good many. You have to pull slowly (it's best to get some help), so that the root doesn't break off from the greenery.
Wash the dirt off the root and steep it, chill the brew, add some sparkling water and sweetener, and you have real root beer. Sassafras, as a tea, has long been ingested as a liver detoxifier. In Kentucky, where sassafras is traditionally drunk, the sassafras drinkers have a much lower rate of liver cancer.
There's an FDA ban on sassafras root, but stupidly so, as Steve Brill pointed out. It's only dangerous if you ingest astronomical amounts over a lifetime and you're of the rodent family.
Sassafras have three kinds of leaves – one oval, one mitten shaped, and one divided into three lobes.The edges are smooth.
When dehydraded and made into a powder, the leaves become filé, best known as the thickener used in gumbo. You can gather all the file for a lifetime in central park. Now I just need to remember the spot where we found it, which might be the most difficult part of all.
Interview on Martha Stewart August 12th
Thursday, August 11, 2011
Friday, August 12th, I'm to be interviewed on Martha Stewart Whole Living Radio on Sirius XM 110. from 10 to 10:30 a.m. The topic will be "Abundant August" and will focus on cooking healthful dishes with summer's harvest- specifically, corn, summer squash and blueberries. I will be discussing with the host Terri Trespicio  some of the dishes from each of the three classes as well as the nutritional value of each main ingredient, why we should be eating local,  and what the Natural Gourmet is about. The Caller hotline is 866-675-6675 in case anyone wants to call in for questions or comments.
Six of the featured recipes are from my public classes Crazy for Corn and Summer Squash Sensations.
The succotash we'll be referencing features fresh lima beans from the greenmarket. If you've never tasted a fresh lima bean, you're in for a great surprise.
These buttery beans barely resemble the insipid frozen variety. To prepare the beans, all you have to do is take a few minutes to pop them out of their pods
Sauté these nuggets with corn, red peppers, a hot pepper or two, and a swirl of butter for a colorful and delectable dish.
Another recipe featured from Crazy for Corn is a polenta with baked eggs. The dish starts with fresh corn and corn grits that are cooked into a thick purée, then mixed with roasted poblano peppers and cheddar cheese. The mix is poured into a four quart baking dish or individual gratin dishes, and little indentations are made.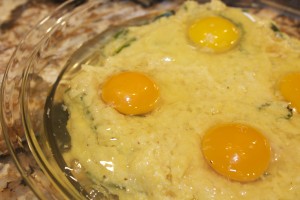 An egg is cracked into each indented spot, then placed in the oven. Twenty minutes or so later you have one delectable comfort food dish.
MOMA exhibit "Counter Space: Design and the Modern Kitchen"
Friday, March 11, 2011
Last Saturday I gathered with members of the women's culinary alliance at the Museum of Modern Art to view the exhibit "Counter Space: Design and the Modern Kitchen. ".
At the first beginning of the exhibit the placard reads: " Following World war I, kitchens, long ignored by deign professionals, began to attract unprecedented attention from domestic reformers, progressive architects, manufacturers, and utility suppliers, all intent on transforming spaces that were previously drab, unsanitary, and hidden from view." Kitchen design evolved with the availability of gas and electricity, with the rise of cities, and the emergence of modern design itself.
The centerpiece of the first part of the exhibit "The New Kitchen," was a recently acquired Frankfurt Kitchen, designed in the mid 1920's by one of Austria's first female architects, Margarete Schutte-Lihotzky. World War I and inflation had precipitated housing shortages in major European cities and 10,000  such inexpensive "model of efficiency" kitchens were produced for new public housing developments.
On the wall, one can read a quotation from Schutte-Lihotzky that illustrated her attitude:" I'd never run a household before designing the Frankfurt Kitchen, I'd never cooked, and had no idea about cooking,"  Before designing the kitchen, Schutte-Lihotzky conducted detailed time-motion studies and interviewed housewives and woman's groups. Each kitchen come complete with a swivel stool, a gas stove, built-in storage, fold-down ironing board, an adjustable ceiling light, removable garbage drawer, and labeled aluminum storage bins.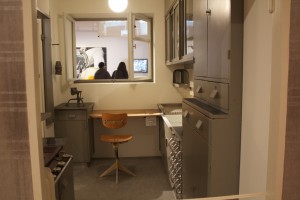 Notable in the Frankfurt kitchen was the conspicuous lack of an ice box, the tiny size of the oven, the lack of counter space, and the depressing industrial grey color. Furthermore, these kitchens dispelled with the notion of kitchen as hearth or gathering place.  I found this kitchen both interesting and horrifying.
Highlights of the exhibit include a treasure trove of design objects from the 1930's, including the classic Wilhelm Wagenfeld's Kubus stacking storage containers made of textured glass.
A fascinating array of posters from wartime Britain included, among others, one on growing your own food, and several on the destructiveness of mice.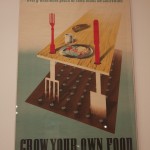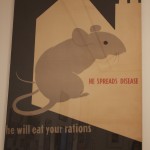 In "Visions of Plenty," the second part of the show, there is an Italian-designed mobile kitchen unit from 1968 that folds up into a minimalist cube.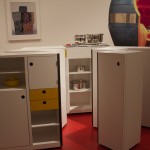 Promotional films displayed in the exhibit are amusing vignettes into bygone eras. I was fascinated by a film piece promoting a device called the "iron-rite," a ridiculous contraption that apparently didn't quite catch on.
The last part of the exhibit, "Kitchen Sink Dramas," centered on the kitchen as inspiration for artists. The show is at the MOMA through March 14th.
Welcome to Myra's Kitchen blog
Tuesday, February 22, 2011
Welcome to Myra's Kitchen blog. Check in for frequent posts that will include cooking tips and greenmarket ingredients; notes on favorite products; commentary on books and articles; and health tips and musings.  We'd love to hear from you, so please e-mail us with comments or queries.