Very Berry Power Smoothie
Thursday, October 25, 2012
Sometimes an antioxidant, nutrient-dense smoothie makes a quick and powerful meal.
The one in this video is rich and filling enough to keep your energy and blood sugar stable for hours. Best of all, it tastes delicious. It's a combo of mixed frozen berries, yogurt, avocado, raw honey, coconut oil, egg yolks from pastured eggs, and coconut water. I also added a splash of macadamia nut oil because I like the nutty flavor. I made this video for Vital Choice, a company whose products I love. Not only do they have the finest wild Alaskan seafood, but they also have some other choice products such as frozen berries and macadamia nut oil, an oil that has similar nutritional properties to extra virgin olive oil.
They presented the video on their newsletter, and I received the question from a viewer of why I don't use the egg whites in the smoothie. Here is my answer:
I don't use the raw egg white because it contains a protein called avidin that interferes with the body's absorption of biotin (Vitamin B7). It also contains a protein called "conalbumin," which binds to iron (making it not biologically available to the body.) Also, trypsin inhibitors make digestion of the protein in the raw egg white more difficult. All of these is deactivated when the white is cooked. That being said, I still may use a raw egg white in a classic Caesar salad dressing or–once in a great white, a mousse–but I don't make a practice of it, especially for something like a breakfast smoothie. The raw yolk, on the other hand, is great to eat raw or barely cooked.
It's great to have a lot of quick breakfast ideas in your repertoire.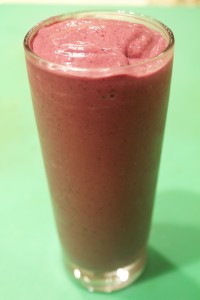 Leave a Reply
Photo: Tess Steinkolk