Catering Gig
Wednesday, May 30, 2012
This past Friday and Sunday, I catered a couple of on-site parties. I had Wednesday and Sunday morning to prepare for the Sunday brunch, and Thursday and Friday to prepare for the Friday evening party.
Since I had to prepare a good amount  in advance of Sunday, I had to plan on a certain number of dishes that would freeze or hold well for up to five days.
These individual cheesecakes fit the criteria.
As they rest in the refrigerate, they just keep on getting tastier, so making them five days ahead was not a stumbling block. I bought the molds at J.B. Prince, an amazing store on 31st street in NYC. I froze a batch of crepes (which were to be filled with strawberry-rhubarb compote), zucchini pancakes, lasagna, and this caramelized onion tart.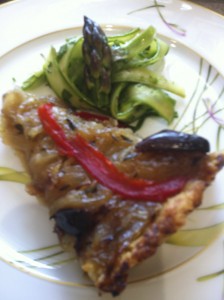 The asparagus salad that accompanied the tart I made right before serving. The asparagus was shaved raw and tossed with dressing, which softened the asparagus after about 20 minutes. I baked the tart without defrosting it first. It simply took an additional 15 minutes. Sunday I was able to focus on last minute items, like the fish.
I made the Friday desserts Friday afternoon. This is the blueberry buckle from the Healthy Hedonist Holidays.
This is a chocolate cake made in individual aluminum ramekins.
Powdered sugar covers a multitude of craters.
The Friday night meal had as a starter the Turkish chopped romaine salad and the miso-marinated black cod from The Healthy Hedonist.
I marinated the cod early in the day (marinade made the day before) and just tossed it in the broiler to brown. Before serving I blasted the fish in a hot oven to reheat; the oily fish is so forgiving it was not in the least bit dried out .
The stock for the broccoli soup was made Wednesday and the soup and pistou topping were finished Thursday.
The main course included braised short ribs and stuffed chicken (a great way to keep the chicken moist) as well as braised-roasted purple potatoes, sweet potatoes and carrots, and lemony sautéed artichokes.
I planned the main course to have items on it that would reheat well without drying out.
For the Sunday buffet I did cook a couple of items that required precise timing, but not too many.  One of the most important things about cooking for a crowd–beside being organized–is to have a menu that is a bit forgiving.
Leave a Reply